Post contains affiliate links.
Well, it's that time of year again when I pack up my flat iron and head to Vegas for the ABC Kids Expo.
The whole crew went and saw a ton of great pregnancy and baby products, but here are the items that really stood out for us this year!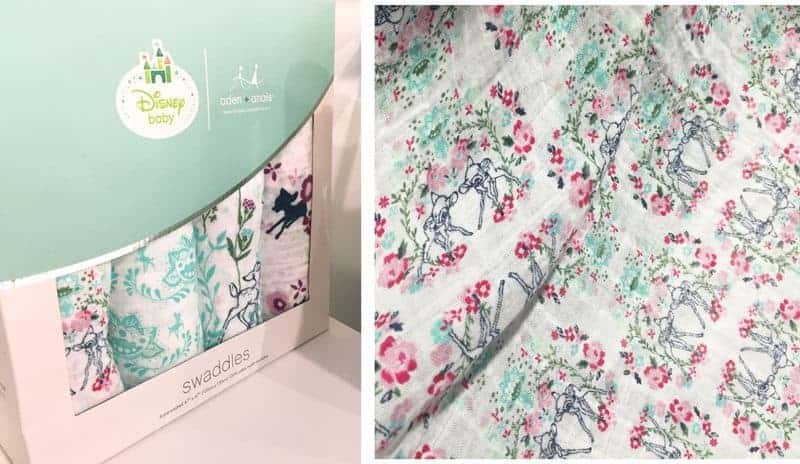 aden + anais Disney Swaddlers
I have to admit that when I heard "Disney Swaddlers" I thought they would be a technicolor nightmare but these swaddlers are understated and gorgeous. The designs are oh-so-tasteful and subtle and full of whimsy. You can find them on aden + anais.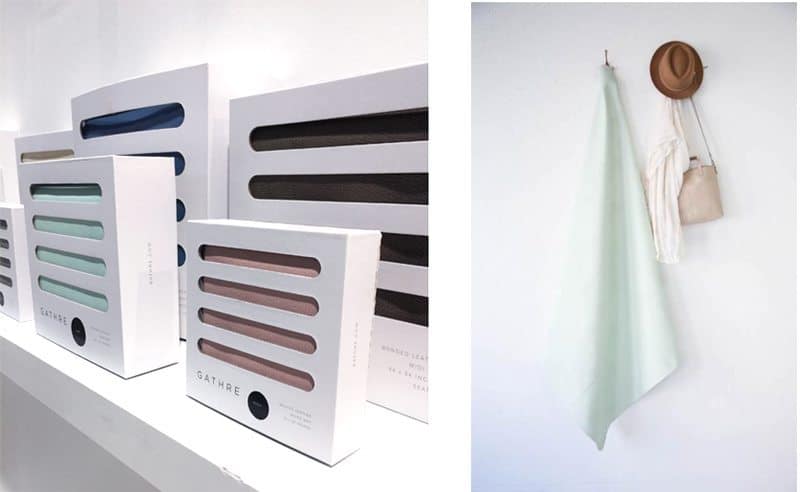 Gathre Leather Playmats
Speaking of tasteful, check out these playmats from Gathre. Once again, when I first heard 'leather playmat' I thought of old man western but these couldn't be further from yeehaw. They come in beautiful colors and are totally practical – sand, grass, food and dirt just slide off these suckers – plus, their packaging is amazing. You'd look like a rockstar giving one of these as a shower gift too. They range in price from $20 to $120, but my fave was the Midi for $70.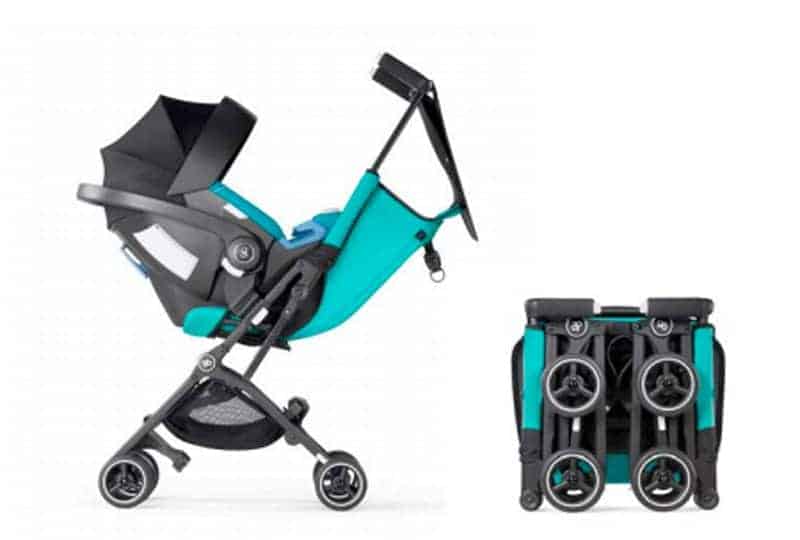 gb Pockit+ stroller
Remember that teeny stroller I did the review on called the Pockit? Well, they have adapted it so it can accommodate gb and CYBEX infant car seats. Which is super handy if you're in and out of planes, trains and automobiles! It comes in at $279.95 before you even add the car seat, but if you're a mover and a shaker, it may be worth the cost. It will be available spring of 2017.
guzzie + Guss Media Console
I already knew that these guys made great strollers but I had no idea that they made such great stroller accessories. Now, I know this one will tick a few people off, but let's face it, there are times when we get by with a little help from our friends, so I was kinda jazzed about this Stroller Media Console. Sure, some days we limit screen time and make organic kale shakes. Other days, we need a giant coffee and a long walk with Wonder Pets playing so we don't burn the house down. It's all about balance, right? The console is $40 (your sanity is priceless) and it's available now.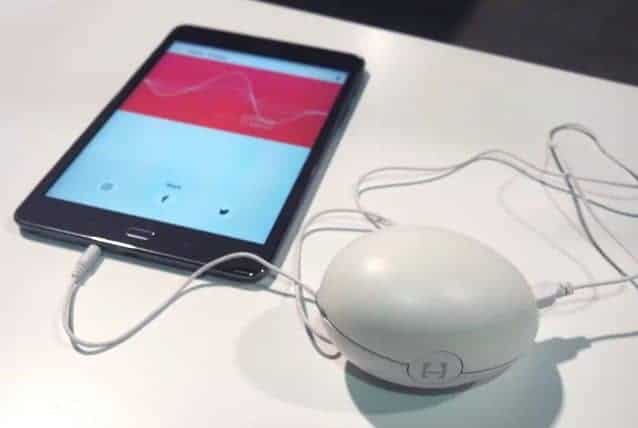 Hatch Baby Listen
Here's another one that might raise an eyebrow or two but I've never seen anything like it and it's super cool. It's made by Hatch (they make that cool change pad that I reviewed – they've also updated it for this year) and it's called Baby Listen. It's an easy-to-use fetal doppler that will listen to your baby's heartbeat paired with an amazing app (these guys make the best apps). It's going to be $45 which I thought was pretty doable and available for pre-order in Jan 2017. The super cool thing about it is that you can safely listen to your baby's heartbeat. This could also cause a lot of panic in some people so know yourself with this stuff, right?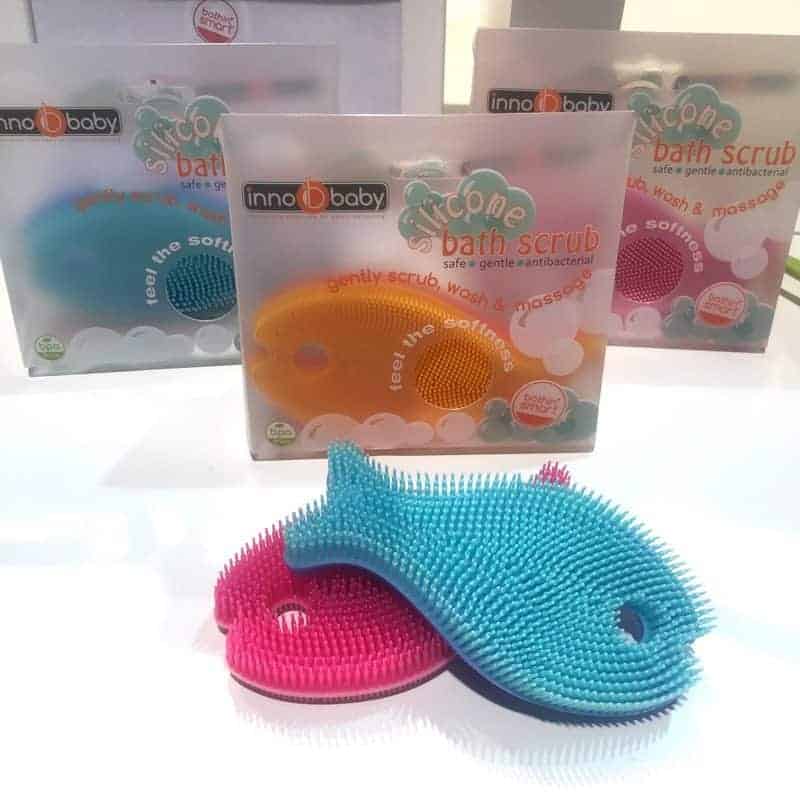 Innobaby Bath Scrub
This silicone bath scrub from Innobaby is freakishly soft and won't get stinky over time because it's all made of silicone. I thought it would be great to use on cradle crap too. (That's not a typo – it should be called cradle crap.) It's going to be $10 and available in January 2017.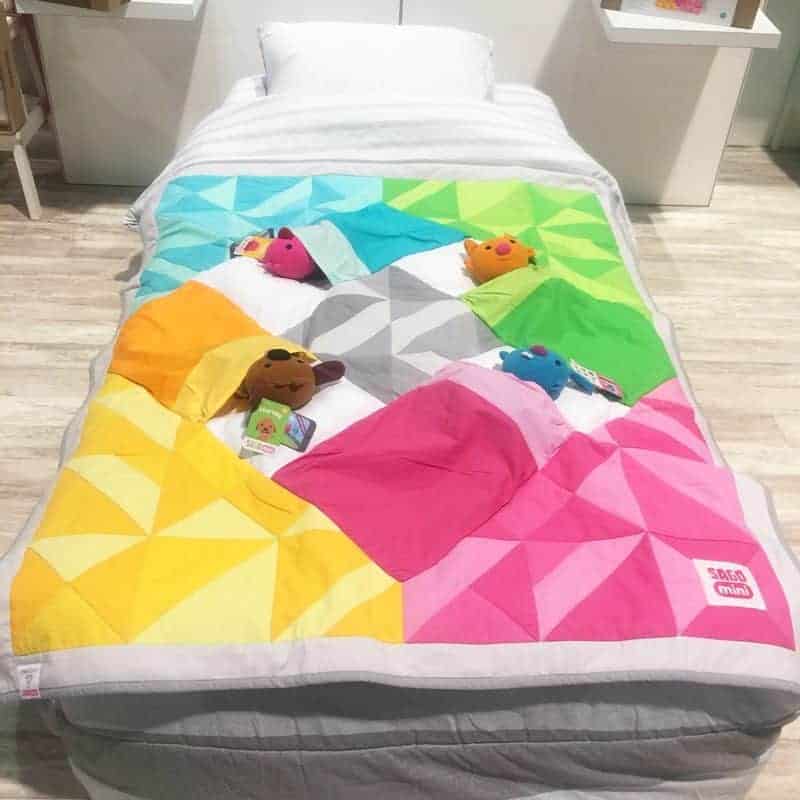 Sago Mini Tuck Me In Quilt
This isn't very 'babyish' but I still wanted to mention it because it made all of us go, 'Aawwwwww'. It's a quilt where your child can tuck his or her stuffed animals to sleep in. Smart, right? The folks that make the brilliant and super popular sago apps are behind this one. Not only is the product amazing, the packaging transforms into a cardboard bed you can play with. These people make me feel like I'm using very little of my brain capabilities. It's going to be available December 2016 and it will retail for $99.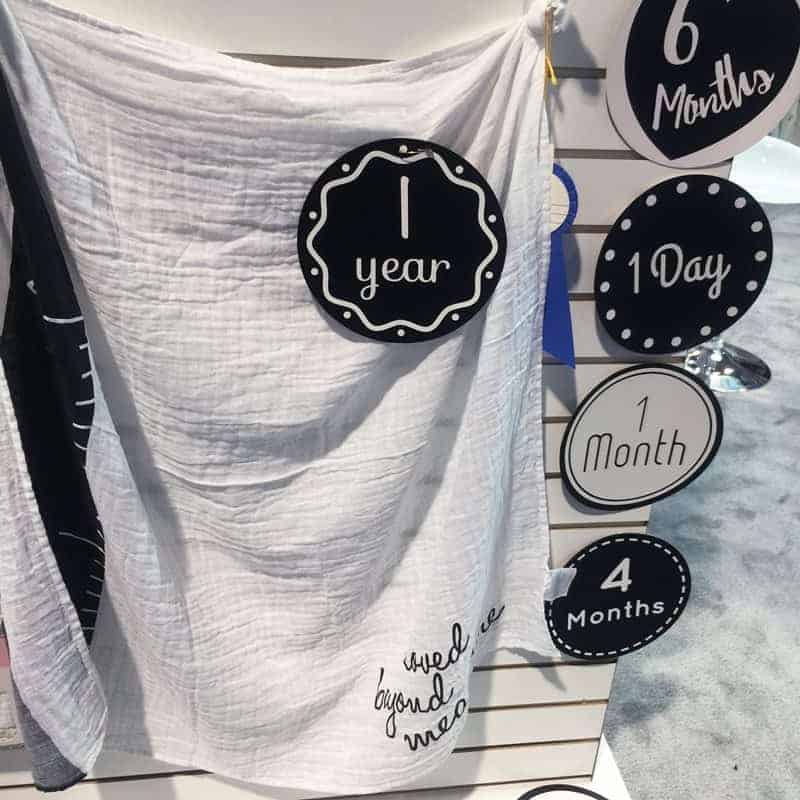 Lulujo Baby's First Year Blanket
Okay, now this one is for babies. It's a gorgeous muslin blanket that comes with 14 coordinating milestones for recording baby's age from 1 day to 1 year. Hello kick ass photoshoots! There's an "I Will Move Mountains", an "Isn't She Lovely" and a "Loved Beyond Measure" (All three of them made me teary.) They are available November 2016 and will sell for $23.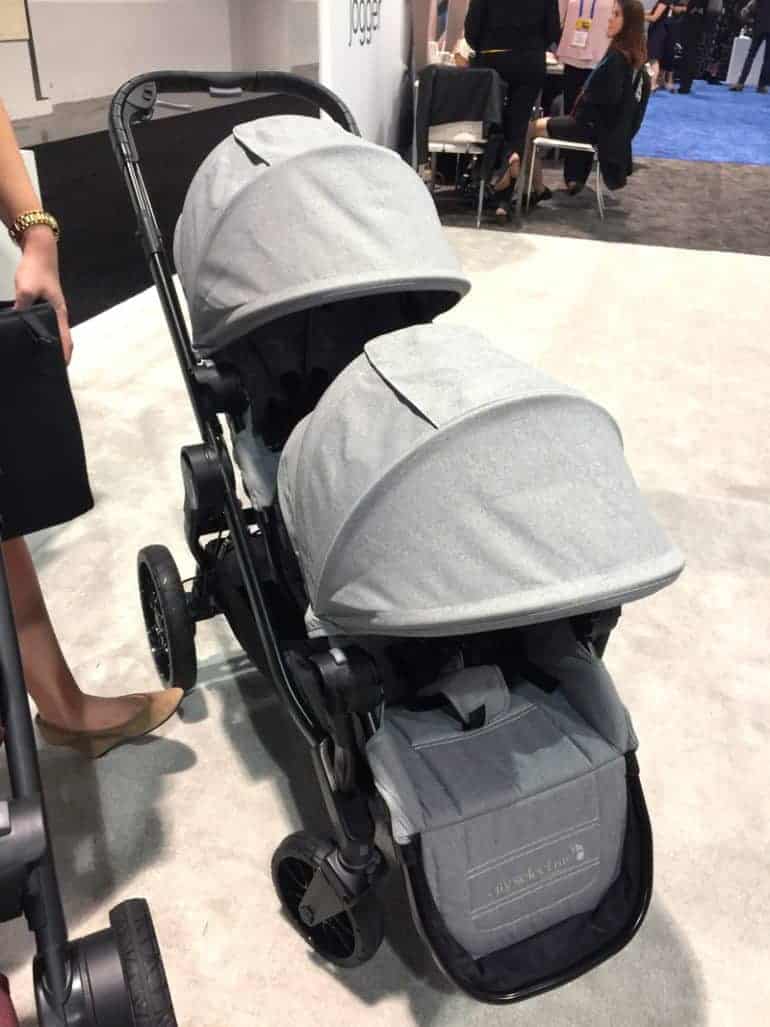 Baby Jogger City Select Lux
Well, look who's revamping the City Select?! This super popular stroller will have 20 configurations, new accessories including a jump seat and shopping cart and a 30% smaller fold than the City Select. It's around $630.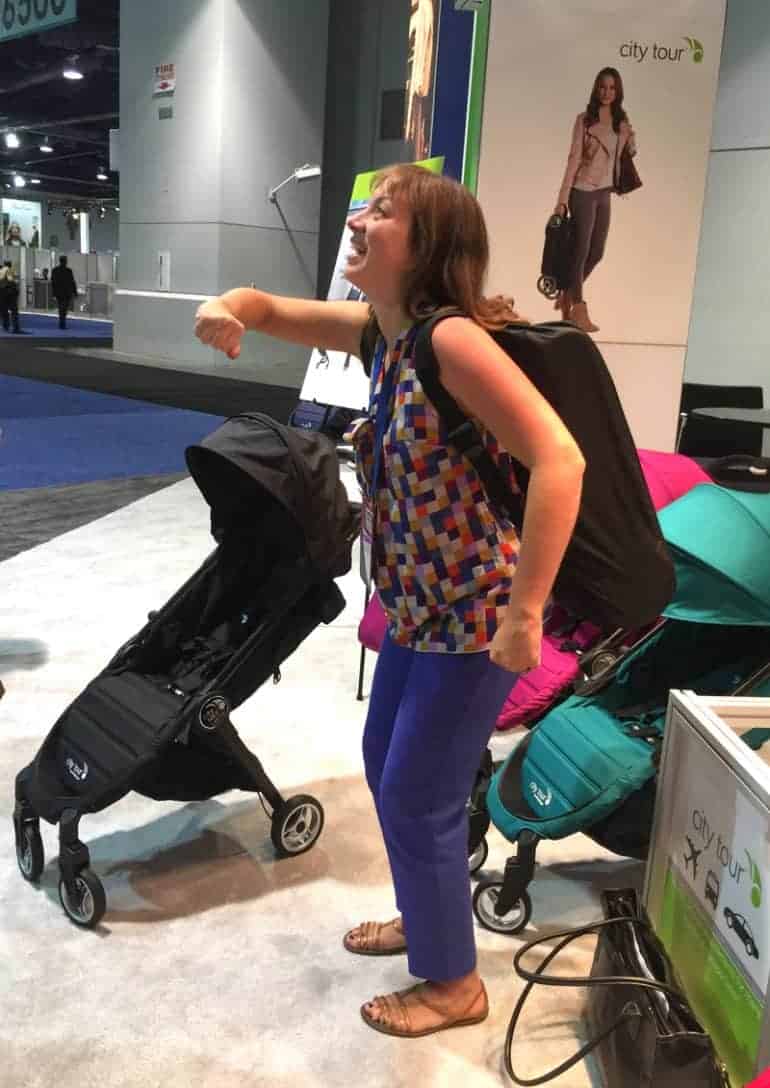 Baby Jogger City Tour
Baby Jogger also released their really nice compact stroller called the City Tour. It's lightweight (14lbs), compact but somewhat beefier than an umbrella. It is a traveler's dream as it can be carried in a backpack that comes with the stroller and it can fit in the overhead compartment of a plane. It's available now and retails for $200 – I suspect we'll see a number of them at Disney.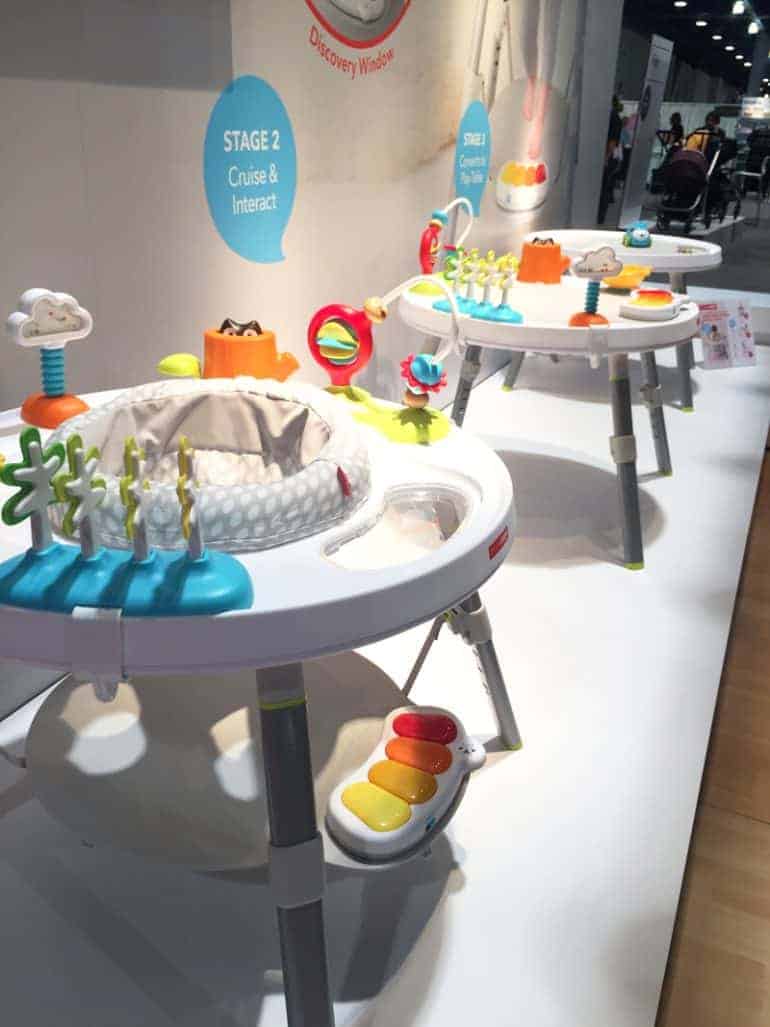 Skip Hop 3-Stage Activity Center
Skip Hop has come out with this fantastic Activity Center that converts from a 'circle of neglect', to an activity table for the cruising stage, to a straight up play table (Claire even made me do a Facebook Live on it.) There is nothing more valuable than an activity center your child love, and there's no bigger pain in the butt than one your child has outgrown. So I love that this one converts to suit the stage your child is in. I also love the palette – it's not going to be an eyesore in your living room. It's out now and you can find it on the Skip Hop site.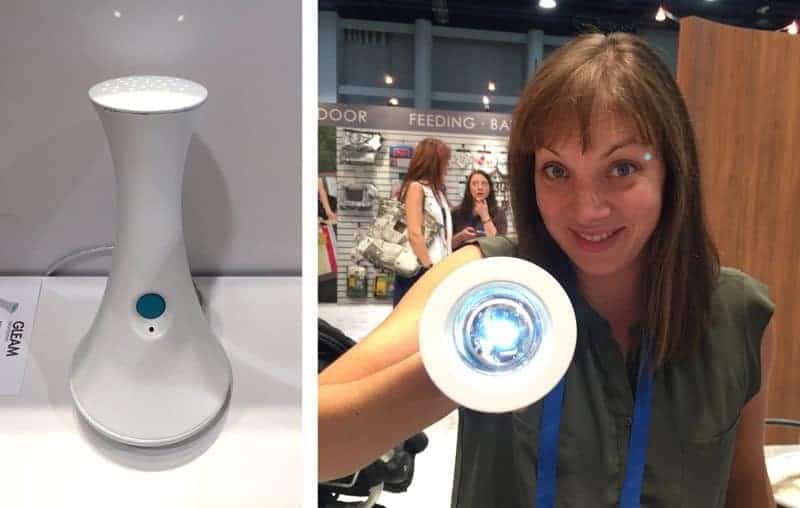 Boon Gleam
This is a brilliant rechargeable night light that projects a sweet starry sky on the ceiling of your child's room, but wait, you can pick it up and the bottom is a flash light. Great for when your child hits that boogeyman stage. Frankly, I could use one for my night time bathroom trips – my cat still hasn't figured out that I don't have night vision and that don't step on her at 3am on purpose. The Boon Gleam is available in April 2017 and will be $40.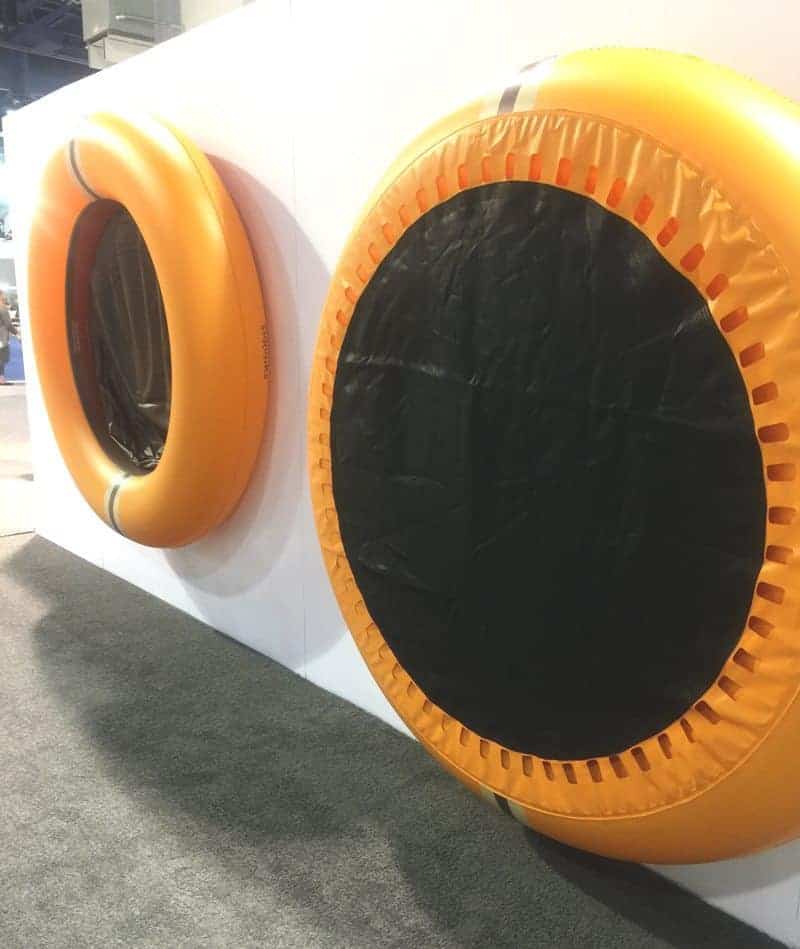 2-in-1 Safety Trampoline and Pool
The Shrunks 2-in-1 Safety Trampoline and Pool is so smart. It can be used as an inflatable pool or flipped over and used as a trampoline. I think it would also be a great spot to park a crawler with a bunch of toys (supervised because you know those little nuts will try to dive out of it) and a future crap and corruption holder for stuffed animals, etc. (I currently have about a billion dollars worth of Legos in an inflatable pool in the basement). I love that the trampoline can be used indoors too – nothing like burning off that cabin fever energy on rainy days. It's $130 and it's available now.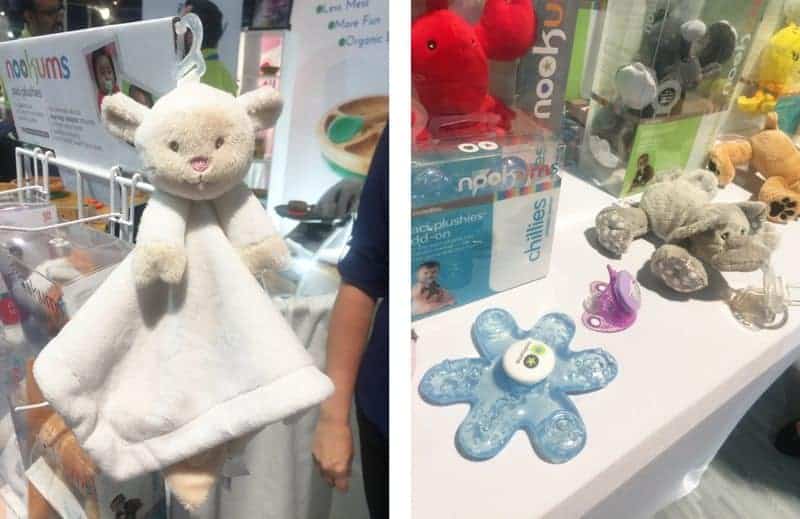 Nookums Lovie Lamb Blankie
The thing I like about nookums compared to a product like Wubanub is that you can use your own pacifier which is great for kids that are picky about their soother. It can hold a variety of soother brands including MAM, Philips, Avent, NUK, Nuby, Dr. Browns, Munchkin and First Years. Plus, you can add their chillable teether to help soothe gums and boo-boos. They have come out with a Lovie Lamb Blankie version and it's $17 and available now.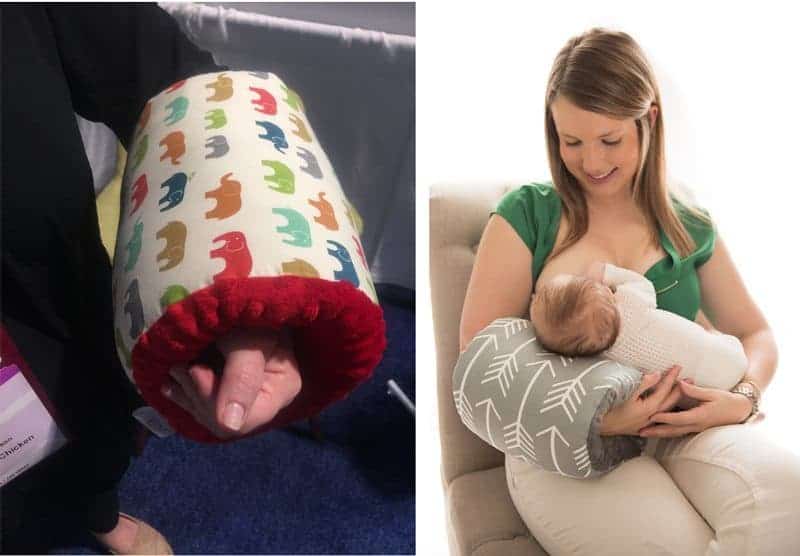 Nursie
I featured these on Facebook when I saw these on Etsy back in June. It's a nursing pillow that fits over your arm like a water wing but takes up less space than a traditional nursing pillow and the designs are amazing. Not only is this product brilliant, but the woman that invented is really awesome (she even taught a new mom how to sew so she could give her a job) so if you love this idea, buy the original. I have no doubt that bigger companies are going to rip this off and you'll see knock offs in no time (the big dogs don't give a shit about patents because that can easily suck your life savings in lawyer fees before you can enforce anything.) Update: Lansinoh bought them (yay, no rip off) and you can find them at buybuy Baby.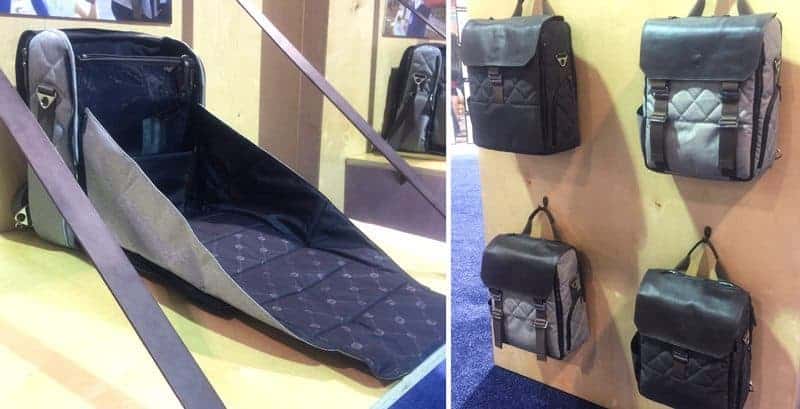 Paperclip Life Diaper Bag
So this diaper bag has dad's in mind (it was created by dads) but I would have LOVED to carry this Paperclip Life Diaper Bag around. They have some truly innovative ideas like the removable changing station has sides so your baby isn't putting his or her hands on something disgusting, each bag has a clear, sturdy pocket insert that you can use as a wet bag and easily remove, and you can wear it cross body, as a back pack or attach it to your stroller. It does have a big price tag ($300) but you are definitely getting what you pay for – they did not skimp on any of the details – but I would argue that this kind of bag would long out live the baby stage. You can find them at Nordstrom's.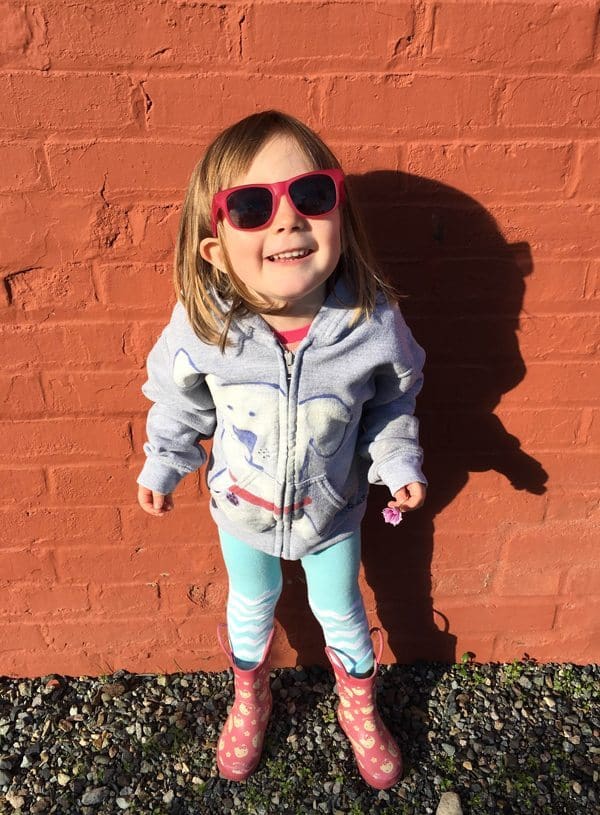 Real Shades Switch
I was really impressed with these guys at Real Shades. Not only do they make incredible sunglasses that are made to fit each stage your child is in (they've created five sizes) but they really knocked my socks off with these frames that change color when exposed to UV rays. Not only does it really hit home the don't-screw-around-with-your-eyes message, but the cool factor is a great way to get kids to wear them. They are available now for about $15.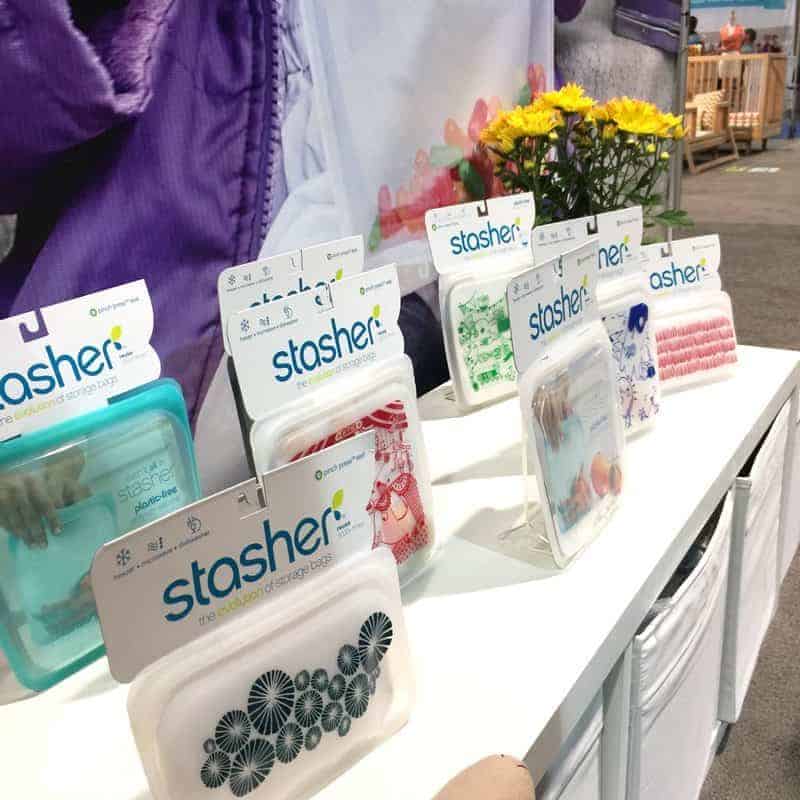 Stasher
These are very cool silicone storage bags that just came out a few months ago and they are the first (and only) self-sealing, air tight, non-plastic bag in the world. You can store wet onesies, hold snacks, or store, freeze and boil baby food in them. They are really something else. One Stasher can replace hundreds of disposable plastic bags, so you can save money while you're saving the planet. They range from $10 – $12 and are available now.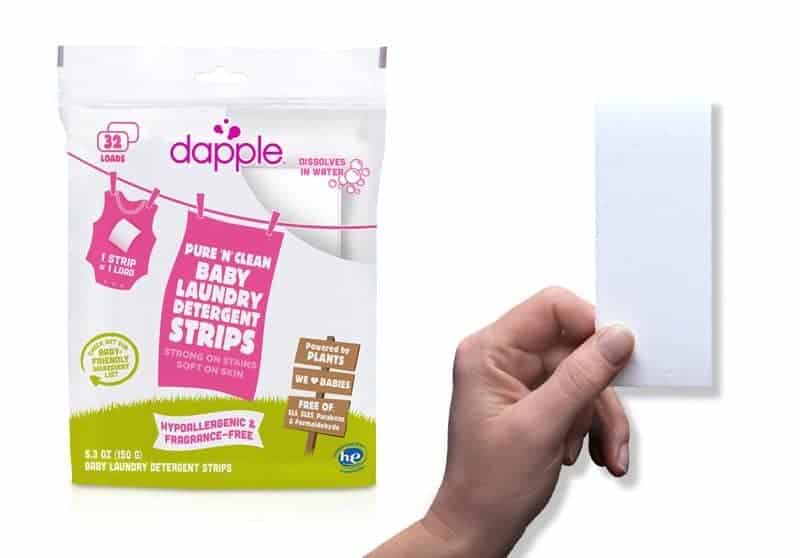 Dapple Baby Laundry Detergent Strips
So Dapple makes these amazing plant-based, baby-friendly cleaning products and they are coming out with these incredible laundry detergent strips. Just toss one in your top- or front-loading washing machine and you're good to go. They smell like a million bucks and they are free from parabens, formaldehyde, SLS and SLES, as well as synthetic dyes or fragrances. Plus, how great would they be for travel or just tucking in your diaper bag? They are available now.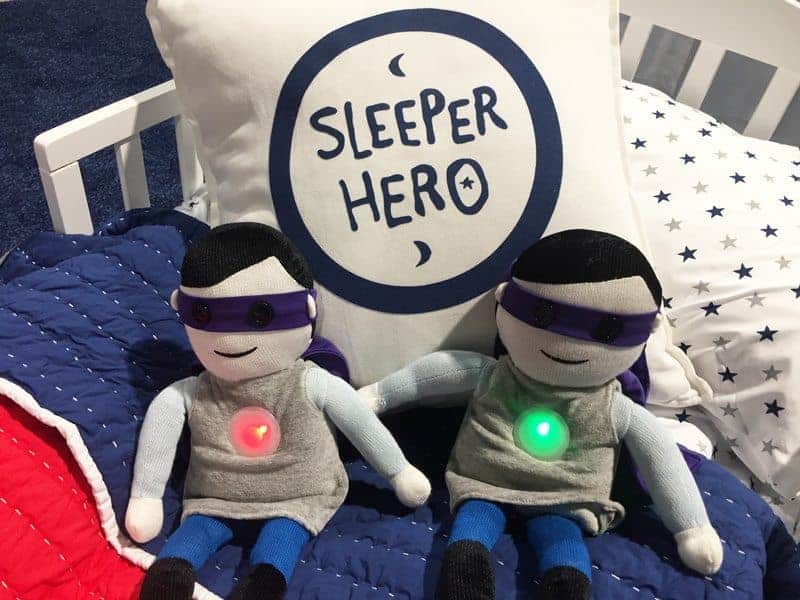 Sleeperhero
Sleeperhero is the answer to your early-rising toddler prayers. This adorable plush doll has a nightlight in the chest that changes from red (stay in bed) to green (time to get up!) and is controlled by a parent-set clock. It's a variation of the color-changing alarm clock, except this one can be cuddled and if a child wakes in the night he can push the light on the doll for reassurance. I especially love that it comes with a book that tells the story of a boy who has trouble staying in bed all night and how the Sleeperhero comes to help. The whole kit and caboodle is $49.99 and is available now.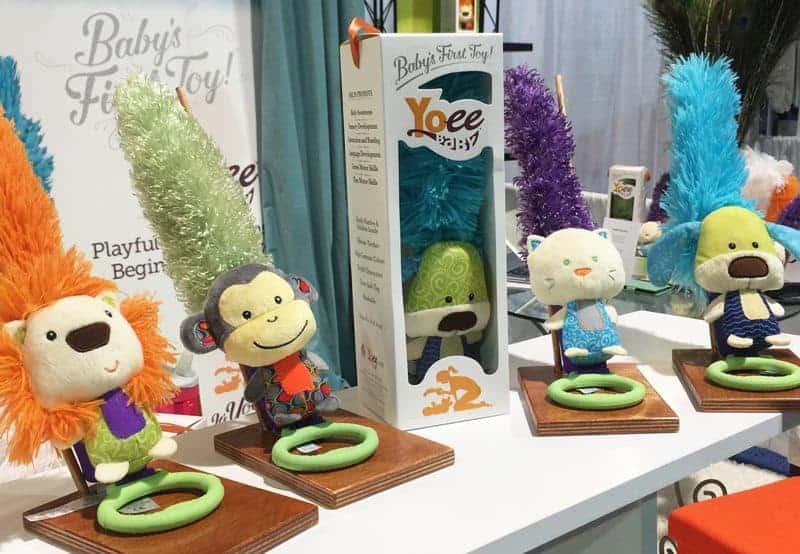 Yoee Baby
This thing looks a little crazy but it's a really cool concept. A mom came up with the idea after surfing Pinterest for ideas on how to play with a newborn (they don't really do much) and tickling their face, arms and tummy with a feather duster was one. Her baby LOVED it but she was a little worried about the safety and hygiene of a duster so she came up with the Yoee Baby. The tail is crazy soft and comes with a little animal and silicone teether attached. They are $25, and available now.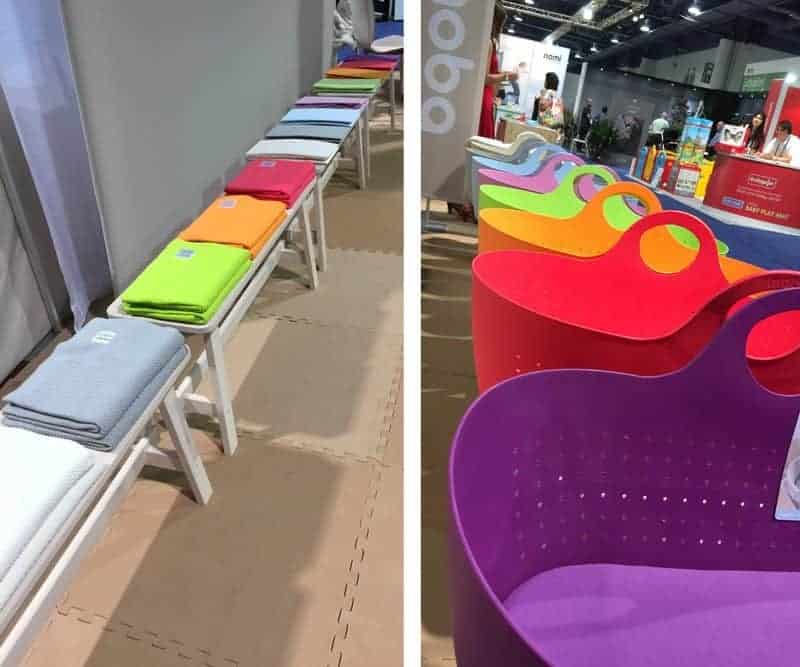 Moba
These cool Moses baskets stopped me in my tracks. Not only are they breathable and eco-friendly, they come in amazing colors and have coordinating cotton blankets! They aren't cheap – it's hard to be cost effective when you aren't ruining the planet – and you're in about $260 once you add in the basket, sheets and blanket, but I feel like you'd never get rid of it. It can be used for toys, laundry, or storage. You can find out more about them on the Moba site.
So there you have it!
There were one or two cool items that had media embargos but I'll tell you about them once the Scooby Doo secrecy is lifted. It was a great time and we caught up with a lot of old friends and made many new ones.
I'm still jet lagged and dehydrated though.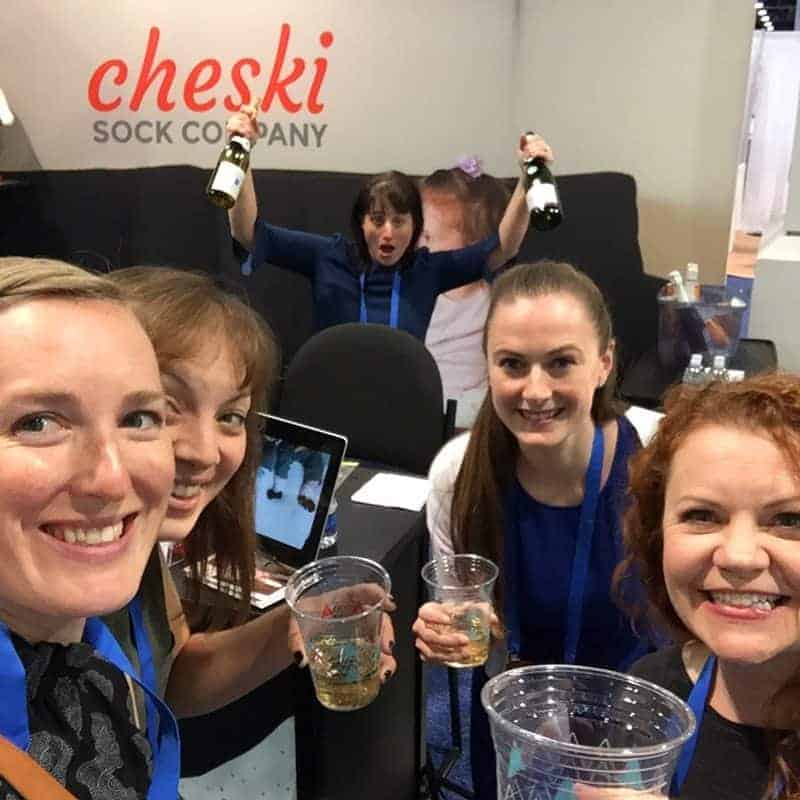 Special thanks to Beth from Cheski Socks for giving us champagne – she sure knows a good convention hack. (From left to right, Emily, Claire, Beth (Cheski), Kelly, and Amy)
---
Get posts & giveaway updates delivered right to your inbox
---
---