It's that time of year again when I scope out the latest and greatest pregnancy and baby products.
Here's what's cool and new for this coming year!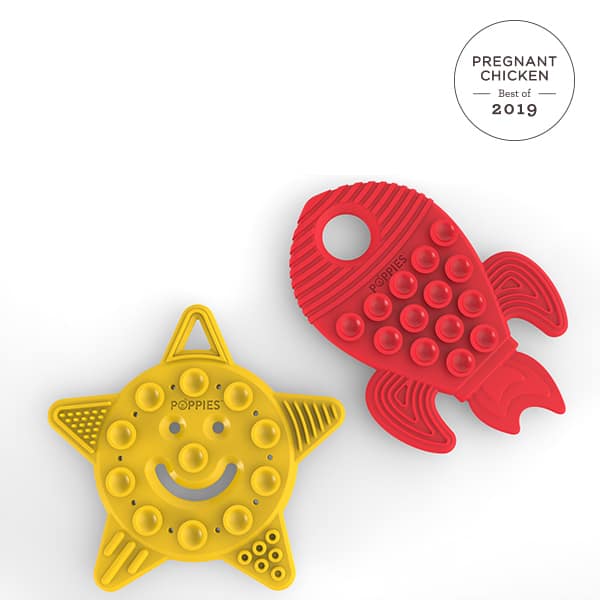 It's a teether! It's a bathtoy! It makes a weird sound when you pull it off a surface! It's one of those things that looks simple enough but kids love them and I totally understand why. You can shop them here.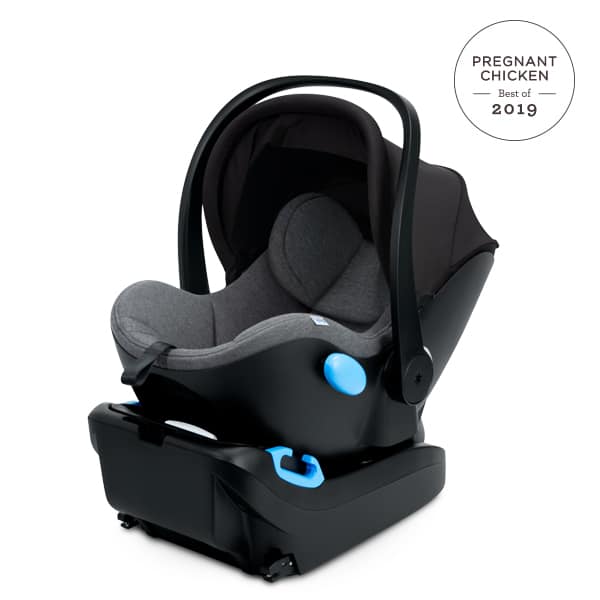 Clek fans will be happy to know that they have (finally) made an infant seat. As you would expect from Clek, it has features that exceed both Canadian and US safety requirements. Plus, it's easy to install, in every position, in every vehicle. You can find it here.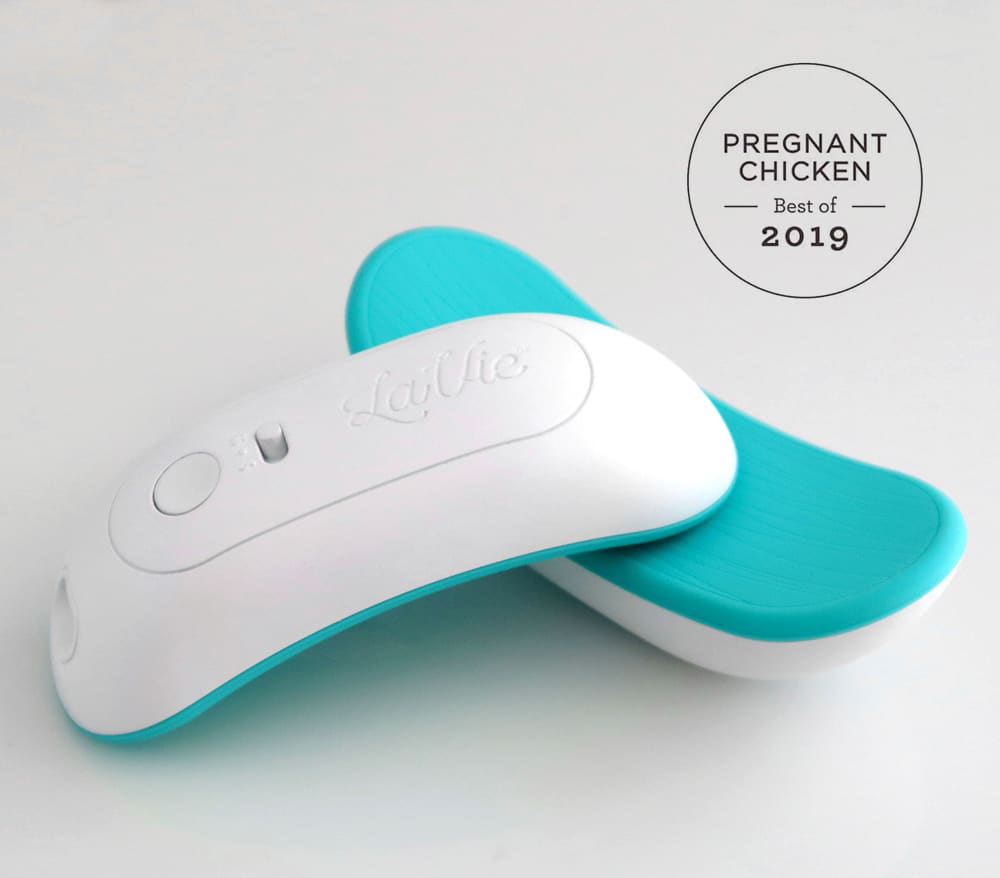 It's the first milk expression tool that combines heat and vibration (hello!) to relieve plugged ducts, prevent mastitis, improve milk flow, increase output, have faster letdown, and empty the breast more effectively. Personally, I would have called it the Boob Buzzer, but whatever. It still sounds cool. You can find it here.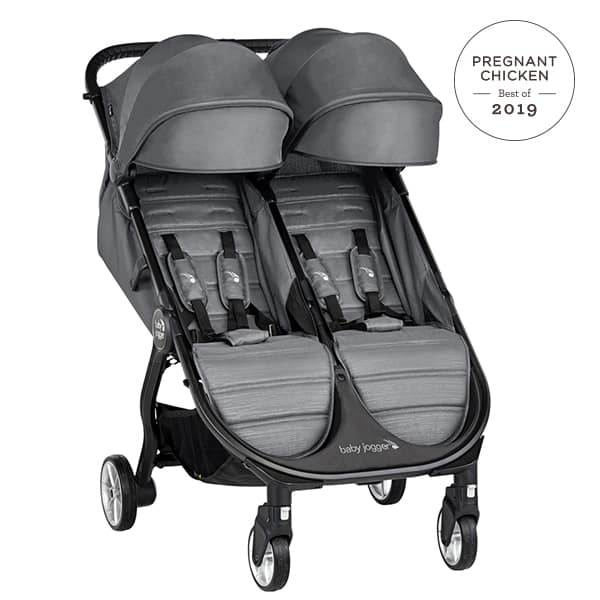 If you're looking for a compact double stroller, this sucker is 26″ wide and weighs only 23 pounds! (30lbs is around the average.) It has near-flat recline on each seat, adjustable calf support, a nice large canopy, a one-handed fold, and it can hold two carry cots (sold separately). You can find it here.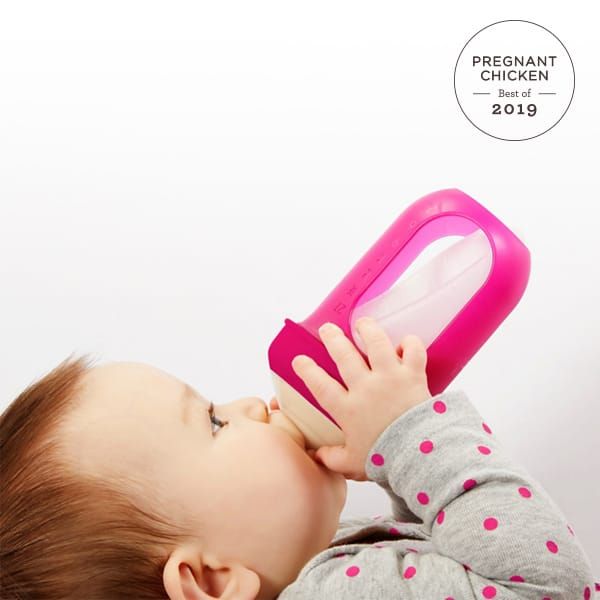 I did see these in development last year but now that they are no longer a prototype I thought I'd get them on your radar. The air-free feeding design features a silicone pouch that collapses as your baby drinks, squeezing out the gas-inducing air – "Pfft". No straws, vents or valves here—so it's a snap to clean and assemble. The silicone can even be boiled, sterilized, microwaved and frozen. They are $10 each and you can shop them here.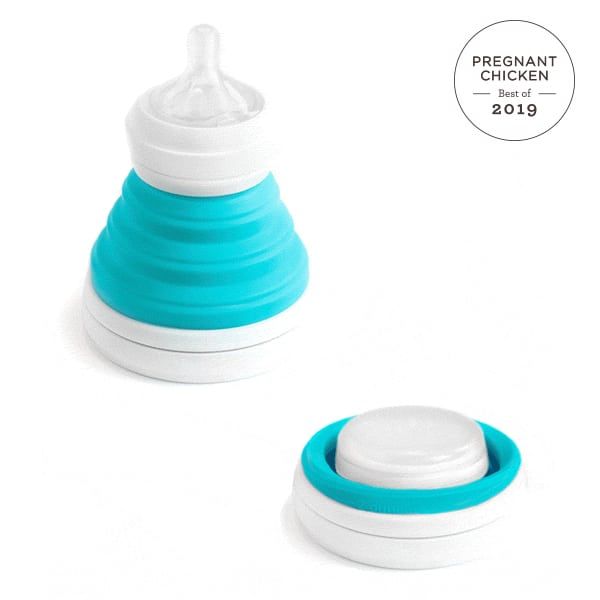 This patented collapsible baby bottle, sippy cup, and 360 cup condenses down to the size of a hockey puck. (And, no, your kid can't collapse it and make a mess.) It's made of food-grade silicone that is easy to clean, easy to store and easy to convert to each version just by swapping out the top. You can pre-order them here and they will be shipping in January 2019.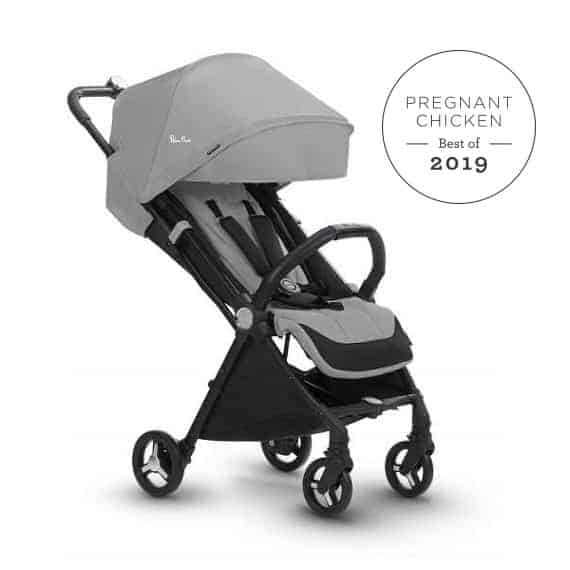 Silver Cross makes those iconic prams that everyone in the royal family pushes their kids around in. They recently came out with a new travel stroller called the Jet. It can be used from birth to 40 lbs. It weighs 13lbs and can fit in the overhead compartment of an airplane. Unlike the Pockit, it has a full recline and a large canopy so you can use it for naps. It checks all the boxes for a kick ass travel stroller AND it's about $150 less than a Babyzen Yoyo. The Jet is available now and you can find them here.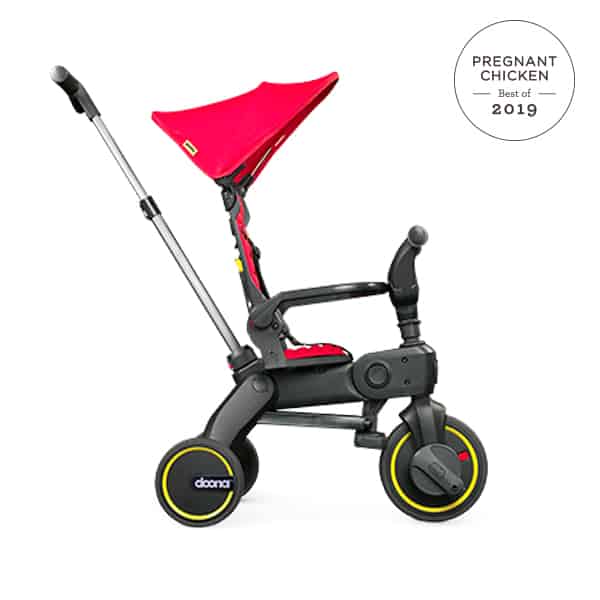 The World's Most Compact Folding Trike. It folds and unfolds in 3 seconds and it has four configurations so it can be used for ages10- 36 months. It fits in an overhead airplane bin (cool) and it weighs just under 15lb (handy when your toddler throws a hissy fit and you end up having to carry it.) It comes fully assembled right out of the box. Hallelujah! You can find it here.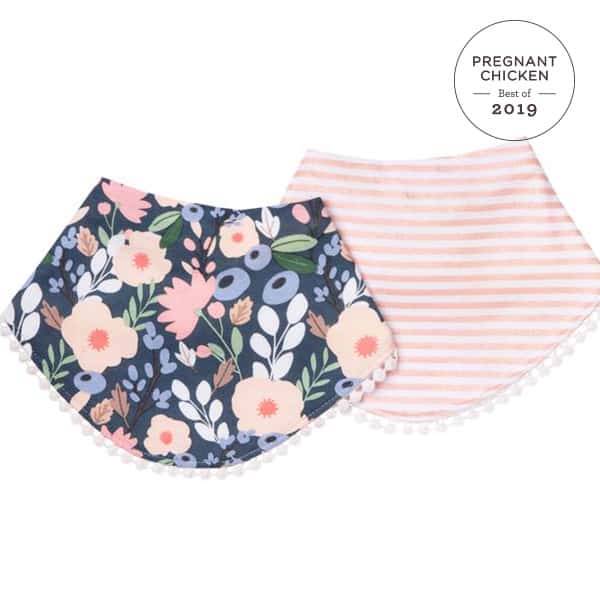 Bandana bibs are crazy popular so Copper Pearl launched a Pom-Pom design for a touch of 'extra'. They are $17 for 2 and you can shop them on their site.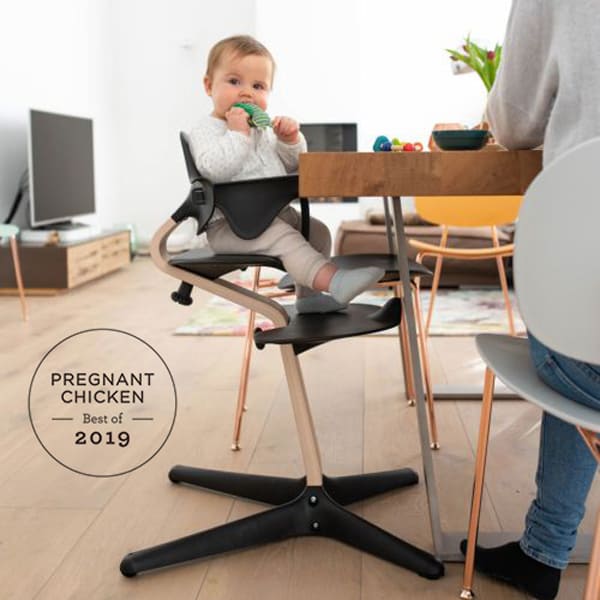 If this high chair looks familiar, it's because the designer of the iconic Stokke Tripp Trapp chair designed it. He designed it for his son in 1972 and this new Nomi is what he designed for his granddaughter. It's lightweight, easy to clean, and looks damn nice. And, no, it won't tip. I was at an event where a bunch of toddlers were crawling all over them and it didn't budge. You can get an infant attachment to replace your need for a bouncer and you can even use it as an ergonomic office chair – it holds up to 330lbs. It has a hefty price tag but it's a piece of furniture that you could easily own forever. They are out now and they start at around $460 depending on what kind of wood you want and the easiest place I found to shop them is Amazon.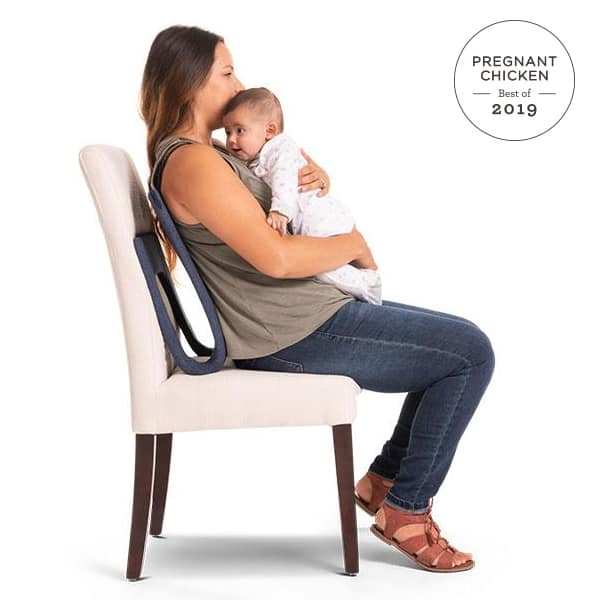 The first truly portable rocker that allows moms to rock their babies anywhere, anytime. Designed to be used in the house or on the go; it turns almost any bed, chair, wall, or even a tree into a rocking chair. For those times when you'd like to rock your baby while watching t.v. on the couch instead of staring at the damn wall in your baby's nursery (::cough, not that I would know anything about that. ::cough::) They start at $149 and you can shop them here.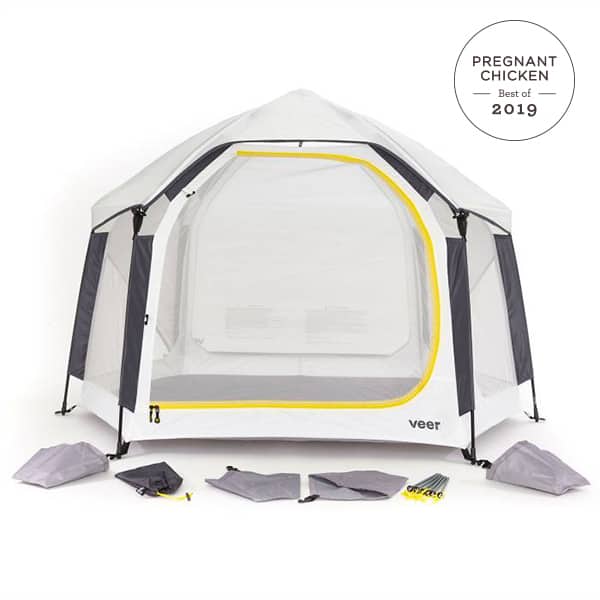 Pop up playard that can be attached to your Veer wagon. It is super easy to pop up and down (similar to an Instant Tent) so you can use it for parks, beaches, backyards, cottage, or just somewhere you don't want your kids mauled by nature – "Screw you, mosquitos!". It is designed to easily attach to your Veer wagon, but you can easily carry it too (it only weighs 7lbs). It's pricier than a beach tent but you get the full enclosure for a bug-free adventure and it has the instant set up feature when your kids decide they are hungry NOW! It should be out at the beginning of 2019.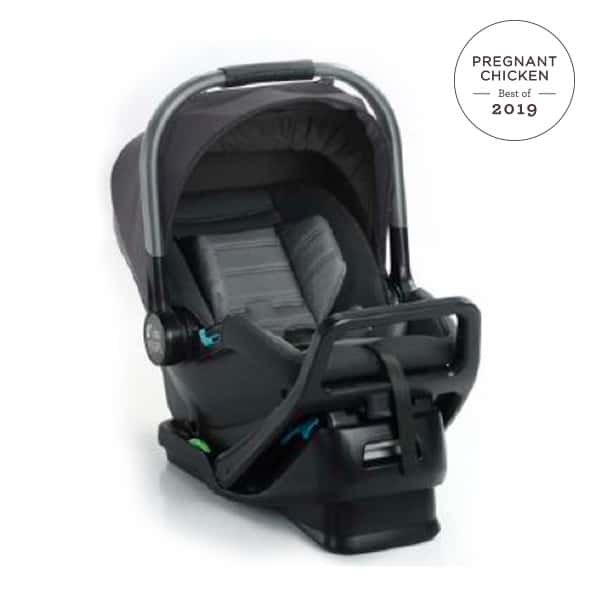 The Baby Jogger City GO Air Infant Car Seat weighs just under 8lbs so this sucker is light! The base includes an anti-rebound bar for added stability and can be easily installed with RAPIDLOCK belt-tensioning. It can also be installed without its base making it an ideal for taxis and travel. It will retail for around $350 and be available in the spring of 2019.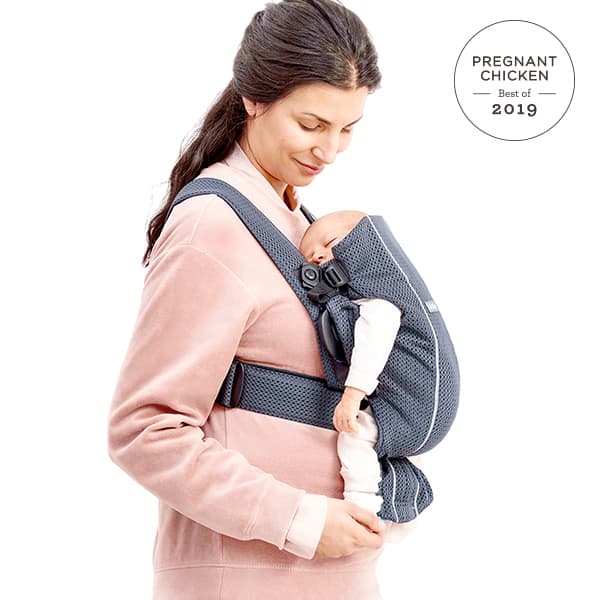 The new Baby Carrier Mini is a small, easy-to-use, super-soft baby carrier. It's designed primarily for the newborn stage (7lbs) but it can be used up to 12 months (25lbs). You can easily unfasten the entire front section of the baby carrier to lift out your sleeping baby – don't poke the bear, right? It's available now and you can find them here.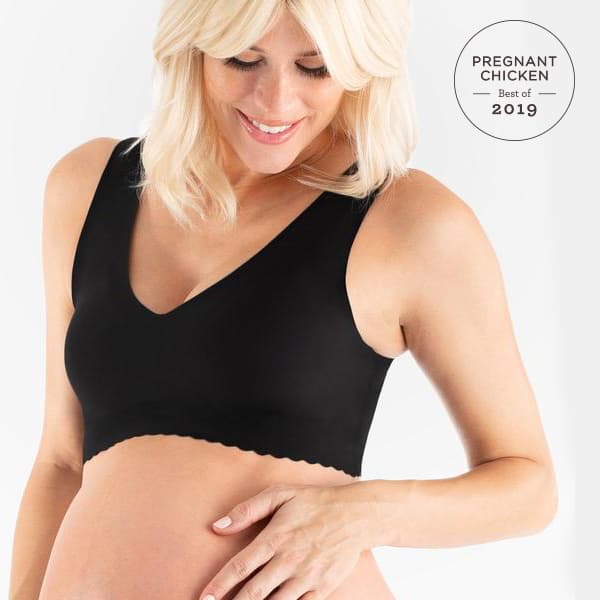 Oh Belly Bandit, you always come out with cool soft stuff that helps me jiggle less. This time it's the Anti Bra – No digging. No wires. No worries. This ultra-thin, buttery-soft bra feels like a second skin and is invisible under clothing. Designed with wire-free support, no-dig straps, and removable modesty pads. It's available now and retails for $47.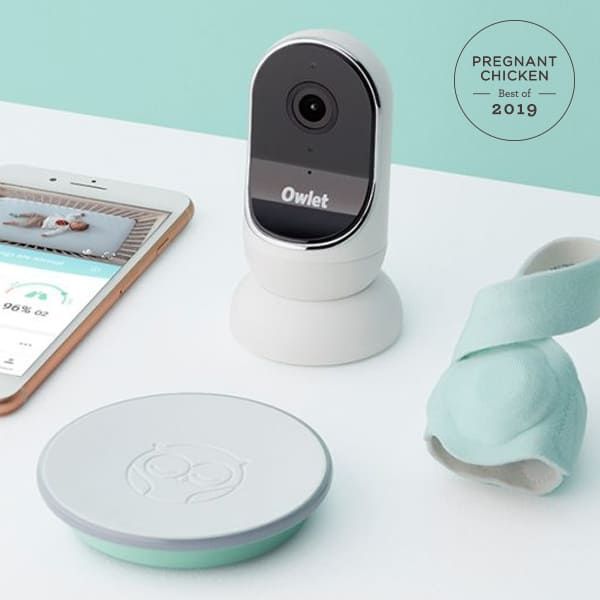 Owlet is launching a camera that can pair with their Smart Sock to give parents the ability to hear, talk to and see their baby from anywhere. You can even set the camera up to feed data into Owlet's Connected Care platform, to paint an even more comprehensive picture of what's going on with your little one. We did a more comprehensive review of it here too. You can find it here.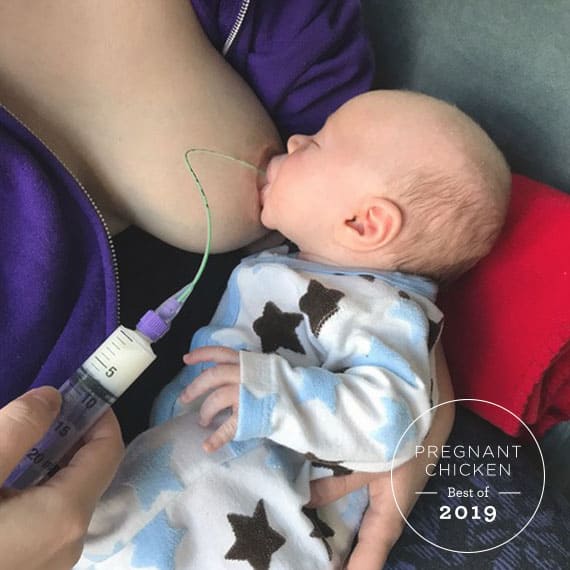 The Laally Bridge is a nifty little device that lets you easily supplement your wee babe with formula or expressed milk, while still giving you both an organic nursing experience. It's like a souped up nipple shield that both serves milk and protects the goods, without all the tubes and tape of other systems. With skills like that, it's probably just a matter of time before it lands its own Marvel movie. The Bridge Kit is available now for $30.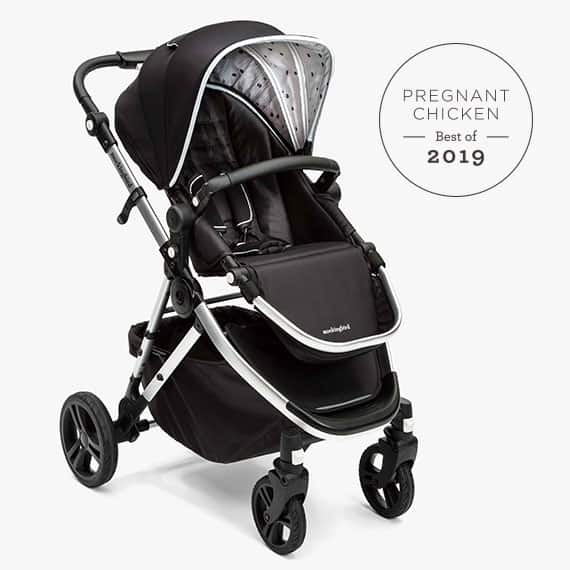 Taking after other direct-to-consumer companies (like Warby Parker and Casper), Mockingbird is skipping retailers to offer you a premium stroller for a fraction of the cost. This stroller is as functional as it is beautiful, with well thought out features and accessories. We're totally smitten with both the concept and design. It can be ordered on their site now for… (get ready) $350. I know, right! You can buy one here or check out our full review on it.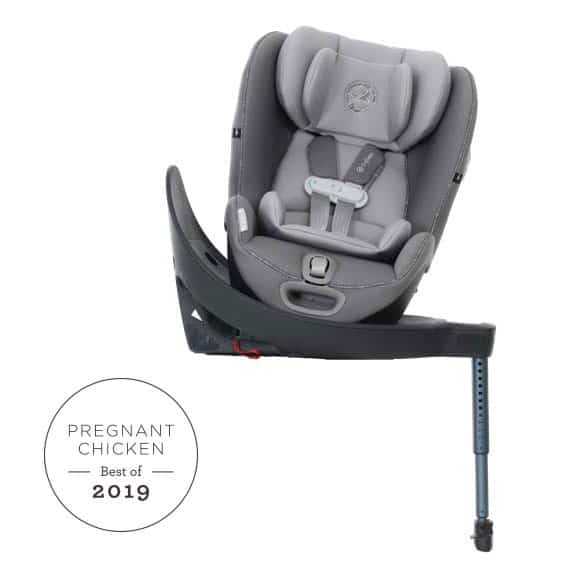 Cybex is no stranger to great seats, but they've outdone themselves this year with the Sirona S. This bad boy rotates 360 degrees, keeping parents from doing that awkward lean-and-twist every time they get baby in or out of the car. It will also come standard with SensorSafe, a technology built into the chest clip that can alert parents (or caretakers) if baby is left in the car, or is too hot or cold in the back seat. Another stand out feature is the load leg – the first of its kind in the US – that significantly enhances protection in the event of a frontal crash. This seat isn't available yet, but hopefully, we will see it hitting the market early 2020.
I'll update this post as things are released! Let me know what you're excited about the most!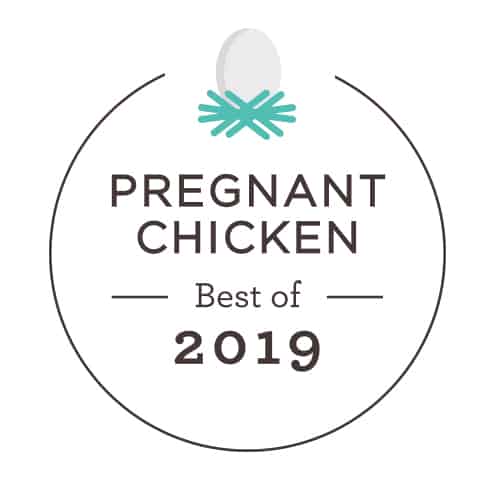 Be sure to check out the best of 2018 too – everything has been released and is now on the market!
---
Get posts & giveaway updates delivered right to your inbox
---
---