Finding a fabric face mask for your toddler and/or small kid isn't easy. There's sizing issues, comfort issues, and the fact you can't try them on or return them if you figure out they won't work for your little.
In an attempt to give you the best shot at success, here are a few tips and tricks to finding a cloth face mask for your toddler or small kid.
When do kids start wearing masks?
The CDC is currently recommending kids over the age of two wear face masks in public where social distancing recommendations can't be followed.
Kids under the age of two should never wear masks, nor should those of any age who have trouble breathing, are unconscious, incapacitated or otherwise unable to remove the mask without assistance.
What kind of masks are they recommending?
Masks should have multiple layers, be made of breathable fabric, fit snuggly over the nose, mouth and cheeks, and able to be easily laundered.
The CDC recommends reserving medical grade masks for our healthcare professionals, and other medical first responders.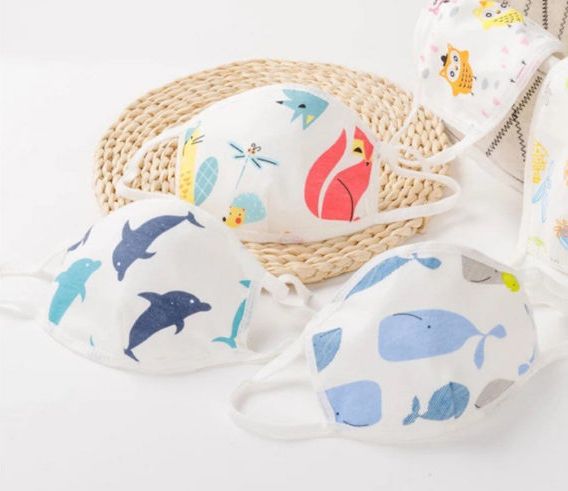 Places to find fabric face masks for toddlers and small kids
Green Sprouts
Multiple layers with an activated charcoal center, cup-shaped design, elastic ear loops. Comes with a bag to keep them clean after washing. $12.99/mask, some patterns available now.
Carters
Double layered cotton, pleated design, ear loop masks in a few different patterns for $3/mask. Available now.
Nordstrom
Cotton, pleated, ear loop masks in solid black and/or white for $22/6 pack. Also have some single patterned options for $14. Available now.
Old Navy
Most patterns are backordered with shipping expected this month, but there are a few you can get shipped right now. $12.50 for a 5 pack of triple layered, pleated cotton, ear loop masks.
Gap
3 packs with some patterns on backorder, and some available now. $15 for a three pack of triple layered, pleated cotton, ear loop masks. Also available as a family pack for those who want to make it a one stop shop.
Disney
Lots of different designs in three different sizes. Triple layered, with cotton and polyester. Pleated, with ear loops. 4 packs for $20, expected ship date in August.
Etsy
So many incredible options here. Look for toddler sizing – about 5" or less for length from ear to ear for small faces. A couple of places that came highly recommended by our Facebook crowd include melissastitches, NiyamaDesignStudio, and thatssewjack (this one even has photos of small toddlers wearing them!)
Target
Double layered cotton, cup shaped with elastic ear loops. Available in store and online. A little big on small faces, but the ear loops can be easily snipped and tied to shorten them to make it a little tighter around the face.
What if the mask doesn't fit?
It looks like all mask sales are final sales, so if the mask doesn't fit, think about ways to adjust it so it does. Can you shorten the straps or make the ear loops bigger? Can you tie it in a way that doesn't push or pull on somewhere sensitive?
Something I'm personally noticing is there aren't a ton of places that show small kids actually wearing the mask, which makes it really hard to judge if it would work for your family. Trying to find companies that have photos of actual toddlers wearing the masks is a good place to start.
Have you found a fabric face mask that fits your toddler well?
Let us know where in the comments!
Our next reco: Ways to Say 'Don't Freaking Touch my Baby"
---
Get posts & giveaway updates delivered right to your inbox
---
---