Babies born in January are pretty special. Not only can they be hardworking and witty, but they have a rockin' red birthstone (the garnet), two birth flowers, and have better odds of growing up to be doctors and hockey players than babies born in other months of the year.
Zodiac Signs:
Capricorn
December 22 - January 19
Capricorns are notoriously determined, practical, hard-working, responsible, ambitious, and grounded.
Aquarius
January 20 - February 18
Aquarians are known for being creative, witty, charming, independent, adaptable, open-minded, and visionary.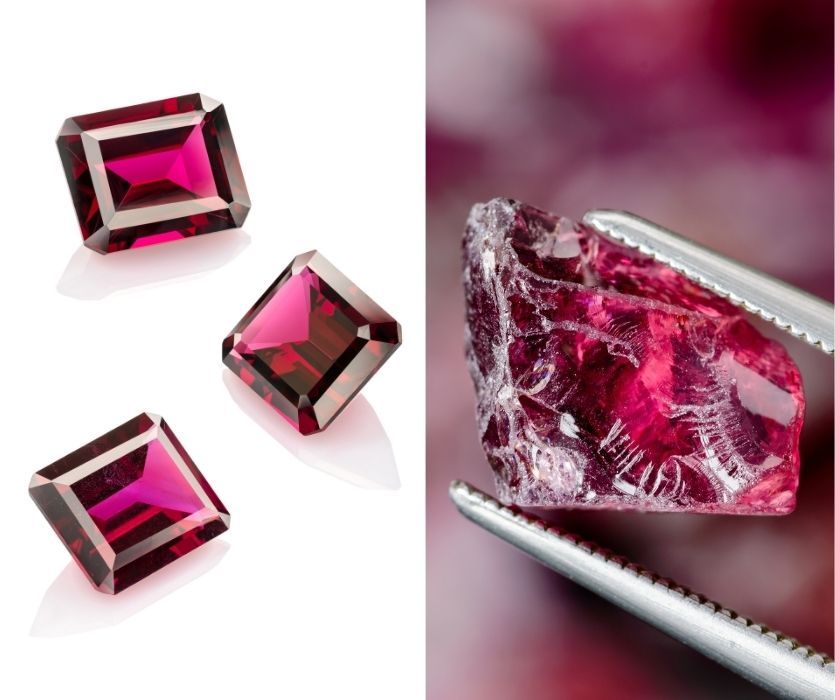 Birth Stone:
January's birthstone is one of the most ancient talismans: Garnet. The name of this stone comes from the 14th century Middle English word gernet which means "dark red". This gemstone has been around for over 5000 years and is believed to have protective energies and healing powers. Score!  
Birth Flower:
January babies get to claim two flowers as their own: the Carnation and Snowdrop. Carnations come in a variety of colors, and each one carries with it a certain significance. For instance, did you know that pink carnations symbolize a mother's unyielding love? They're also one of the few flowers that can bloom in cool weather. The snowdrop is another tough little bud that pops out of the ground in late winter or early spring, making them a symbol of hope and beauty - much like January babies.
January Baby Milestones:
Start smiling: Most likely between March and April (6-12 weeks)

Start laughing: Probably by around May (4 months)

Start crawling: Probably between August and November (7-10 months)

Start walking: Likely by October to April of next year (9-15 months)
Fun facts:
Here are a few fun facts about babies born in January. Do any of them ring true to you?
Shoots and Scores!
You may have a soccer or hockey star in the making. A 2013 study found that 36% of players drafted by the NHL between 1980 to 2007 were born between the months of January and March. A 2010 study out of Australia found that there were "33% more January babies than expected" playing in the Australian Football League. It's likely because having a January birthday can give babies the advantage of up to 12 months' growth over peers born in the same year. (source)
Doc or Debt Collector?
They may grow up to become a doctor or a debt collector, but will probably steer clear of a career in real estate. A study performed in the UK found a link between individual birth months and career paths, and found that these were the most (and least) likely jobs for babies born in January. (source)
Cool as a Cucumber
They'll probably be pretty even-tempered. One study out of Budapest found a link between the seasons babies are born in and their overall temperament. The study suggests that the cyclothymic temperament (which is characterized by rapid and frequent mood swings) was significantly lower in winter born babies. Winter babies also tended to be less irritable than babies born in other seasons. (source)
Famous Folks Born In January:
January 3, 1892 - J.R.R. Tolkien
January 4, 1643 - Isaac Newton
January 5, 1975 - Bradley Cooper
January 6, 1412- Joan of Arc
January 8, 1935 - Elvis Presley
January 8, 1942 - Stephen Hawking
January 15, 1929 - Martin Luther King Jr.
January 17, 1922 - Betty White
January 19, 1946 - Dolly Parton
January 31, 1981- Justin Timberlake
National January Days:
January 1: Global Family Day
January 2: Happy Mew Year For Cats Day
January 4: Dimpled Chad Day
January 8: Show And Tell Day At Work
January 14: Dress Up Your Pet Day
January 19: Popcorn Day
January 20: Cheese Lovers Day
January 24: Peanut Butter Day
January 26: Australia Day
January 30: Fruitcake Toss Day
Do you have a January baby in your life?
Is January a good month to have a baby? Do these fun facts ring true? We want to hear your thoughts in the comments!
---
Get posts & giveaway updates delivered right to your inbox
---
---