Medela supplied each tester with a bra that they could keep and compensated me for the time and effort to compile the feedback. All the opinions are our own. A million thank yous to all the testers for their honest and thorough input – your feedback was incredible.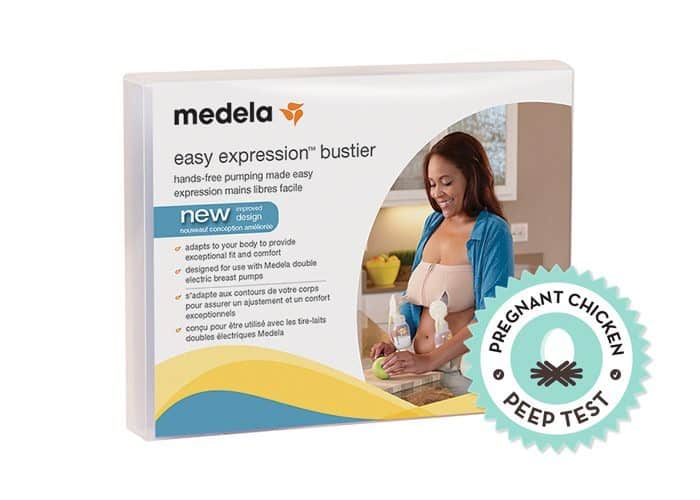 For many years, Medela made the extremely popular Medela Easy Expression Bustier. This year they came out with a new and improved version of the Easy Expression Bustier so I asked 50 readers to take it for a whirl.
Here's what you thought:
Overall, this was a well liked product and just about everyone found it helpful and here's the breakdown of each question I asked.
Ease of Use:
No one found it hard to use. The feedback range was from 'meh' to 'easy peasy' when asked if it was really tricky, meh, pretty good, great or easy peasy. The biggest issue seemed to be the snug fit (required to hold the flanges in place) made it tricky to zip up. As one tester wrote:
"At first, it's hard to zipper it up, especially if I'm super engorged. But after a few uses, it's getting easier."
Here's a video of how it works in case you want to see the mechanics of it.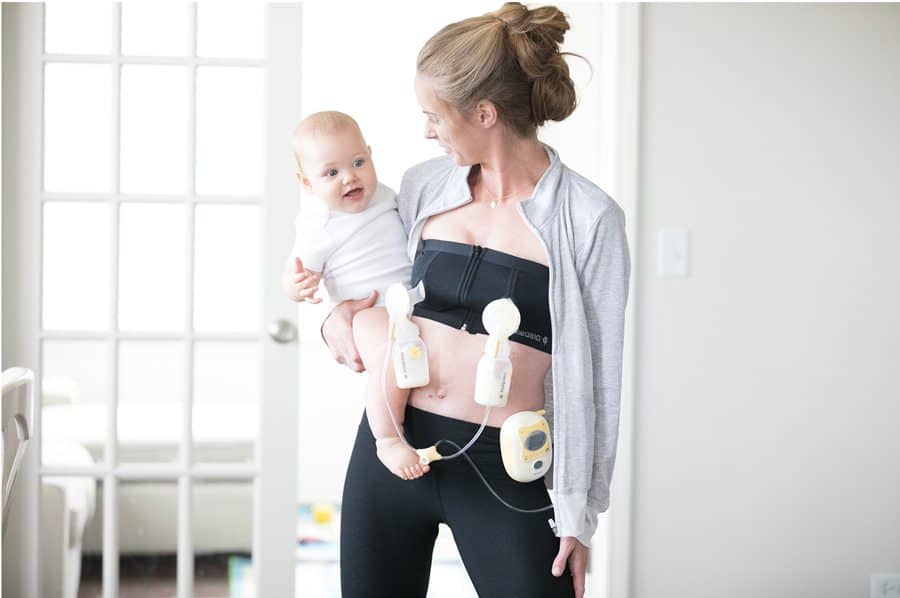 How Helpful is It?
Everyone found it helpful. The hands-free aspect was the real winner here.
"The bra sits in place really well and makes it really easy to get your nipple positioned in the pump flanges, and then the position is set and you don't have the flanges flopping around or moving on you while you pump."
"I hadn't been using a hands free pump bra before so this was a huge difference."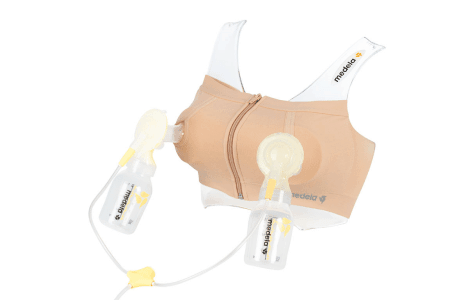 Does it hold up in the wash?
Yep. Some testers found that it started to pill a bit after washing and Velcro will stick to it easily in the wash – especially if it's knocking around with bibs. (I should point out that there is a tip on the care instructions that notes "For best results, do not wash/dry with apparel that has Velcro," so technically it shouldn't come in contact with velcro but not everyone is going to do that. ::cough:: me ::cough::)
One tester found it felt initially tighter after coming out of the wash. One tester had the hook loop get a hole in the middle but it still worked. Overall, everyone felt it held up well in the laundry.
"Dries quickly, which is good if you use daily."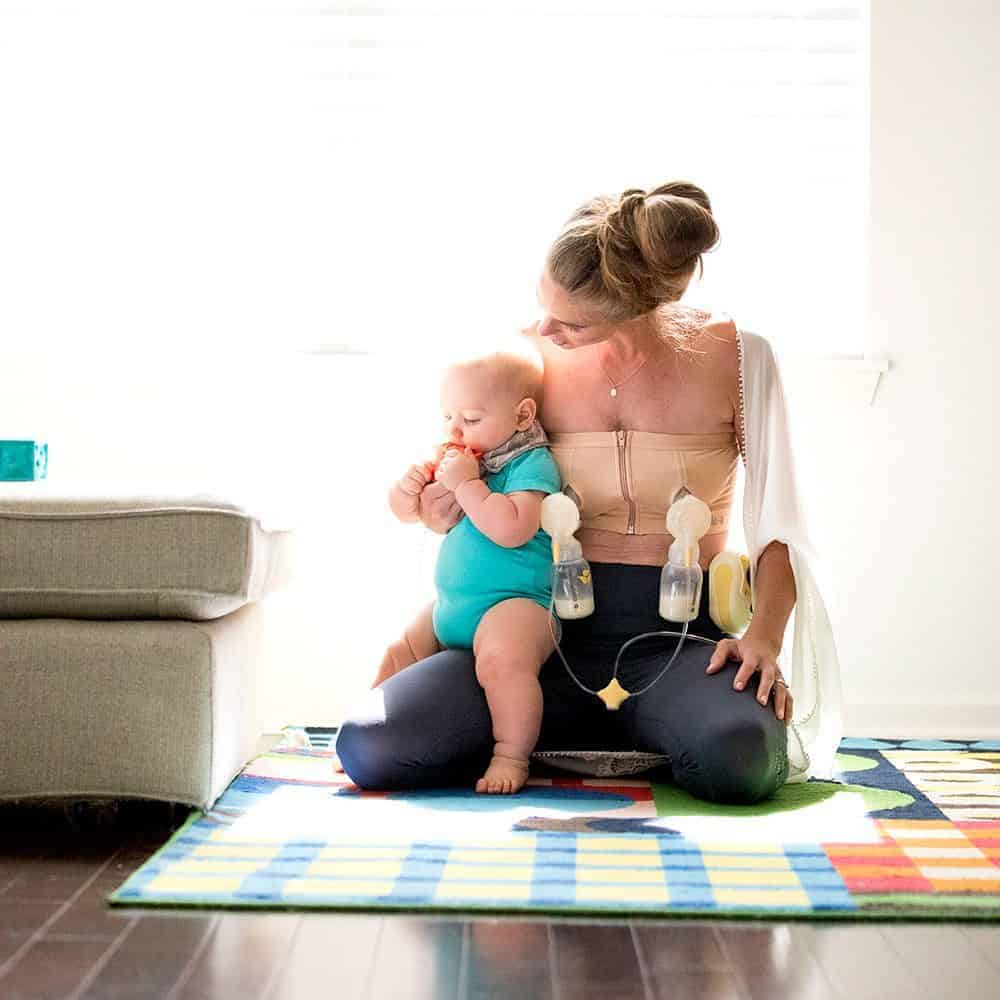 How Does the Medela Easy Expression Bustier compare to other bras?
75% of the testers have used another hands-free pumping bra. Of those testers, 29% didn't like it as well as the other bra, 29% liked it about the same, and 42% liked it better.
The Simple Wishes bra was picked by readers who had a Spectra pump (the flanges don't fit this bra) and others preferred its Velcro to Medela's zipper because they found it easier to put on and adjust.
"I wish you could use a Medela pumping bra with others pumps. I use my Sonata at work and have a Spectra for home, I prefer the Medela bra but can't use it with Spectra flanges, it's super frustrating."
The Medela beat out the Simple Wishes bra on the comfort factor. All the testers that had the original Medela Hands-Free Bustier preferred the new version.
"The clasp is a great feature and material change was nice!"
Can you do other activities while pumping?
All the testers said "yes" and found that it was truly hands free.
"I can eat lunch, type on the computer at a desk, commute to work driving, put make up on or style my hair & watch television."
"I was at work so I was able to continue working at my desk. (Thankful for a private office)"
"Wash dishes, make bottles, feed the dog, pack my lunch"
"Drive, eat, drink, write, send emails, play on my phone and computer, pick up the baby (this was a bit awkward with the shields, but not impossible), use VR goggles, vacuum, laundry, let the dog out (and in), get food from the fridge, sleep (accidentally, whoops!)"
Would you recommend this to a friend?
This one ran the gamut, but 46% said "you bet".
Some testers preferred their other pumping bra and a few found the cost of pumping bras in general prohibitive. One tester said she would recommend it but would tell her friend to 'size up'.
"I would certainly recommend if you can't pump hands-free any other way (I have one friend who can just rest the flanges in her bra and another who could let go after suction was established – neither used a bustier). I had resisted purchasing because they are fairly pricey for what they are and I didn't want to order one and have it not work for me (I'm terrible when it comes to online returns!). But now that I've tried it, I would say it's worth buying one."
"Compared to the other two bras I had previously I would definitely go out of my way to recommend."
Most of the readers (55%) also said they would add it to a registry.
"I think this is a great registry item and one that did not occur to me when I made a registry for my first baby."
What did you like most about this bustier?
The fabric was the clear winner here – testers really appreciated the softness and the stretch.
"It held the pump parts in place and felt sturdy!"
"It felt secure once it was on. Material was nice and comfy."
"The new clasp feature was a lovely touch for the top and material is soft and more comfortable."
"It's really easy to use and it keeps the pump pressed firmly where it needs to be so you don't lose suction"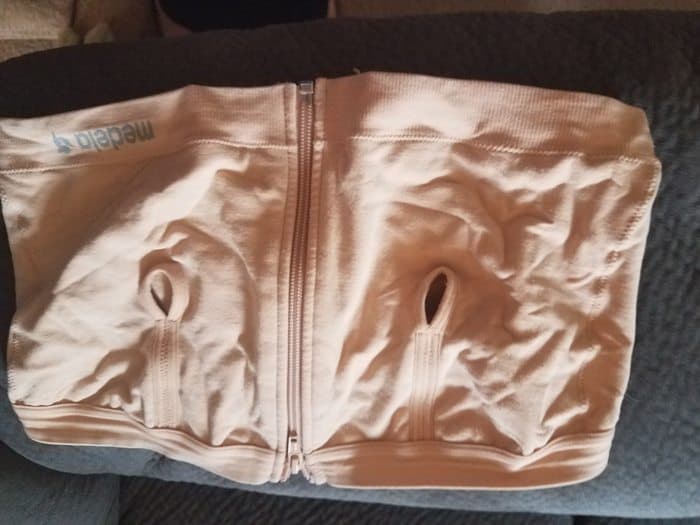 What did you think could be improved or what other features would you like to see?
Universal openings so you can use it with all pumps and pull the flanges through
An extra clasp at the bottom to help with the zipping
Flaps or covers so you could wear it like a regular bra
Optional straps for extra support
Larger sizes (extend the size range)
"I think all hands-free bras could be improved if the inside of them were a different color than the outside… because there is nothing worse than going to zip up the bra and finding that you have it on backward, inside-out, etc."
Overall thoughts about the Medela Easy Expression Bustier
This bustier is clearly an upgrade from its predecessor. The updated version is made from super-soft patented stretch material that won't lose its shape but still offer no-slip support. Some testers still found the zipper difficult but appreciated the addition of the hook at the top. The drawbacks are the incompatibility with some popular pumps and the fact that not everyone would want to wear it as a bra because of the nipple openings – it's more of a flange support bustier than a true bra. Still, most testers did like how the soft fabric feels, how well the flanges stayed in place and would recommend it to others.
Where can I buy it?
If you'd like to check out the Medela Easy Expression Bustier, you can find them on their site, Target, Amazon, Walmart, or buybuy Baby.
Related: Medela Sonata Breast Pump Review
---
Get posts & giveaway updates delivered right to your inbox
---
---