With so many great strollers on the market, it can be hard to pick between two that, on the surface, seem so similar but come with very different price tags, like the Mockingbird and the UPPAbaby Vista V2.

While both of these strollers check a lot of boxes, there are some differences – besides price – that may help you decide between the two.

For simplicity's sake, we're comparing the Mockingbird Single-to-Double and the UPPAbaby Vista V2, both of which have multiple configurations and can be used as single strollers, double strollers, and with the addition of the right accessories and attachments, can even provide a space for a tired toddler to catch a break on a riding board.

Here's a quick breakdown between these two great strollers so you can pick the best option for your family.
Price
There's no point in beating around the bush – these two have a pretty big base price difference.

Why is the Mockingbird so much cheaper? The long and short of it is it's being sold DTC (direct to consumer), which helps keep the cost down.

However, the Vista V2 comes with more in the box. Adding those accessories to the Mockingbird would increase the price by $180, bringing it up to $630.

Mockingbird: $450
UPPAbaby Vista V2: $999.99
What comes in the box?
While much of this seems silly to mention (it comes with WHEELS!) there are some important differences – like the bassinet, which is included in the UPPAbaby, but not with the Mockingbird.

Bassinets are handy to transport a sleeping baby from a stroll to your home – move the bassinet and not the baby and you have yourself a safe sleep space.

That said, some people found the bassinet wasn't necessary and a little impractical for actual strolling as the baby has a tendency to slide around a little anytime there's a surface that isn't 100% flat. Think that haul over the curb after crossing a street or the walk up the sloped driveway.

But others found it a nice, safe place for Baby to rest or hang out. Ultimately, the bassinet shouldn't be the end-all be-all deciding factor between the two, but might help tip the scales in one direction or the other, which is why I'm bringing it up.

Mockingbird:
Frame, seat, bumper bar, UPF 50+ sunshade with a peek-a-boo window, large storage basket, and wheels.  The bassinet ($140) is separate but isn't necessarily a must (see below for other accessories for using your stroller from day one).

UPPAbaby Vista V2
Frame, seat, bumper bar, UPF 50+ sunshade with a peek-a-boo window, large storage basket, wheels, bassinet, bug shield, and rain cover.

There are so many options for additional accessories, but some of the more popular options include a second seat, infant inserts, car seat adaptors, bassinet stand (see the Mockingbird bassinet stand review here), snack tray, cup holder, hand muff, footmuff, or even a cooler. Here's the full list of Mockingbird accessories and UPPAbaby accessories.
Frame and finishes
Based on looks alone, the frames and finishes of these two strollers are pretty darn similar. They weigh almost the exact same, are both capable of multiple seating arrangements, and have very similar footprints. That said, there are a few things, like how the handlebar adjusts and the number of color combinations, that might help one stroller stand out. If you or your partner (or both) are very tall, the handle can extend, which helps with a comfortable push.

Mockingbird:
Frame: Anodized aluminum
Handle: Leatherette grip (no animal by-products), doesn't extend but does have 6 rotating positions for comfortable grip
Seat and basket: Heavy-duty nylon
Weight: 26.5 lbs, including frame, seat, wheels, canopy and basket
Footprint: 33" L x 25.5" W x 40" H (unfolded) 18" L x 25.5" W x 34" H (folded)
Customization: 6 colors and 2 patterns for sunshade, 2 color combos for the frame

UPPAbaby Vista V2:
Frame: Aluminum and magnesium (though this is from a secondary site and isn't clear on UPPAbaby's site)
Handle: Premium, full grain leather grip, adjustable handlebar that extends to accommodate all heights
Seat and basket: Nylon blend
Weight: 27 lbs, including frame, seat, wheels, canopy and basket
Footprint: 36" L x 25.7" W x 39.5" H (unfolded) 17.3" L x 25.7" W x 33.3" H (folded)
Customization: Choose from 10 preset designs featuring different color sun shades and frames, or opt for their TAILORED option for custom fabrics and designs at a higher price point.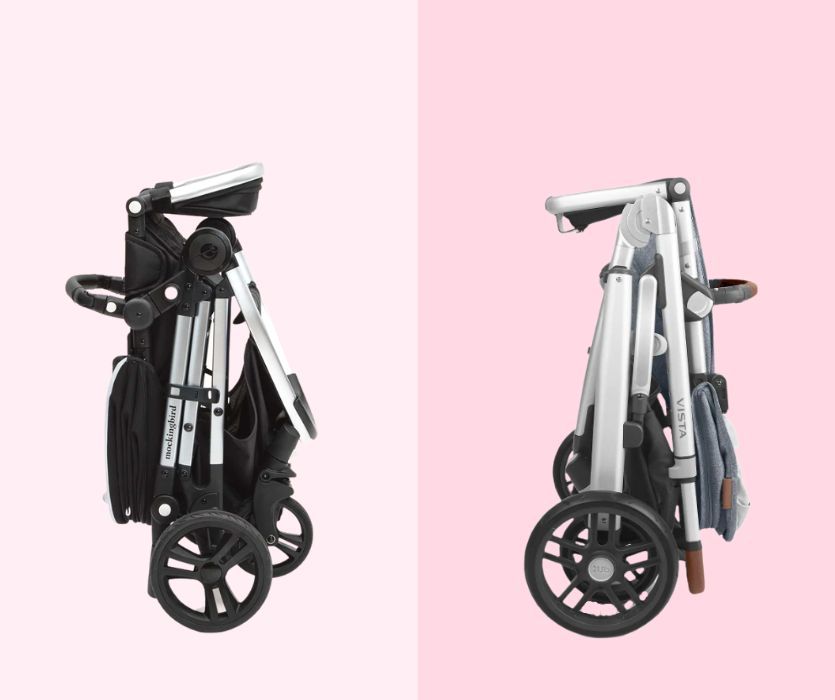 Fold
Why does it matter if a stroller can stand alone and fold flat? This is a personal decision, but for those who plan on storing a stroller in a closet or carrying it around in a car, these factors can help dial in the right stroller for a specific family. Additionally, being able to collapse a stroller with one hand is something that budges the needle for some, while for others, an extra step or two (and a few extra seconds) isn't a deal breaker.

Mockingbird:
Stand alone flat fold: Yes
One-handed fold: Yes

UPPAbaby Vista V2:
Stand alone flat fold: Yes and has the smaller fold of the two
One-handed fold: No. Has two-handed fold requiring a few steps (activating the break, extending the handlebar to the second highest position, and reclining the seat)
Wheels and Brakes
Both strollers rank highly for kid comfort and ease of pushing, even on rough terrain (we're talking compacted dirt path vs. paved sidewalk), although UPPAbaby has a slight edge thanks to their all-wheel suspension.

Both of these are praised for their flip-flop-friendly breaks, which means you can engage or disengage the break easily, even if the top of your foot isn't protected by a shoe.

Mockingbird:
Front wheel suspension, flip-flop friendly foot break that gets high marks for being very easy to lock/unlock, pivoting front wheels.

UPPAbaby Vista V2:
All-wheel suspension, flip-flop friendly foot brake with a visual indicator that shows you if the brake is engaged (red) or not (green). Slightly larger wheels than the Mockingbird. Pivoting front wheels. There are a few complaints about the break being harder to lock/unlock compared to Mockingbird, but overall, it receives fairly positive feedback.
Car Seat Adaptability
Car seat adaptors let you use your stroller base from day one without having to get any special inserts or bassinets. They're super handy for transporting your baby anywhere and everywhere and really maximize the usefulness of your stroller.

While several brands are listed below, not every model is covered under each brand, so make sure you check that both the brand and the model are on the list found on either the Mockingbird or UPPAbaby site.

Mockingbird:
$45 car seat adapter and connects with a variety of models from these brands: Baby Jogger, Britax, Chicco, Cybex, Evenflo, Graco, Maxi-Cosi, Nuna and UPPAbaby. Exact models can be found here.  

UPPAbaby Vista V2
$49 car seat adaptor that connects with Chicco, Cybex, Maxi-Cosi, and Nuna. The UPPAbaby Mesa connects without an adapter. Exact models can be found here. Some sites report other seats fitting (like Clek and Peg-Perego), but that can't be confirmed on the UPPAbaby site, so more research is necessary before you make anything official.
Age of use
Both strollers can be used from day one through toddlerhood, with each seat being rated for 50 pounds. (That's about the size of an average five-year-old.)

As we've mentioned before, you will need either a bassinet, an insert, or a car seat adaptor in the beginning, then around 6-7 months – or once your baby is sitting up unassisted – you can start using the included seat.

Mockingbird:
Newborn with either the infant seat insert (sold separately), car seat adaptor (sold separately), or bassinet (sold separately) through 50 pounds in the toddler seat.

UPPAbaby Vista V2:
Newborn with either the included bassinet, UPPAbaby Infant SnugSeat (sold separately), or car seat adaptor (sold separately) through 50 pounds in the toddler seat.
Warranty
Both strollers offer warranties of different durations, though as with any warranty, you need to read the fine print to know if it's going to be a selling point for you.

Mockingbird:
Lifetime warranty (with some exceptions listed on the site - details found here), and you don't have to register your product to utilize it - though they still recommend you do. Mockingbird also offers a free 30-day trial if you want to put it to the test and see if it will work with your lifestyle.

UPPAbaby:
3-year limited warranty, as long as you register your stroller with UPPAbaby. Full details can be found here.
What did other sites think of them?
We looked around to see what other sites thought of the comparison.
When do they go on sale?
Neither Mockingbird strollers of UPPAbaby Vista V2s go on sale very often. You will get the odd discount on old stock or a freebie cup holder occasionally, but the discounts are never big so you're pretty safe to buy them anytime. Check out places like GoodBuyGear and Reblestork to snap up a used one if you want a deal.
Where can I purchase them?
Both strollers can be bought directly from their respective sites, online, or at various retailers. UPPAbaby in particular can get picky about their warranty, so make sure you buy it from one of their authorized retailers.

Mockingbird:
Mockingbird
Target
Babylist

UPPAbaby Vista V2:
UPPAbaby
Amazon
Babylist
Crate & Kids
Nordstrom
Pottery Barn Kids
Final thoughts
These are both great strollers.

They are thoughtfully designed to last, each with various perks that will appeal to different families.

We have reviewed the Mockingbird stroller in the past and really liked it. It's held up well against wear and tear and you get a lot of bang for your buck.

Even when you add the bassinet, the Mockingbird is significantly cheaper but it's also worth noting that the Vista holds its resale value well, so you can recoup some of the initial cost if you decide to sell it.

If budget isn't the deciding factor, the Vista V2 is a nicer stroller. Is it $550 nicer? Maybe. If it's getting a lot of use, multiple kids are going to be using it, or someone else is buying your stroller, I'd say it's worth checking out.

What do you think? Do you have one of these strollers and love it or hate it?
Let us know in the comments below.

Our next reco: Shit, I Picked the Wrong Stroller…Three Times
---
Get posts & giveaway updates delivered right to your inbox
---
---