When it comes to talking about complex and emotional things like racism with your kids, it's natural to feel a little anxious about doing it right.
Some parents worry introducing topics like racism too early can be harmful, but it turns out kids notice race as early as preschool, making early introduction to this heavy but important topic critical. Studies have shown parents' silence on racism actually reinforces it.
According to a study just last year, 60% of parents rarely or never discuss race/ethnicity or social class with their children. We are here to say, it's not too early, and starting young is key if we want to raise a generation of good humans.
Because tackling this topic can feel overwhelming, here are 5 things you can do today to help teach your kids about race, racism and racial injustice.
Read a book
Early introduction to different races and cultures is key when it comes to building empathy, and raising anti-racist kids. These books help give your kids the tools to understand different races, identify problems, and stand up for those who need our support – all in a kid-friendly, age-appropriate way.
Here are 15 of our favorites, with the help of Little Feminist, and 100% of the proceeds from the affiliate sales on these books will be donated to Color of Change and the NAACP Defense and Education Fund.
Feel free to shop anywhere for these books. Stores like Mahogany Books don't have an affiliate program, but they DO have an incredible selection. The goal of this list is to get these books on your bookshelf and support these authors. The donation is just gravy.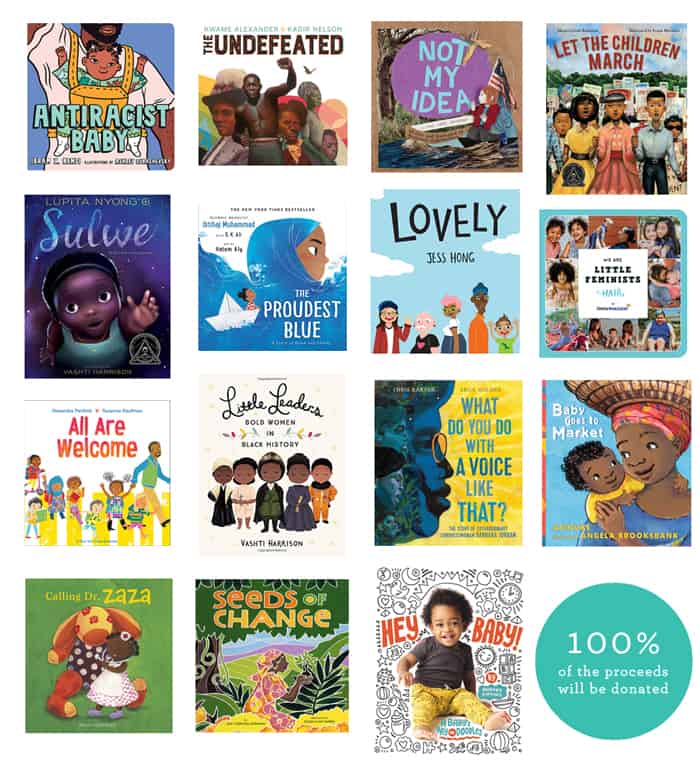 Books about racism:
Books about being bullied for being different:
Sulwe – a gorgeous tale about loving ALL of ourselves by Academy Award winner Lupita Nyongo. BAM | Amazon |Indigo
Books that celebrate racial diversity :
Lovely – there are so many bodies and intersecting identities celebrated in this book, every time we read it we discover something new we love. Jess Hong uses sparse words like 'black' and 'white' and 'fancy' and 'sporty' to highlight how all of our bodies are lovely. We love how the illustrations challenge our expectations! BAM |Indigo
We Are Little Feminists: Hair – Little Feminist wrote this book specifically for families to talk about celebrating race & ethnicity at home. Photos of real families are accompanied by playful rhyming text that will make this a book your kids keep reaching for. Sold as a set of 3 on Amazon. It can aslo be purchased separately on LittleFeminist.com.
Biographies of people of color, beyond athletes and musicians:
Little Leaders: Bold Women in Black History – our favorite anthology of Black female leaders! BAM | Amazon | Indigo
What Do You Do with a Voice Like That? – highlights the remarkable life of Congresswoman Barbara Jordan. She shattered glass ceilings serving as a Texas State Senator in 1967 alongside 30 White men. BAM | Amazon | Indigo
Books by Black authors about Black characters:
Calling Dr. Zaza – your family is going to fall in love with Zaza, and (SCORE!) it's a series. We picked this book to highlight because Zaza plays doctor in this story, and it leads to lots of fun imaginary play at home. BAM | Amazon | Indigo
Baby Goes to Market – the routine task of grocery shopping becomes a colorful adventure filled with joy, and delicious treats! Enjoy counting along as Baby and Mama work their way through a bustling West African market together. BAM | Amazon | Indigo
Make a donation
Talk to your kids about why you're donating to a cause. Keep it light, age-appropriate, and easy to understand. "We're sending money to someone who can make sure people who need our help right now can get it." They don't have to understand the complexities behind it, but they will see you taking action, which is an important lesson.
Use age-appropriate materials to help you tackle big topics
Kids are incredibly perceptive to what's going on around them. Assuming they don't feel the unrest in their environments when big things happen isn't a safe bet. Rather than remaining silent, finding an age-appropriate way to talk to them about the specific event can help. This video of an animated children's book dealing with police brutality is currently relevant.
Educate yourself
I'll be the first to admit that trying to figure out what to do can be paralyzing. Nothing seems big enough, but knowing where to start feels overwhelming. Take a minute and look through this list of 75 Things White People Can Do for Racial Justice. Pick one thing. Do that one thing. Go from there.
Don't have grand expectations
The goal here isn't to fully teach your pre-k child about the dangers of systematic oppression over the weekend. But by starting the dialog about race early on, the lessons we are all still learning will be easier to understand as they grow.
Have you come across a great book, website, or resource for teaching kids about racial injustice?
Let's further this conversation in the comments below.
---
Special thanks to Little Feminist for helping us pull this list together.

In March, Little Feminist published their own board book series, titled "We Are Little Feminists," created specifically to help families discuss race, gender, sexuality and disability to babies and toddlers. And the LittleFeminist.com's monthly book club subscription uses the power of children's books to help families integrate lessons of injustice and fighting for equity into storytime. But they have also pulled together a list of books, for different ages of children to help families diversify their bookshelves.
---
Our next reco: Unique Board Books for Babies: Creating a More Diverse Bookshelf

---
Get posts & giveaway updates delivered right to your inbox
---
---