It's pretty easy to find a baby gift under $30, but it's often hard to find one that is nice, useful, and doesn't look cheap – especially if it's being opened at a baby shower.

I have some great single gifts but I've also tried to pull together some themed bundles that all together come under the $30 mark. These are also great if you're building your own baby registry and want some affordable (yet still practical) ideas for friends and family.

Here are my picks for a baby gift that a new parent will find helpful and won't break the bank.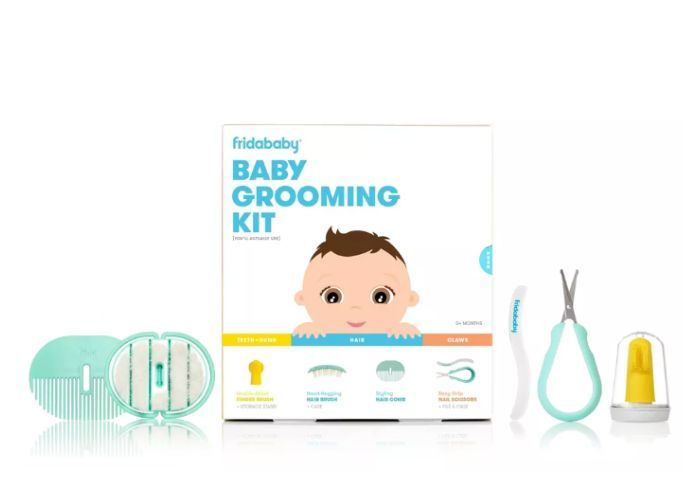 Frida Baby Grooming Kit
Frida Baby is an amazing brand that makes unique (and helpful) products. This bundle includes a finger brush that's double-sided to clean top and bottom teeth, a hair brush and comb with a flexible base, nail scissors with curved blades and an s-curved nail file for those razor sharp nails newborns have. You can pick it up on Amazon or at Target for around $25.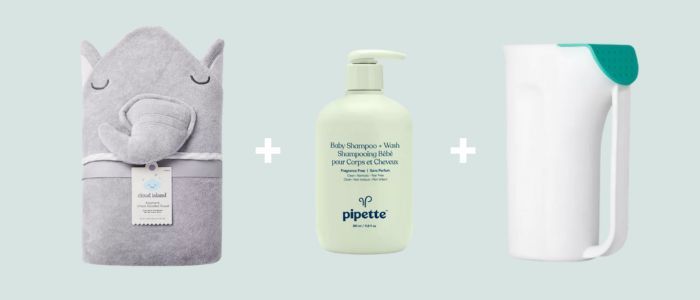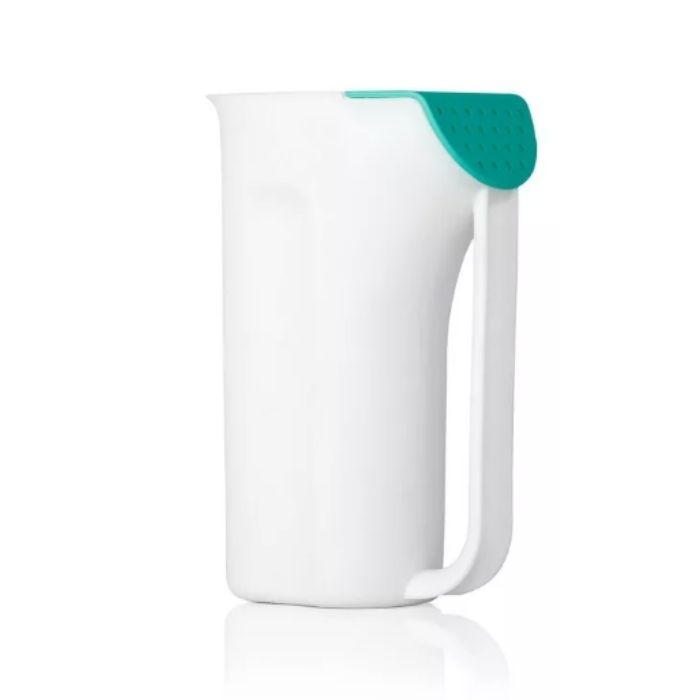 Frida Baby Control The Flow Rinser
This rinse pitcher provides a gentle rain shower for newborns, or a waterfall for toddlers, keeping water out of their eyes and ears for a quick, painless soap and shampoo rinse – some kids act like you're amputating a toe when you rinse their hair. You can find it on Amazon and Target for around $10.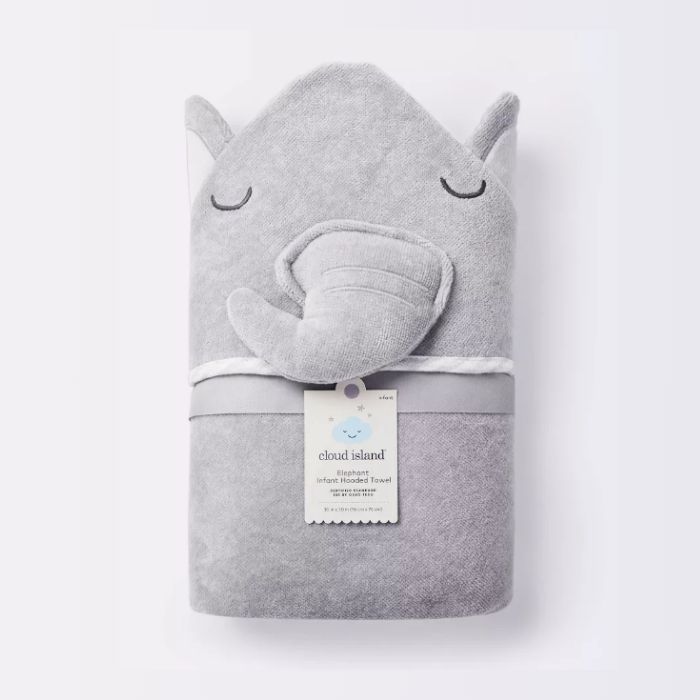 Baby Elephant Hooded Towel
This cotton bath towel keeps them comfy-cozy after they get out of the water. It absorbs moisture quickly, along with an adorable elephant face on the hood that helps dry their head quickly and adds a dash of cuteness as well. You can find it on Target for around $13.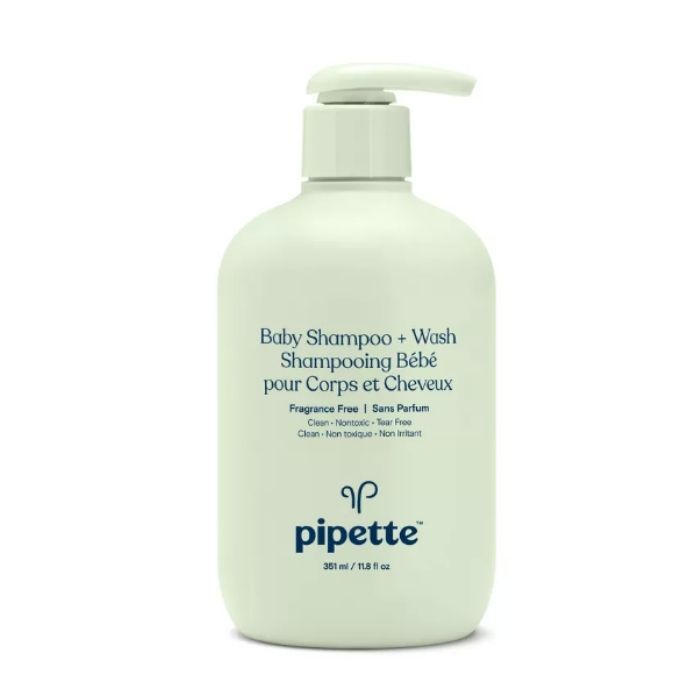 Pipette Baby Wash
Made with plant-derived ingredients, this sulfate-free, hypoallergenic formula helps restore the natural moisture balance of a baby's skin. I picked this brand because it would appeal to most parents, whereas brands like Aveeno and Johnson's and Johnson's might make some ingredient conscious parents twitchy. You can find it on Amazon and Target for around $9.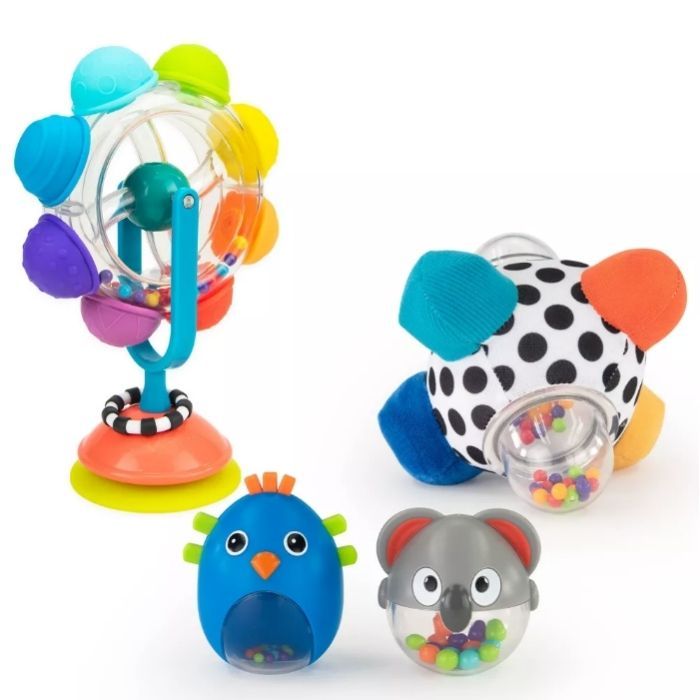 Sassy Toys Move & Groove Gift Set
This set of toys encourages fine & gross motor skills. Suction cup the rainbow reel to any smooth surface, and baby can bat at the wheel of mesmerizing bright colors. The 2 mini-shakers are the perfect size for a baby to hand grasp and shake. The bumpy ball has chunky sized bumps to encourage reaching, grasping, and transferring from one hand to the other. It all comes in a nice, easy to wrap package too. You can find it on Amazon and Target for around $25.
Melissa & Doug Pineapple Soft Stacker
This 5-piece infant toy includes a cloth-covered base and post with rattle, two squeezable rings (1 that crinkles), a plastic textured ring, and a textured topper with crinkle leaves and fabric ribbons to help encourage sensory, fine motor, and problem-solving skills. It's a good size and looks substantial while still being a great gift. You can find it on Amazon and Target for around $24.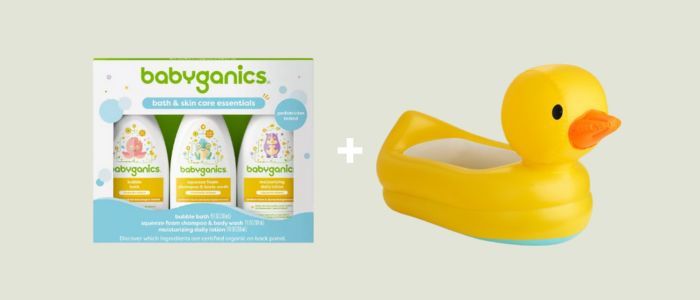 Munchkin Duck Inflatable Baby Bathtub
I love this popular tub because it is perfect for babies around 6 - 24 months old and includes a White Hot Safety Disc that lets you know if the water is too hot. It easily drains and deflates and is perfect for traveling, too. You can find it on the Munchkin site (they have great stuff), Amazon and Target for around $14.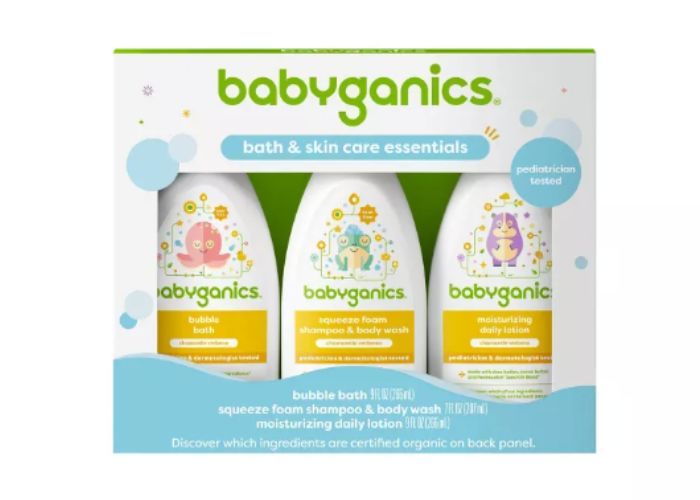 Babyganics Bubble Bath Set
Bath stuff is always a good bet because kids constantly need hosing down. This little bath bundle includes Bubble Bath, Squeeze Foam Shampoo + Body Wash, Moisturizing Daily Lotion, which are all plant-derived and free from parabens, sulfates, phthalates, dyes, and synthetic fragrances. You can find the set at Target for about $15.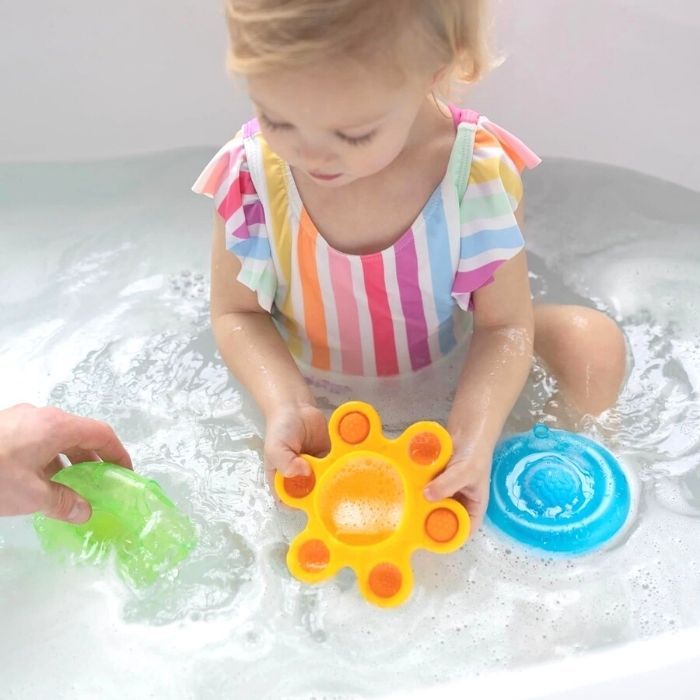 Fat Brain Toys Dimpl Splash Bath Toys
Scoop and pour with the pitcher wrapped around a green dimpl bubble. Dunk the donut and tilt it one way for rain and another way for a stream. Explore the sucker-covered bubbles of the starfish, then set it adrift or use it as a water scooper. Fat Brain Toys are a great brand, and you can't go wrong with any of their stuff. You can find it on the Fat Brain Toys site and Amazon for around $25.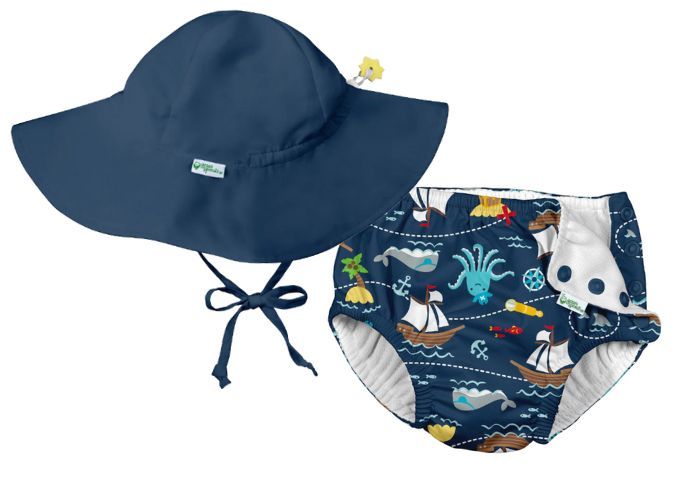 Green Sprouts Swim Diaper + Hat
Swim diapers are designed to contain surprise pool poops – nothing quite like the walk of shame that accompanies a 'pool fouling'. These eco-friendly diapers are machine-washable and have a wicking liner and a waterproof outer layer that helps prevent leaks. Green Sprout hats are the GOAT and offer all-day full-coverage sun protection for the head, neck, and eyes. You can find the set on the Green Sprouts site for $30 but you can also find them on Amazon and Target if you want to buy them separately.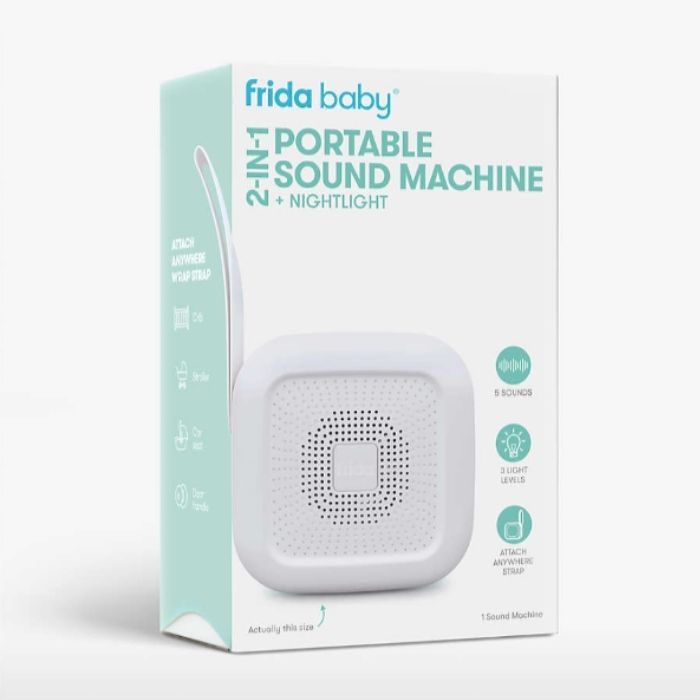 Frida Baby 2-in-1 Portable Sound Machine + Nightlight
This Portable Sound Machine + Nightlight is small but mighty and drowns out noises with five sound options, including shushing and heartbeat, along with a soft glow nightlight for those nighttime feeds. First time parents aren't always aware of how awesome white noise machines are so this might be a great baby shower gift for someone who doesn't already know the ropes. You can find it on Amazon and Target for around $30.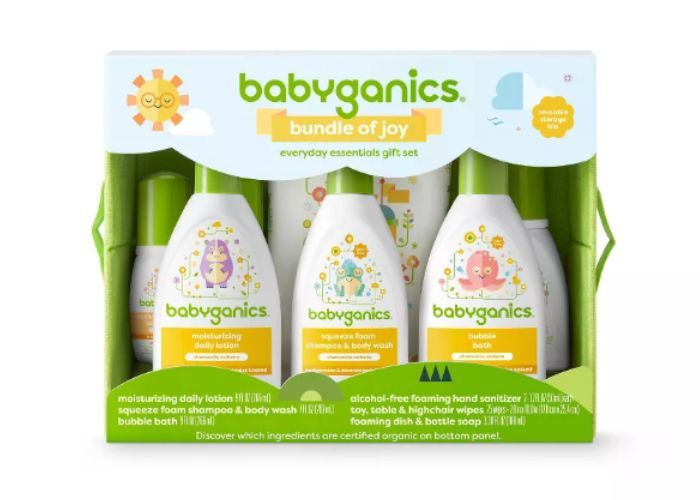 Babyganics Hero Essentials Gift Set
This starter set includes daily lotion, bubble bath, Shampoo and Body Wash, Dish and Bottle Soap, Toy Wipes and Hand Sanitizer. All of Babyganics products are made without parabens, sulfates, phthalates, dyes, synthetic fragrance and are not tested on animals. The packaging is lovely and includes a reusable fabric cube that all the products fit in. You can find it on Amazon and Target for around $28.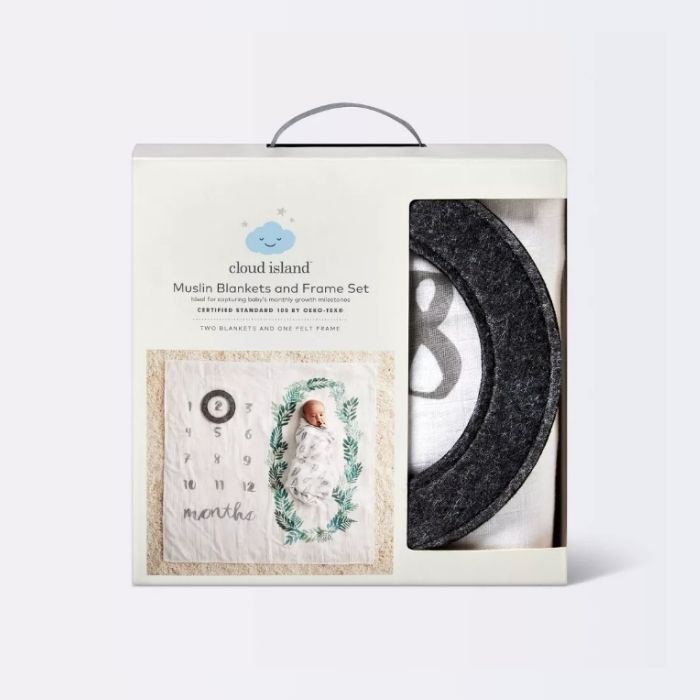 Muslin Blanket and Frame Set
This set is a sweet (and comfy) way to capture a baby's monthly growth milestones. The baby blanket and frame set includes a leaf-print swaddle blanket, a muslin blanket featuring the numbers 1–12, and a circular felt frame that you can easily slide over the number that corresponds to the age in months of your little one. It comes in a nice box too. You can find it and other designs at Target for around $20.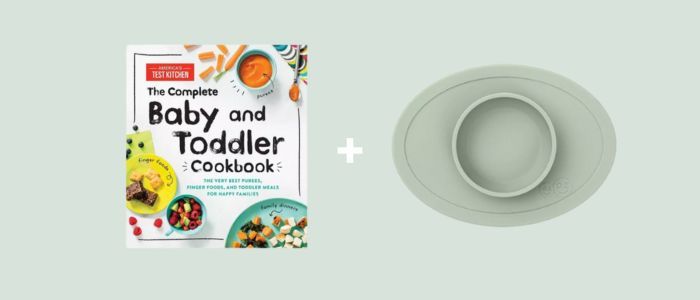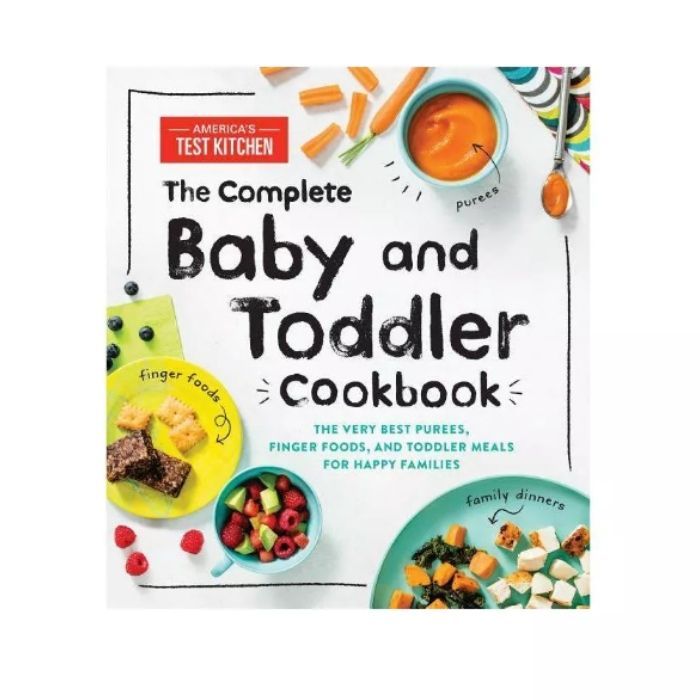 The Complete Baby and Toddler Cookbook
I have this book, and it's great. It includes ways to introduce your child to solid foods, purees, smoothies, and family meals that everyone can enjoy. Cookbooks are a little off the beaten path but are useful once you hit that stage of, "what the heck am I going to feed this kid?" I also like that it doesn't add pressure around food prep or feeding strategies that a mom or dad might not want to follow. You can find it on Amazon and Target for around $14 (it usually retails for around $25).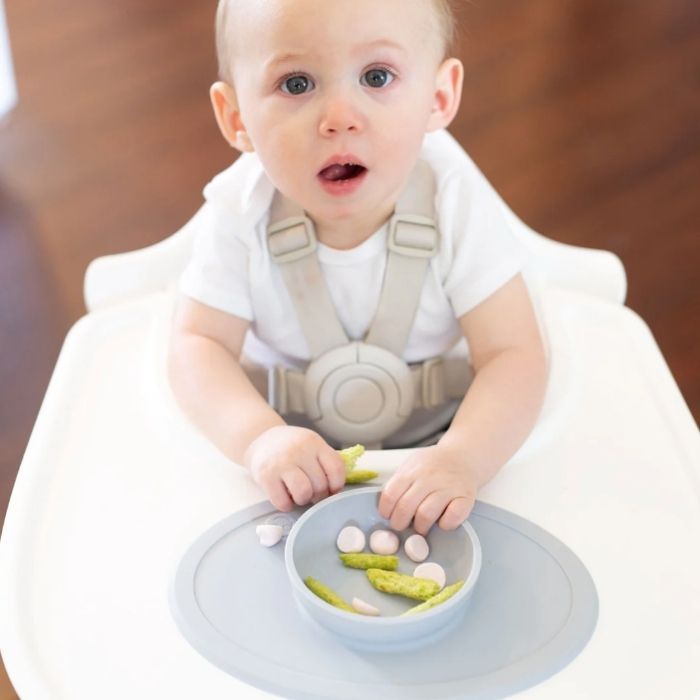 ezpz Tiny Bowl
These suckers are great when a baby is in the "cause and effect' stage of throwing bowls because they essentially create a seal with your table - you have to peel them up to remove them. They are made from food grade silicone and are dishwasher-safe. You can find a variety of colors on the ezpz site, Amazon and Target for around $17.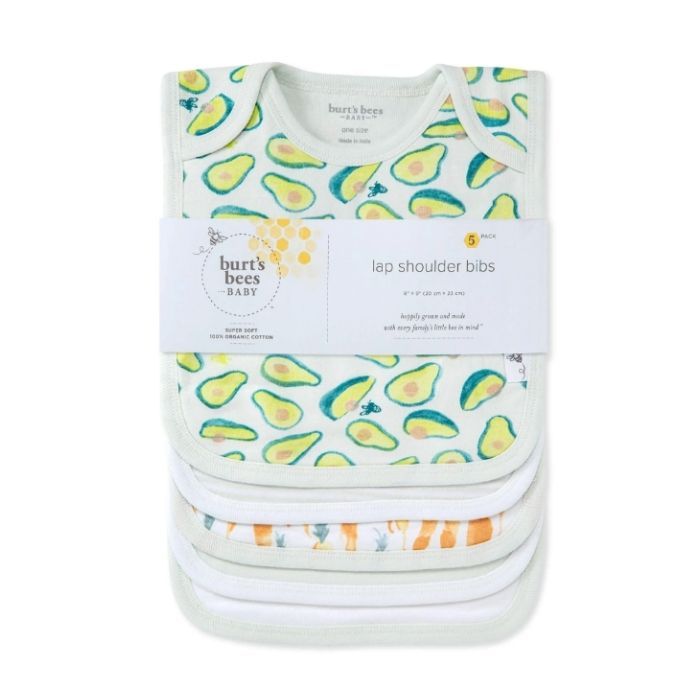 Organic Cotton Baby Pull On Bibs
Bibs are always helpful, from drool to food. This pull over easy on/off design makes it easy to multi-task and the baby can't pull it off during mealtime. You can find them on the Burt's Bees site, Amazon and Target for around $25. (These go on sale often, so check all three sites before buying.)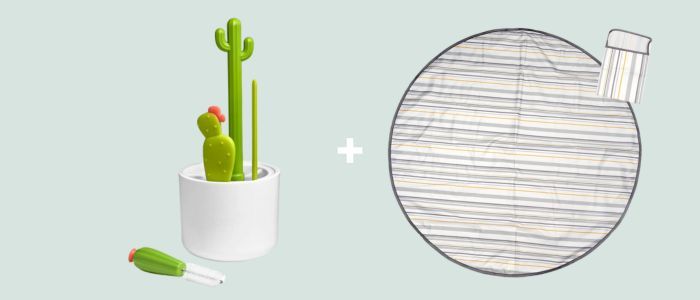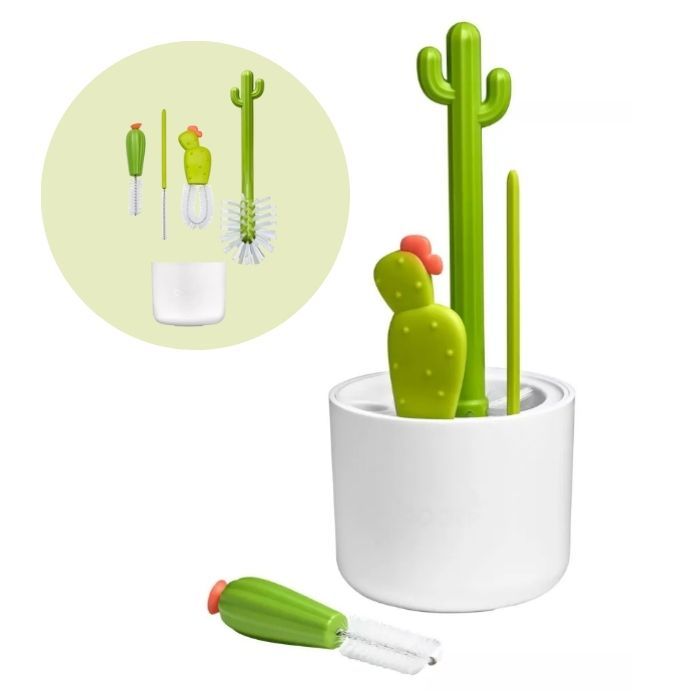 Boon Cacti Bottle Cleaning Brush Set
This fully stocked set includes four cacti brushes made out of durable nylon to get the goop out of bottles, sippy cups and breast pump parts. The vase drains water and keeps the brushes together making it a practical and fun gift. You can find it on Amazon and Target for around $17.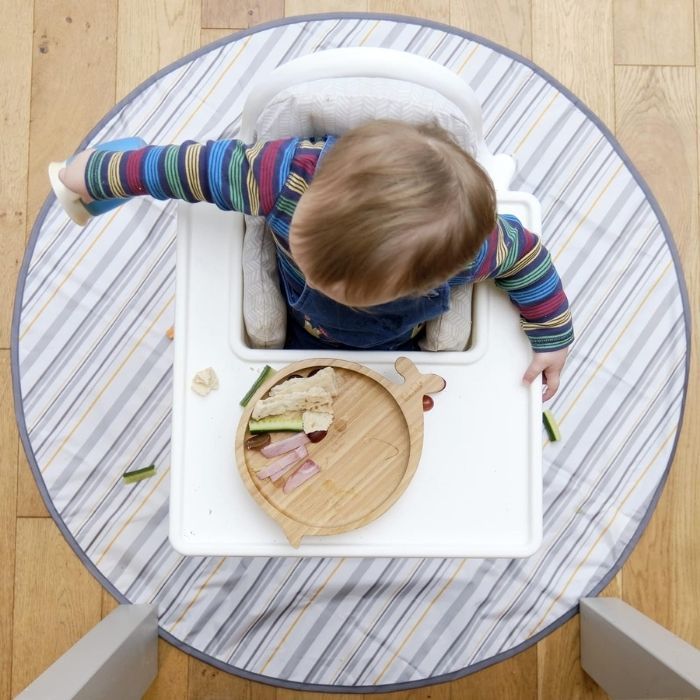 Prince Lionheart catchALL Baby Splat Mat
This multi-use mat protects your floor from all the gross stuff that falls out of an eating baby or toddler. It is lightweight, durable and easy to clean, with a non-slip bottom to prevent skidding. It folds up easily for travel or when not in use, and you can use it under a highchair or booster seat at feeding time or under an easel for art projects. You can find it on Amazon and Target for around $15.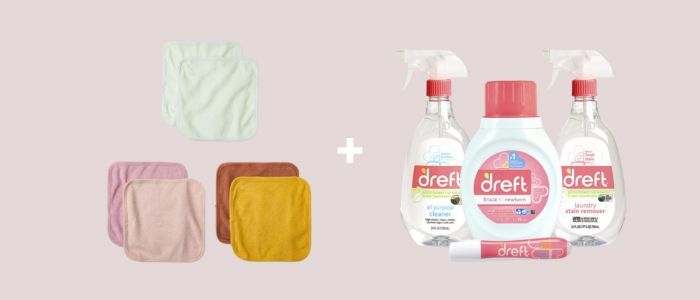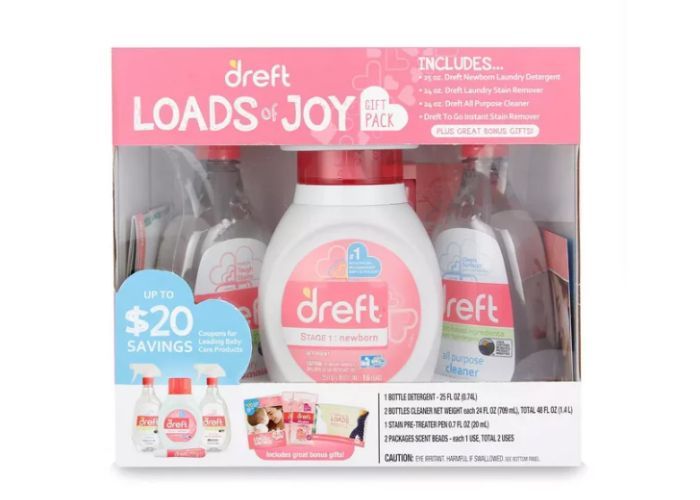 Dreft Loads of Joy Gift Set
This gift pack contains laundry detergent, stain remover spray, all-purpose cleaner, stain remover pen, laundry scent booster, month-by-month baby photo stickers, and an advice booklet. It's a practical baby gift but still feels thoughtful because people often forget about the mountains of laundry babies create. You can find one set on Amazon and Walmart for around $24 and a similar one at Target for $20.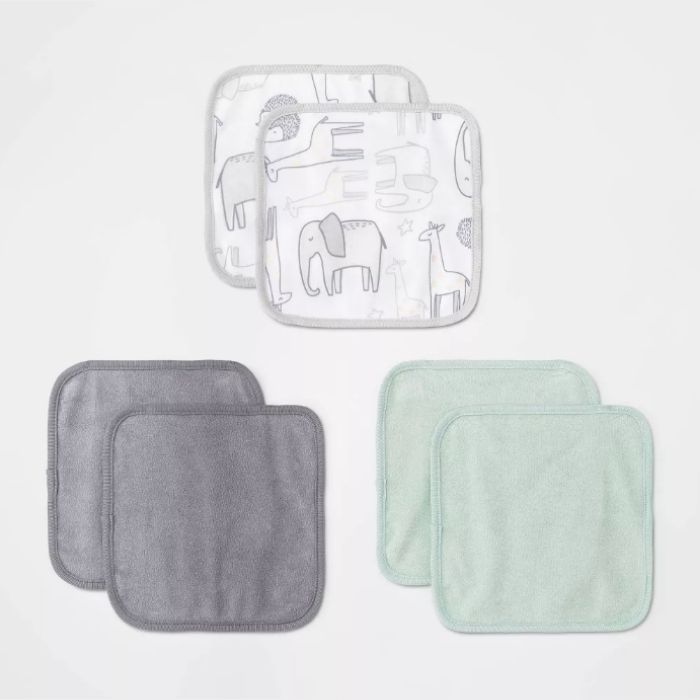 Baby 6pk 'Little Peanut' Washcloth Set
These baby washcloths are crafted from absorbent terry fabric making them great for clearing spills, dribble, messes or spit up during mealtimes or playtime. They can be easily packed in a diaper bag or used in the bath. Best of all, a set of 3 is only $5. You can find them at Target.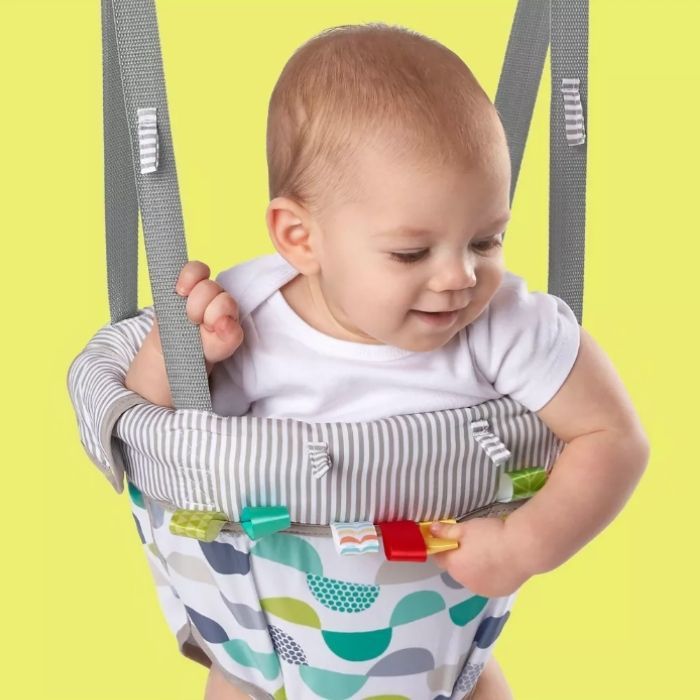 Bright Starts Taggies Door Jumper
This jumper fits right into almost every doorway and is easy to remove and take on-the-go. The attached Taggies tags add an extra dose of entertainment while burning off some energy. This would be used once a baby can sit up by themselves past the 6-month mark. You can find it on Amazon and Target for around $30.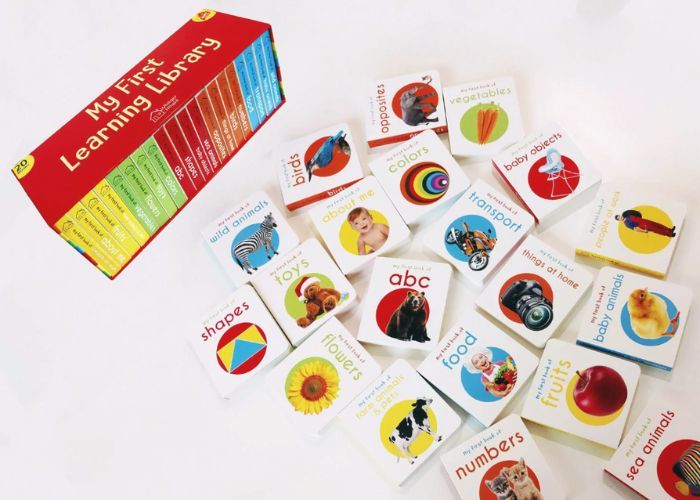 My First Complete Learning Library
These books introduce a wide range of learning topics for little scholars. Well-researched pictures and accurate word labels (you'd be amazed at how many inexpensive board books are wrong) help develop basic concepts and vocabulary. You can find the set on Amazon and Walmart for around $28.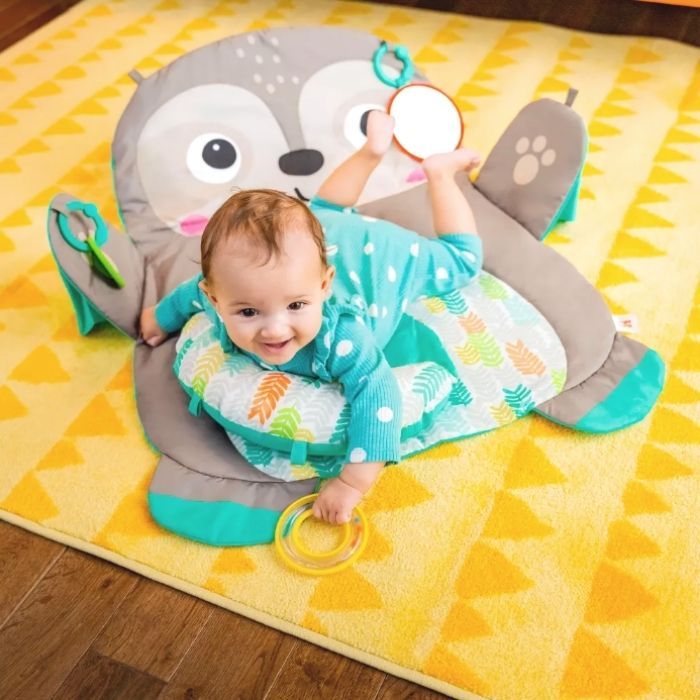 Bright Starts Tummy Time Prop & Play Mat
This polar bear mat makes tummy time easier by propping a baby up to bring the toys within reach. It also has a baby-safe mirror, little loops of satin Taggies and crinkle sounds, rattles and other toy attachments. It's a nice size that can fit well in small spaces or taken along for travel. You can find it on Amazon and Target for around $25.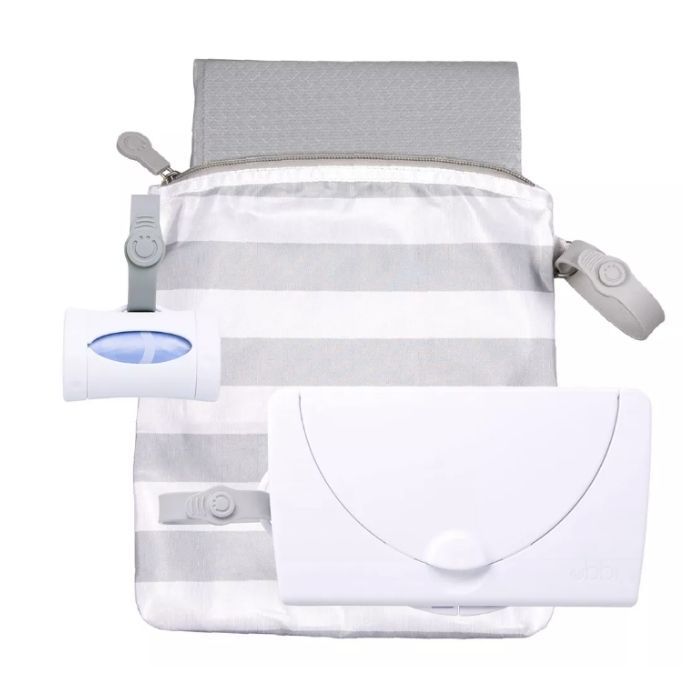 Ubbi On-the-Go Starter Set
This bag holds a soft, yoga like mat, wipes dispenser, and bag dispenser that includes lavender-scented bags to keep stinky diapering odors at bay. It's great for keeping around the house, in your car, or popping in your bag when you're running out the door. You can find it on Target for around $20.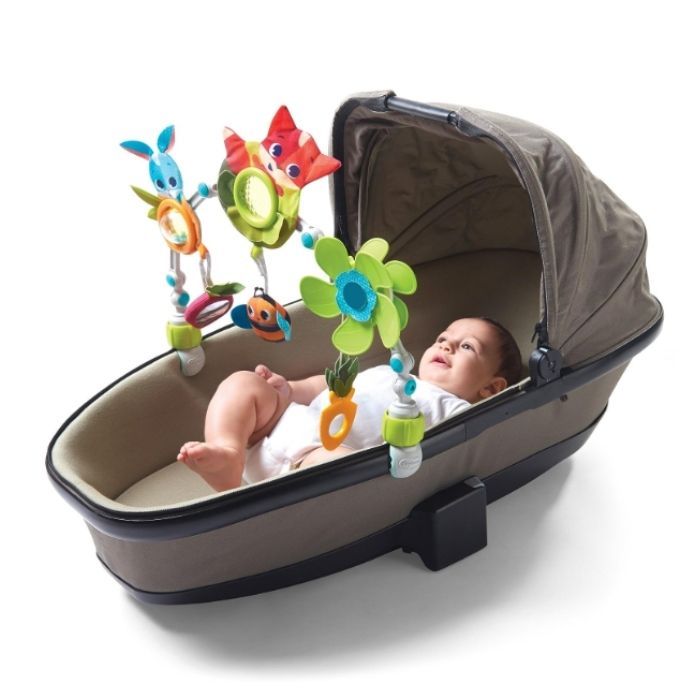 Tiny Love Meadow Days Sunny Stroll Arch
This arch includes 6 baby-activated toys. It has easy universal attachment clips so it can attach to most strollers, loungers, etc. so you don't have to know what gear they have. Plus, the flexible arch has angle adjustments so babies of all stages can reach the toys. You can find it on Amazon and Target for around $25.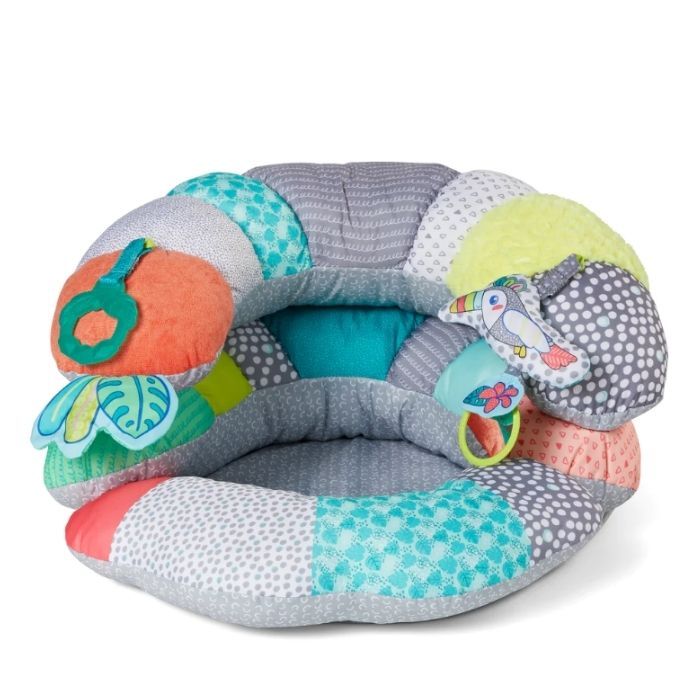 Infantino 2-in-1 Tummy Time & Seated Support
Extend this playful caterpillar for tummy time support, helping baby strengthen neck and back muscles while they engage with the soft, textured character, silicone teether and peek & see mirror. Stack the caterpillar to create a secure "C" shaped seat positioner to support early sitters. This runs around $40, but I've seen it at Amazon, Walmart and Target consistently under $30, so I'm including it on the list.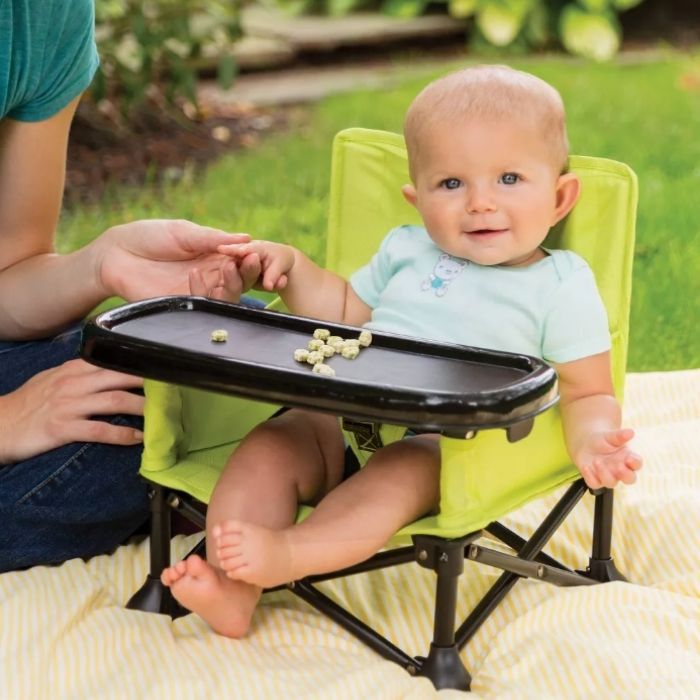 Summer Infant Pop 'N Sit Portable Booster Seat
With its lightweight design and compact fold, this Portable Booster seat is perfect for dining when your baby needs a place to eat or play. Whether it's a summertime BBQ , grandma's, or a park, baby has a place at every table. This one tends to vary in price - sometimes it's above $30, sometimes under – but it's a great seat, so I wanted to include it. Find it at Amazon, Target and Walmart.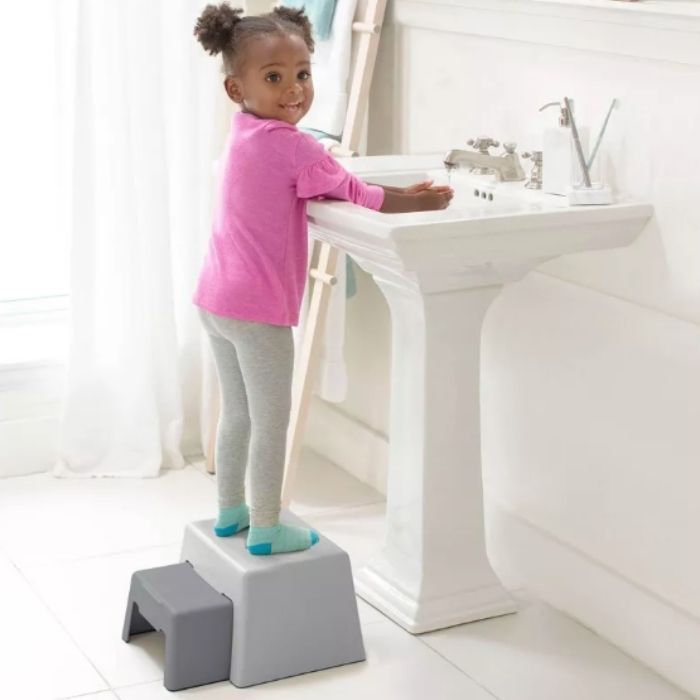 Skip Hop Double-Up Step Stool
This 2-in-1 step stool is perfect for the bathroom sink, in front of the toilet for potty training, or as a great as a kitchen helper. You can use the space-saving nesting stools together as a stepped design for an easier climb or separately. It's one of those 'ahead of time' items that parents will need but might not think of and they make the best baby gifts. You can find it on Amazon and Target for around $22.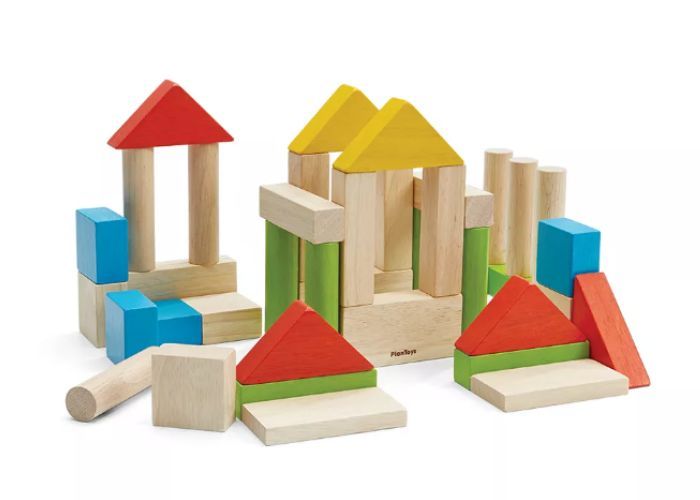 Plantoys Colorful 40 Unit Blocks
This set contains 40 wooden blocks in a variety of shapes and colors. Open ended toys like this help kids develop their problem solving, imagination, hand eye coordination and creative skills. Sustainably made in Thailand using chemical-free rubberwood, formaldehyde-free glue, organic pigments and water-based dyes. You can find them on Amazon and Target for around $30.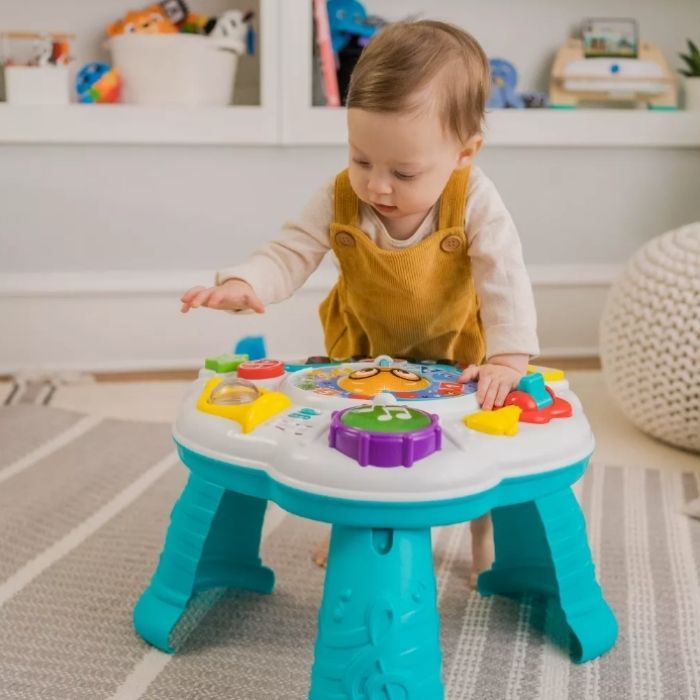 Baby Einstein 2-in-1 Discovering Music Activity Table and Floor Toy
Babies can tap the piano keys to hear musical notes, and with the switch of a button, the piano keys will introduce colors and numbers. It has a strummable guitar, tappable drum, a spinnable French horn and a music book with melodies, lights and discovery modes. Musical toys are always fun, but this one isn't annoying. (I'm looking at you, harmonicas!) You can find it on Amazon and Target for around $30.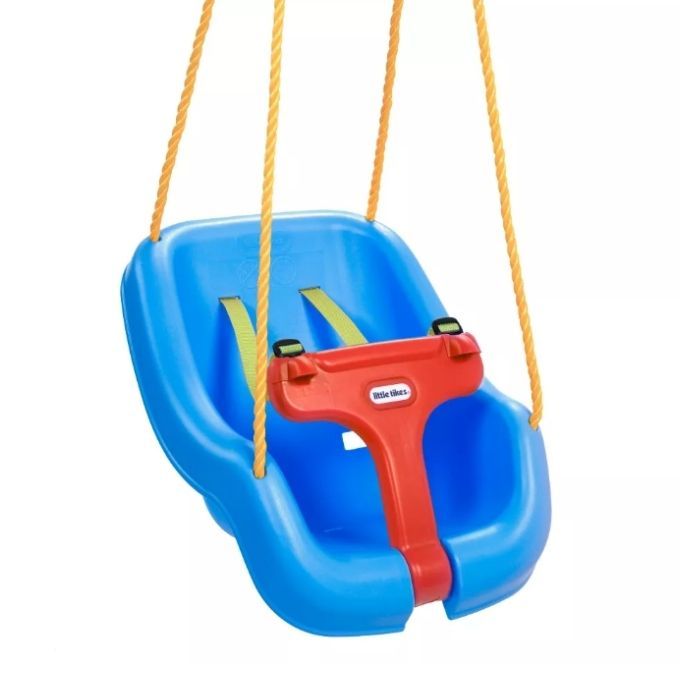 Little Tikes 2-in-1 Snug 'n Secure Swing
This baby swing has a T-bar that rotates down for easy loading and unloading and the adjustable stay-put shoulder straps hold baby securely in place. The straps move to the bottom of the swing and store conveniently out of the way once kids hit the toddler stage and it has a weight limit up to 50 lbs so it can be used well past their first birthday. You can find it on Amazon and Target for around $30.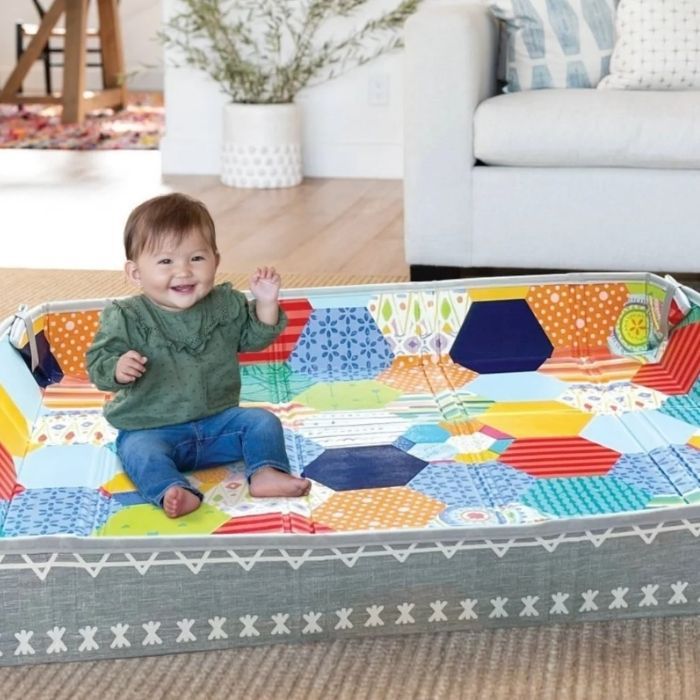 Infantino Go Gaga! Foldable Soft Foam Mat
This one squeaks above my $30 cap but it's such a great gift that also looks substantial so I had to include it. The unique pop-up sides help keep roll-away toys from escaping and double-sided boho-inspired print looks nice in most rooms. The compact, light fold & go design makes it easy to store away, move from room-to-room or take on-the-go. You can find it on Amazon and Target for around $32.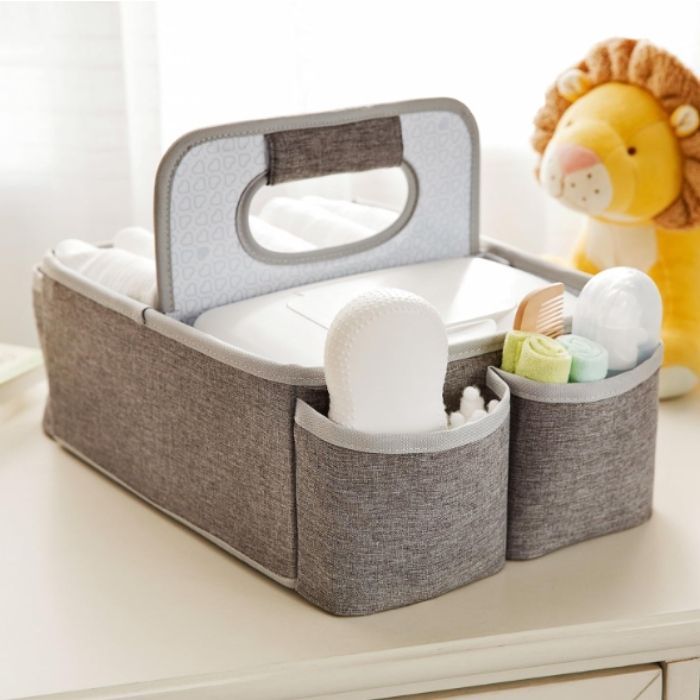 Munchkin Portable Diaper Caddy Organizer
Diaper caddies are an especially great option if someone lives in a tall or big house where the changing table might sometimes be far away. This sturdy organizer includes a matching, laminated changing pad that's easy to clean, plus separate compartments and side pockets for diaper creams, ointments and other accessories. You can find it on Amazon and Target for around $20.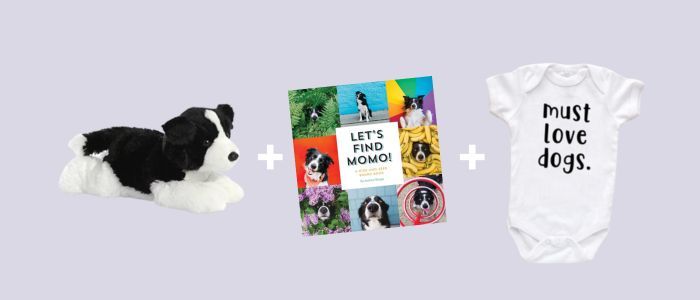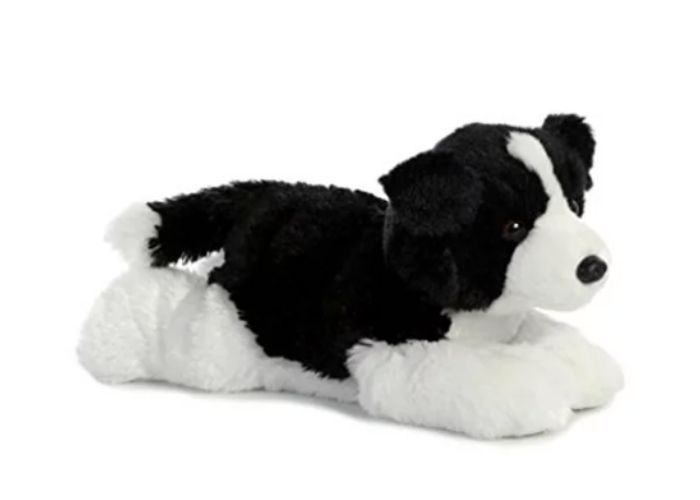 Stuffed Animal
If the family you're buying for has a pet, it might be cool to pick up a stuffed animal that looks like that pet, along with a fun board book that ties that type of pet into the story. Both Amazon and Target have great stuffed animal lines to choose from, ranging from around $10 - $20.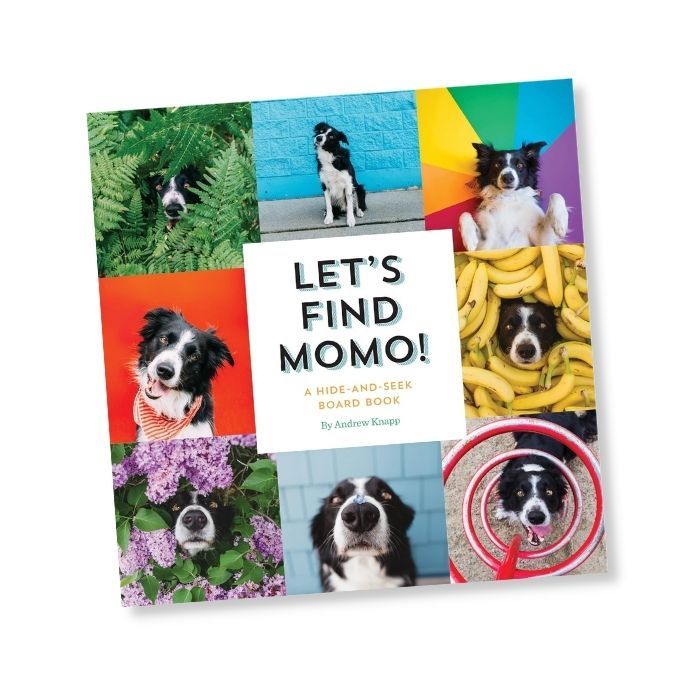 Let's Find Momo!: A Hide-and-Seek Board Book
Fan-favorite Internet sensation border collie Momo hides within lavishly detailed photographic spreads, inviting children to search for other hidden objects. This book cracks me up, and I think it's a fantastic pick, even if you don't have a border collie. You can find Momo (see what I did there?) on Amazon and Target for around $10.

If you need more inspiration, here's a list of amazing baby board books that are less common than Good Night Moon.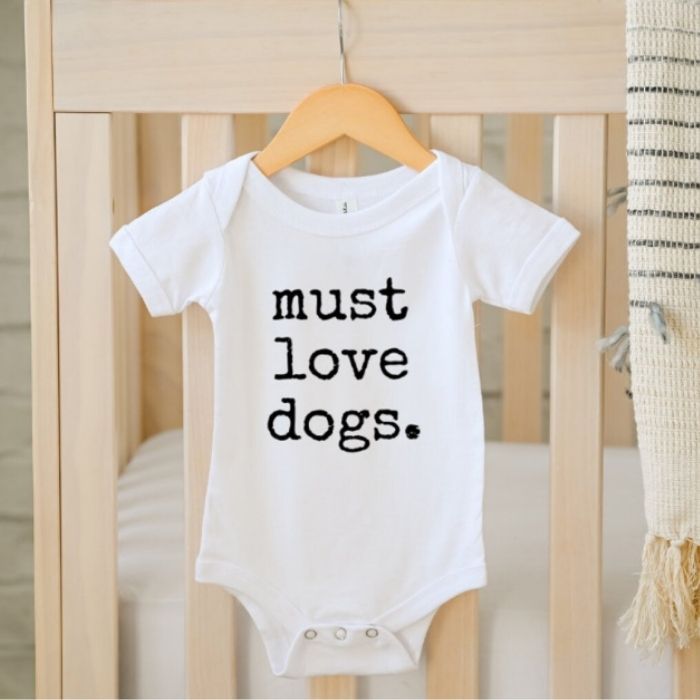 Must love dogs baby onesie
These are fun and Etsy always has a nice selection – you can even customize the breed and name of the pet on some. White onesies are a pretty safe baby staple but they might get a lot of newborn sizes so think about getting a 6M or 9M size – that way they can wear it for a little longer. Check out the selection on Etsy.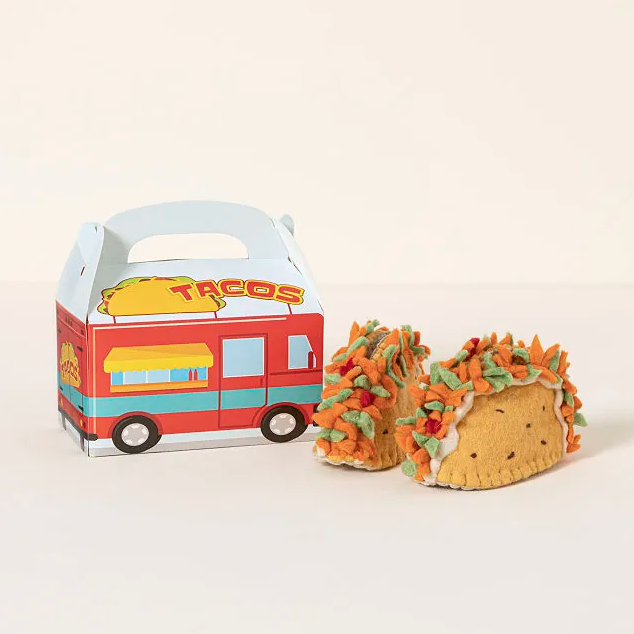 Taco Booties
I mean, do I really have to get into why these are awesome? Not only are they hysterical, but they will actually keep a kid's feet warm. Plus, the packaging it comes in makes it extra muy bueno, making it hard to belive these handmade shoes are under $30. Find them on Uncommon Goods
The best baby gifts don't have to be expensive
Just because something is reasonably priced doesn't mean it's cheap. If you're searching for a creative baby gift that's still useful for most parents (and isn't controversial), this list gives you some ideas. Let me know if you have any other ideas!

You might also like: Unique Baby Shower Gifts: 100 Ideas No One Thinks Of
---
Get posts & giveaway updates delivered right to your inbox
---
---