If you're on the hunt for the best places to find comfortable yet stylish maternity jeans, you've come to the right place. Below are the best affordable and luxury options for maternity denim for all stages of pregnancy based on our readers' feedback.
Do I even need maternity jeans?
The main difference between your pre-pregnancy jeans and maternity denim is the waistband. In order to make way for your ever-expanding baby bump, maternity pants come in three general types of waistband paneling:
over-the-bump
under-the-bump (sometimes called a demi panel)
side paneling
Some people swear by over-the-bump paneling for smooth bump support, while others find themselves constantly adjusting the paneling to keep it up. If you're looking for something similar to the jeans you wore before they stopped zipping up, side paneling may be the way to go. You'll probably want to try on each of these styles to decide what your personal preference is.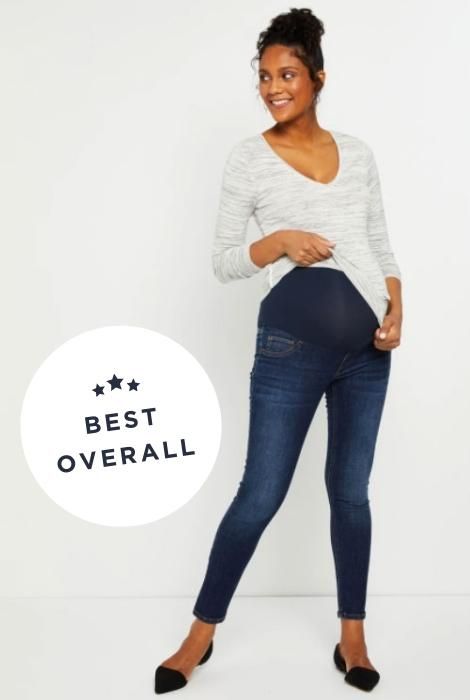 Motherhood Maternity was one of the most popular choices among our readers when looking for maternity jeans that are comfy, cute, and reasonably priced. Their Secret Fit panel is a game changer, since it's super soft and can be worn both over and under the belly. Readers swear that when the panel is up, it actually stays that way (score!). You can check out all of their styles here.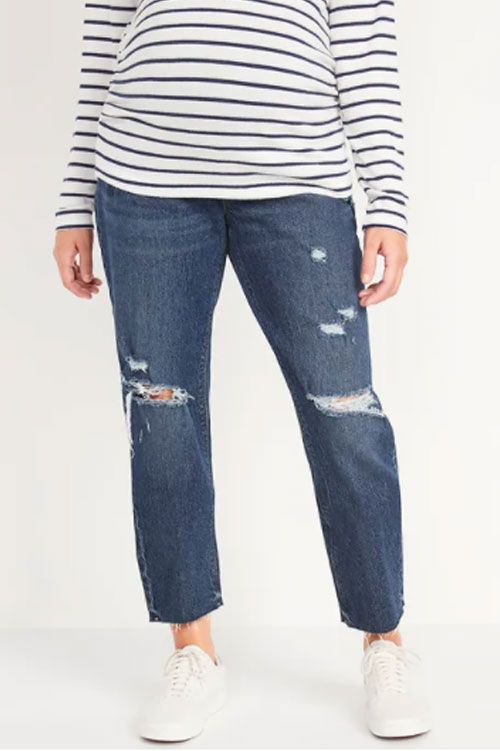 Best Place to Find Affordable Maternity Jeans: Old Navy
When we polled readers, Old Navy was the overwhelming favorite for inexpensive maternity jeans. Considering they have a full range of styles at super affordable prices, including tall, skinny fit, straight leg, and what one reader called, "the best boot cut out there", Old Navy should definitely be one of the first stops on your maternity jean mission. You can shop them here.

Runners Up: H&M and  Ingrid + Isabel

H&M scores high marks for offering pregnant people trendy looks at affordable prices. One responder shared that they loved their H&M denim because "they were cheap, they didn't fall down constantly and the same two pairs have made it to the third trimester of my second pregnancy." Shop here.

Tons of folks swear by Ingrid + Isabel maternity jeans, which you can pick up on their site and at Target. What makes these the best pair of maternity jeans out there, aside from the awesome price point of about $29.99 a pair? It's the Crossover Panels, which can be adjusted from over-the-bump to under-the-bump, and make these pants wearable from the first trimester to postpartum. Shop here.
---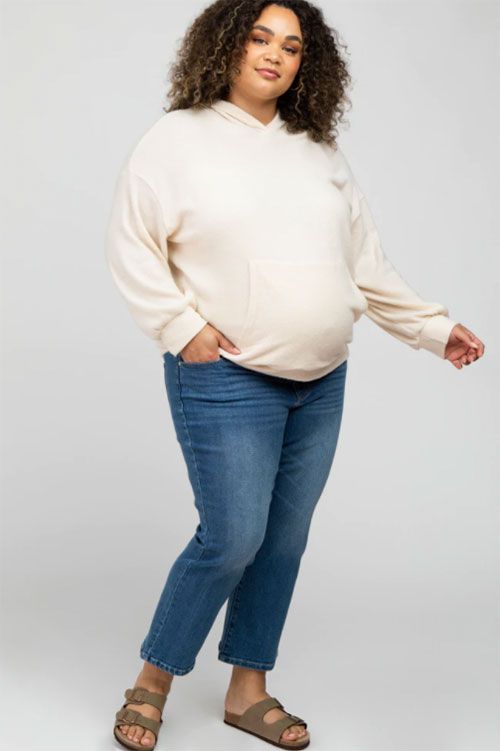 Best Place to Find Plus Size Maternity Jeans: PinkBlush
PinkBlush is a fan favorite when it comes to stocking up your plus size maternity wardrobe, with jeans in sizes up to 3x. Their most popular pick is the Medium Wash Distressed Hem. Reviewers love the stretchy denim that's as comfy as it is flattering. Shop here.

Runners Up: Oh! Mamma Maternity Skinny Jeans (From Walmart) and Yours Clothing

Did you know that Walmart carries plus-size maternity wear? The Maternity Skinny Jeans from Oh! Mamma are many people's go-to jean because they're cheap (just $16.99), have two front pockets, are made of a blend of cotton, polyester, rayon and spandex, and come in both a full panel and a demi panel option. If you're looking for denim shorts, Oh! Mamma also has a ton of great options. Shop here.

Yours Clothing is a UK company that has a huge selection of maternity clothing, including everybody's favorite wardrobe staple (jeans!) in sizes up to 36. Whether you're looking for jeans to wear to work, or something distressed to hang out in on the weekend, Yours Clothing has plus size styles for every occasion. Shop here.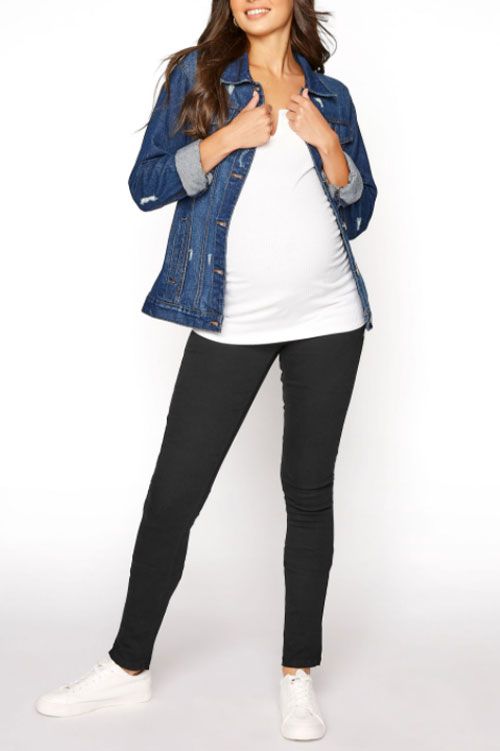 Best Place to Find Tall Maternity Jeans: Long Tall Sally
Finding maternity jeans that don't leave your ankles exposed can be a bit of a nightmare, but many tall folks mentioned that Long Tall Sally was a lifesaver when looking for the best maternity jeans for their frame. Shop here.

Runners Up: The Gap and Seraphine

It's probably no surprise that The Gap is a go-to spot for denim for folks of all sizes. They've got a massive selection of jeans in just about any style you can think of, including skinny, jegging, girlfriend, straight, and even overalls, with inseams up to 34". Shop here.

Seraphine is a maternity retailer that a few users mentioned as being a little pricey, but well-worth the money. One of the great things about Seraphine is that each denim style comes with a regular, petite and long option, making shopping a breeze no matter what your inseam is. Shop here.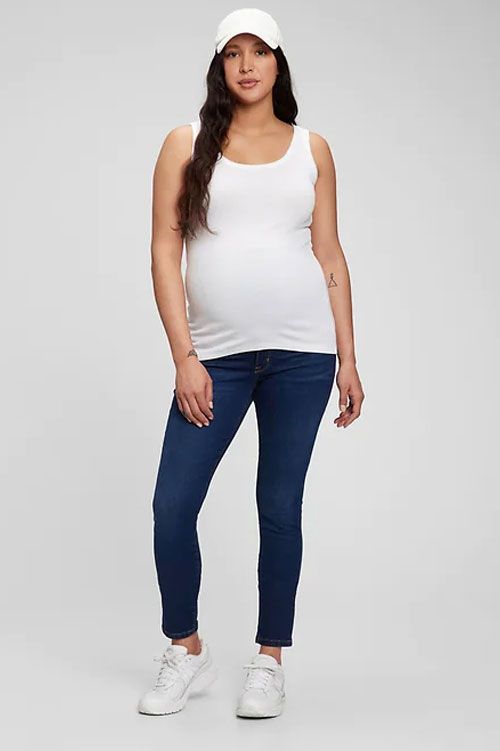 Best Place to Find Petite Maternity Jeans: Gap and Old Navy
Since The Gap is Old Navy's parent company, it makes sense that these two scored a tie here. Both companies make finding the perfect denim fit a breeze when shopping online by allowing you to filter category, size, color, price, fit, pregnancy stage, length and panel type. In-store selection can be a bit limited, so your best bet for finding just what you're looking for is shopping online. Shop at The Gap and Old Navy.

Runner Up: Seraphine

Seraphine currently has 15 styles of maternity jeans to choose from for petite parents-to-be. Whether you're a fan of over or under the bump paneling, skinny jeans, boyfriend fit, or even overalls, Seraphine's got all your petite denim needs covered. Shop here.
Also check out: Best Places to Find Maternity Clothes for Petites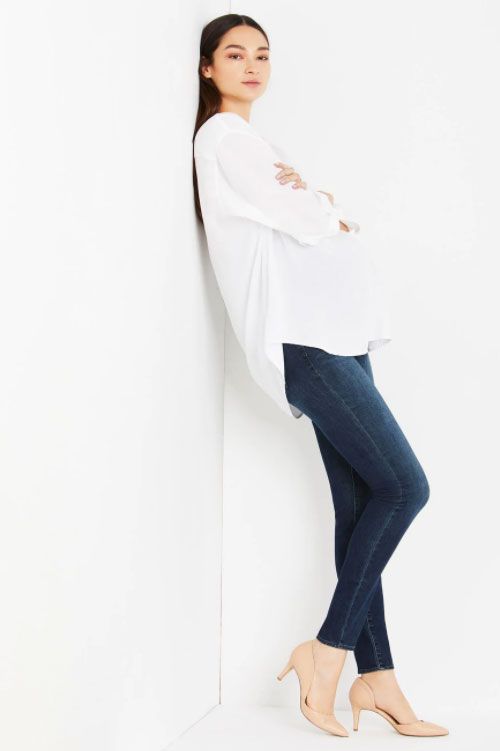 Best Place to find over the bump maternity jeans: Motherhood Maternity
Motherhood Maternity wins with the Secret Fit belly panel that allows you to choose full belly coverage, or roll down the panel for an under belly option. While Motherhood carries many brands of jeans with this feature, several folks agreed that the Mya skinny maternity jeans from Articles of Society were comfy and cute - a winning combination. Shop here.

Runners Up: Madewell and Ingrid + Isabel

According to our readers, Madewell denim definitely lives up to its name. Although these jeans cost a little bit more, the durability, comfort, and paneling that stays put over your belly make Madewell a triple threat in the denim department. Some readers recommended checking out Poshmark for secondhand scores. Shop here.

Many readers were quick to mention Ingrid + Isabel as an over-the-bump champ for pregnancy pants. You'll probably notice that these jeans come at a bit higher price point when bought straight from the source, but they've also teamed up with Target to bring you budget-friendly styles that both look and fit amazing. Again, the Crossover Panel was mentioned as an option readers loved, since it could be folded under the belly or stretched over top, making these jeans perfect for every trimester. Shop here.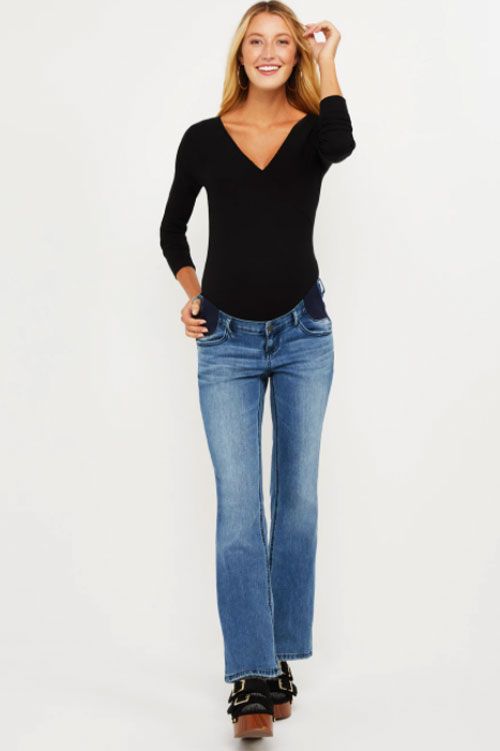 Best Place to find under the bump maternity jeans: Motherhood Maternity
Motherhood Maternity strikes again with their side panel option. Jessica Simpson was one brand in particular that a lot of folks looked for when shopping at Motherhood Maternity and many styles are under the bump. Shop here.

Runners Up: Ingrid + Isabel and Old Navy

At the risk of sounding like a broken record, the Crossover Panel from Ingrid + Isabel once again takes the cake for a versatile belly panel that can be worn up or down. Shop here.

Old Navy has two options when it comes to under the bump styles. The Front Low panel sits below your belly and feels most like your pre-pregnancy jeans, and the rollover panel can be worn either up or down. Both options come in a variety of styles and at a price point that can't be beat. Shop here.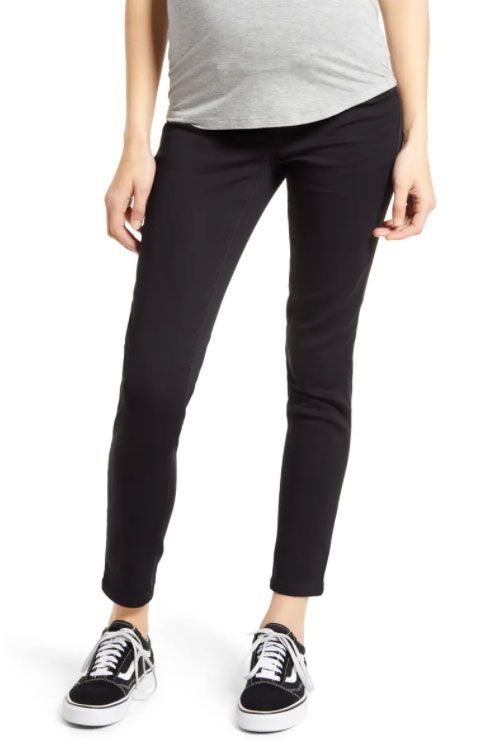 Best Place to find Black Maternity Jeans: Nordstrom
Nordstrom is a great one stop shop for maternity denim from a variety of quality brands. They currently have almost 30 different options for black maternity denim in skinny, straight leg and flare styles. The 1822 Denim brand is a favorite. Shop here.

Runners Up: H&M and Old Navy

Our readers loved H&M's maternity jeans for many reasons, including their style, affordability, and quality. One reader mentioned that H&M was their go to for skinny jeans in different colors, washes, and levels of coverage. If you're looking for black denim in a looser style, the MAMA Wide High Ankle Jeans might be right up your alley. Shop here.

Searching for any color of jeans is a piece of cake at Old Navy thanks to their filter options. Whatever style your little black denim heart desires, you'll probably find here. Boyfriend, skinny, bootcut, straight, overall and more - Old Navy's got 'em all, and they've got 'em in black. Shop here.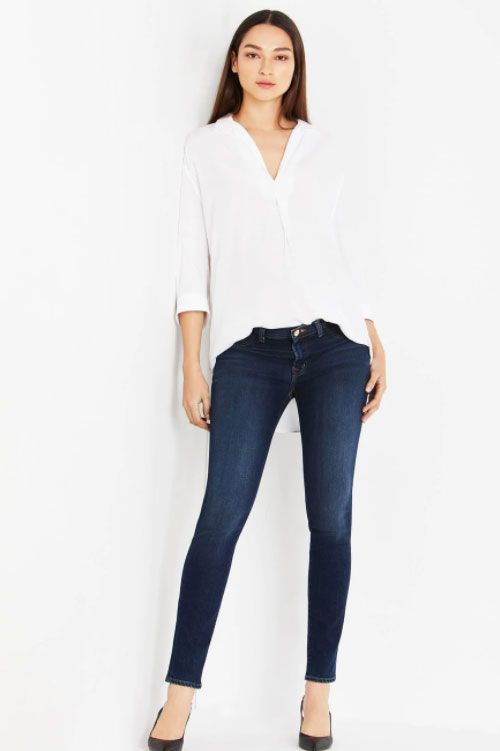 Best Place to find Designer Maternity Jeans: A Pea In The Pod
If you're looking to celebrate your bump with a little wardrobe splurge, several readers mentioned that A Pea In The Pod was their go-to when they were searching for designer maternity denim. Keep your eyes peeled for discount codes and sales to score great deals from brands like J Brand, Paige, Joe's Jeans, Citizens of Humanity, Articles of Society and 7 For All Mankind. Shop here.

Runners Up: Nordstrom and SHOPBOP

Nordstrom is a goldmine when it comes to finding high quality maternity denim from high end brands like Madewell, 7 For All Mankind, PAIGE, and Blanqui. Shop here.

SHOPBOP is another great option for scouting out maternity denim from high-end brands. On their site you'll find jeans in a variety of styles from PAIGE, Joe's Jeans, DL1961, Madewell, and 7 For All Mankind. Shop here.
Did you have a favorite pair of jeans during pregnancy?
What are your go-to shops for maternity denim? We'd love to hear which ones you love and why in the comments!
Our next reco: What Kind of Shoes are Best for Pregnancy?
---
Get posts & giveaway updates delivered right to your inbox
---
---