Your baby's first Halloween is a milestone as adorable as it is memorable. While you can definitely throw on a Halloween-themed onesie and call it a day, if you're feeling inspired to get out the hot glue gun and let your creativity fly, there are some pretty freaking cute DIY baby Halloween costume ideas floating around to use as inspiration. Here are a few to get you giggling.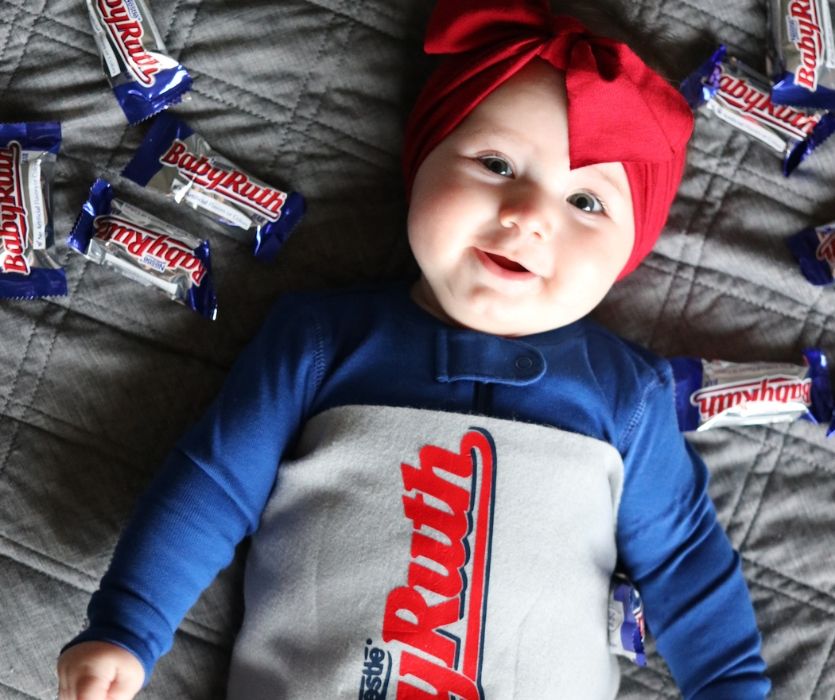 When candy is the theme of the night, you might as well lean in with your baby's costume. All you need to create your own adorable Baby Ruth is a blue baby onesie, a red bow or beanie (optional), some gray felt, and a Cricut maker.

If you don't have the fancy machine, I think you could totally freehand the logo with some fabric paint, too. Glue some velcro onto the back of the felt, wrap it around your baby, and you've got a deliciously simple costume. Head here for the full instructions.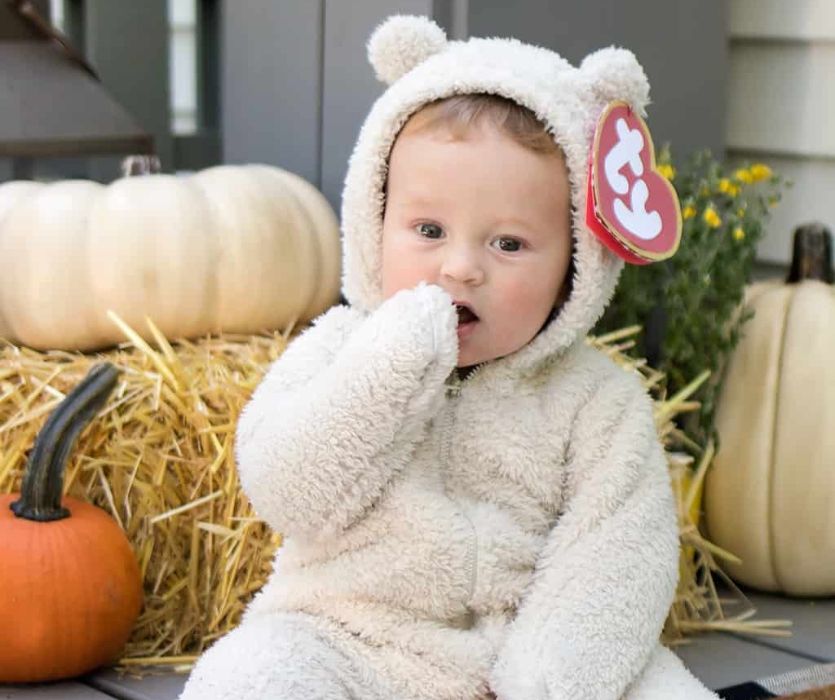 My favorite DIY Halloween costumes are the ones that require no sewing, gluing or (ideally) shopping. Transform your baby into a blast from the past by pulling out a snuggly little animal outfit from their closet, printing out or painting a ty heart, and tacking it onto the ear of the costume. Regardless of whether they're a little lamb, lion, or bear, your little is gonna be the most adorable little Beanie Baby out there.

There aren't a ton of easy printables for the Beanie Baby Tag, so I created one that you can download for free. Print them out on heavy paper stock, cut them out, stick them to the back of each other, punch a hole in the corner, and attach it with red thread, yarn or safety pin.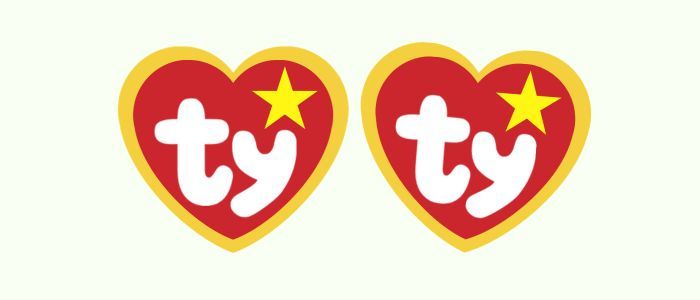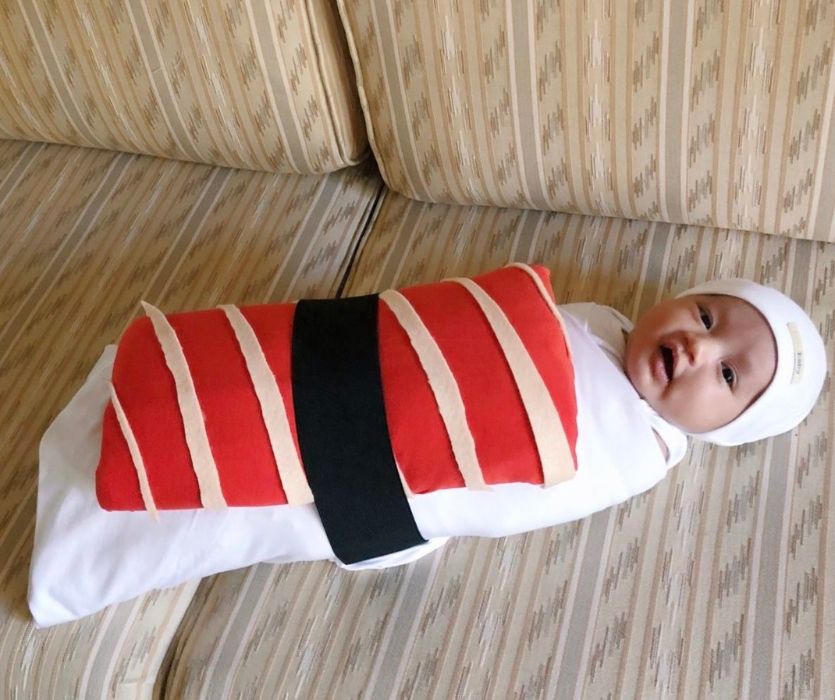 For the really teeny trick or treater who won't mind staying wrapped up for Halloween, pull out a white bodysuit or blanket and cap, find some fabric, black felt and fabric glue to make your toppings, and voila! One order of sushi, coming right up!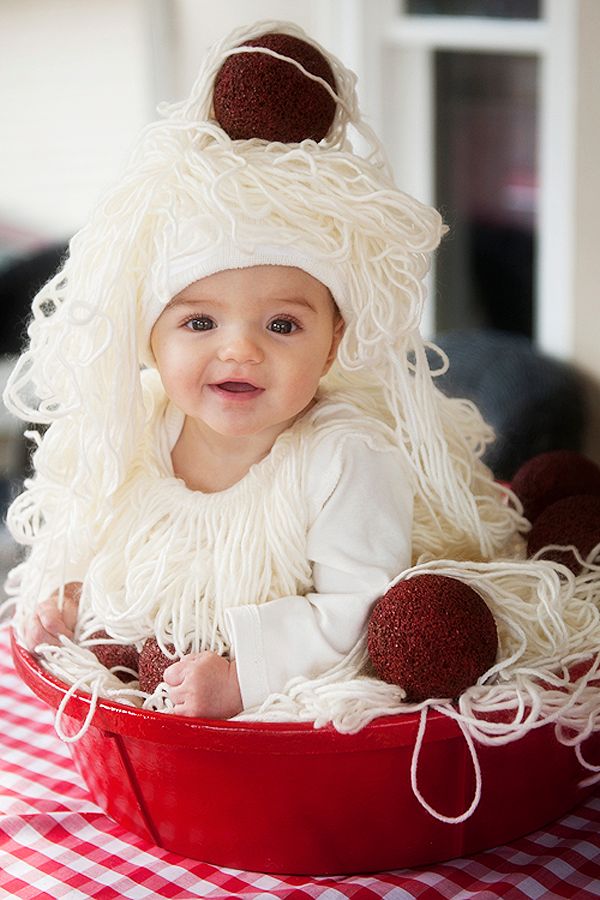 There's something about an infant with a meatball on their head that's impossible to resist. The main ingredients (see what I did there?) for this DIY costume idea are: a cream colored hat and onesie, a big ol' roll of cream yarn, velcro, a hot glue gun, styrofoam balls and red and brown paint for your meatballs, a big rubber tub, spray painted whatever color you'd like your plate to be, and a cream baby blanket. If you need a little tutorial to put it all together, head here!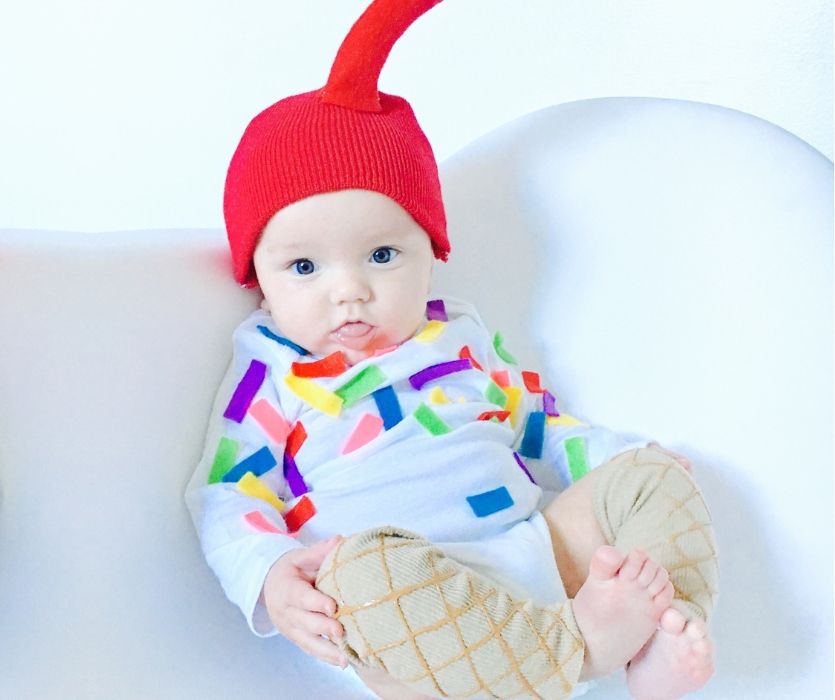 More sprinkles, please! For a DIY baby costume that's quick, easy and relatively inexpensive to throw together, pull out a white onesie, some beige pants and puff paint, and pieces of colorful ribbon, felt or fabric (your sprinkles).

Cut and glue your colorful strips onto your baby's shirt for the ice cream; add some criss-crossed stripes of puff paint to their pants to be your ice cream cone, and, for the cherry on top, add a red beanie and a thin piece of felt for the stem.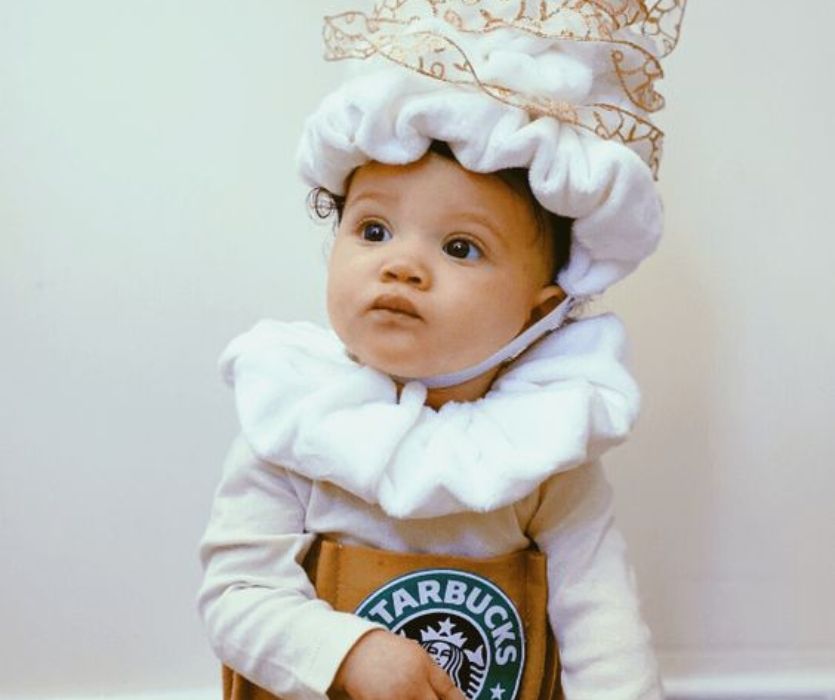 Coffee lovers will love this costume a latte, especially since it's a pretty easy DIY. To make your baby into the sweetest little frappucino, you can use a cream colored sweater or shirt, some tan felt, and a printed or drawn Starbucks logo to make your cup. You could even throw the felt over your baby carrier if you know you're going to be wearing your baby for the evening.

For your foam, you'll need some fleece fabric or a scarf, and a needle and thread (or sewing machine) to create the ruffled look and some caramel-colored ribbon for your drizzle. Roll up a tube of green cardstock to stick a straw in it, and your drive-thru frapp will never be the same. For the full instructions on putting this all together, head over here.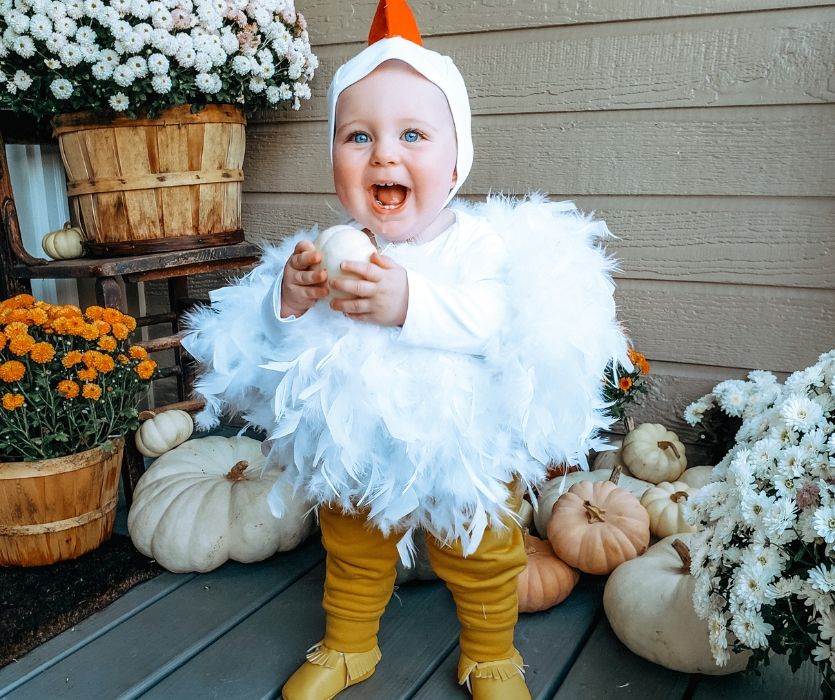 Halloween wouldn't be complete without at least one sweet little chicken clucking around. At first I had visions of tearing open a feather pillow to make this come together, until I realized that all you need are a couple of white feather boas.

For your chicken legs, find some yellow pants and shoes, boots or socks, and for your chicken's head and beak, track down a white beanie and some orange felt. I think you could totally use a similar process if you were going for an owl (à la Harry Potter's Hedwig). For the full rundown on how to put everything together, head here.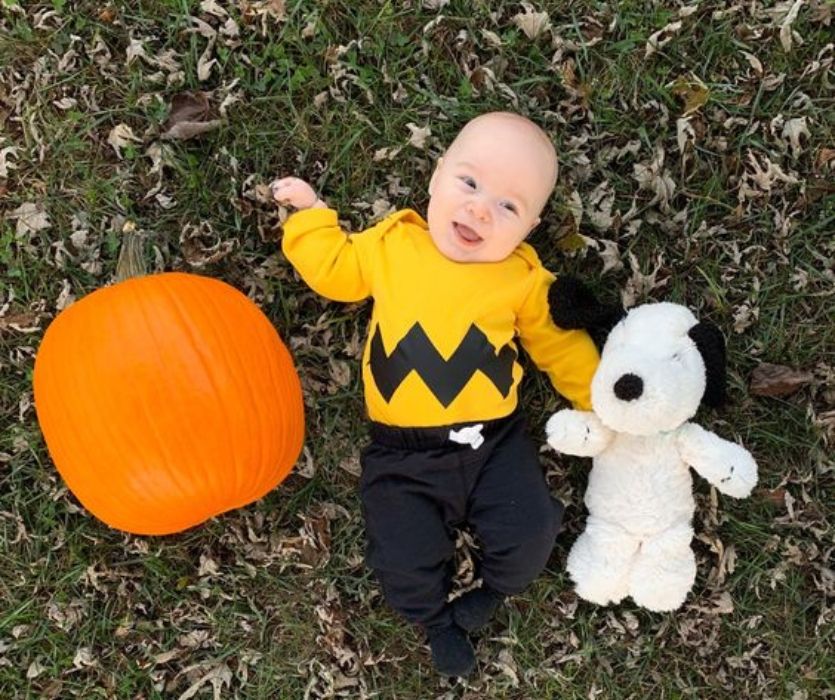 What better costume could there be for a bald baby than Charlie Brown and Snoopy? This is the ultimate costume, in my humble opinion, because all it requires is some black pants, a yellow shirt with a zigzag, and a Snoopy stuffy if you really want to go the extra mile.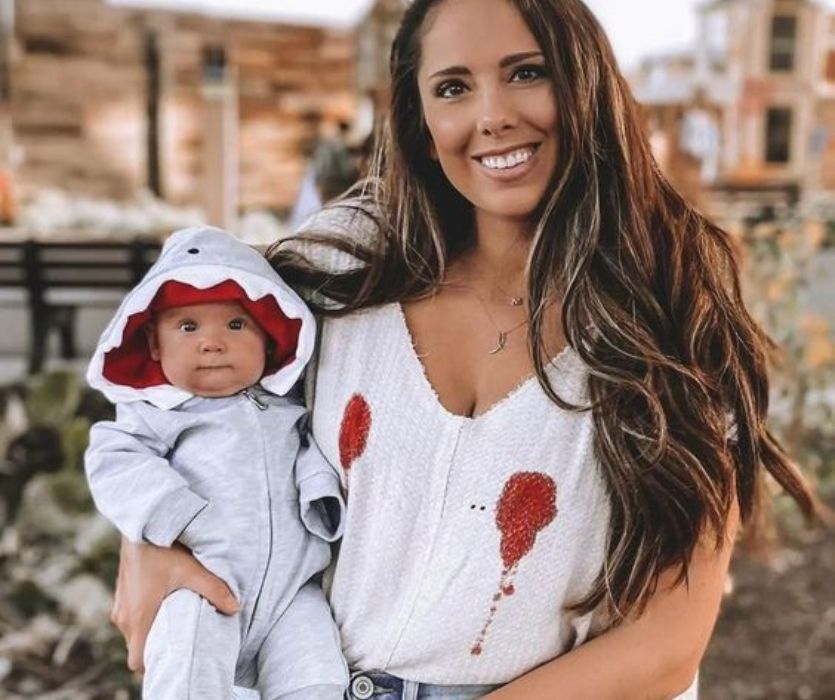 Get mom in on the action of trick or treating this year with a costume that pretty much speaks for itself. Prepare for both sympathetic nods and hysterical laughter with the ultimate baby shark costume.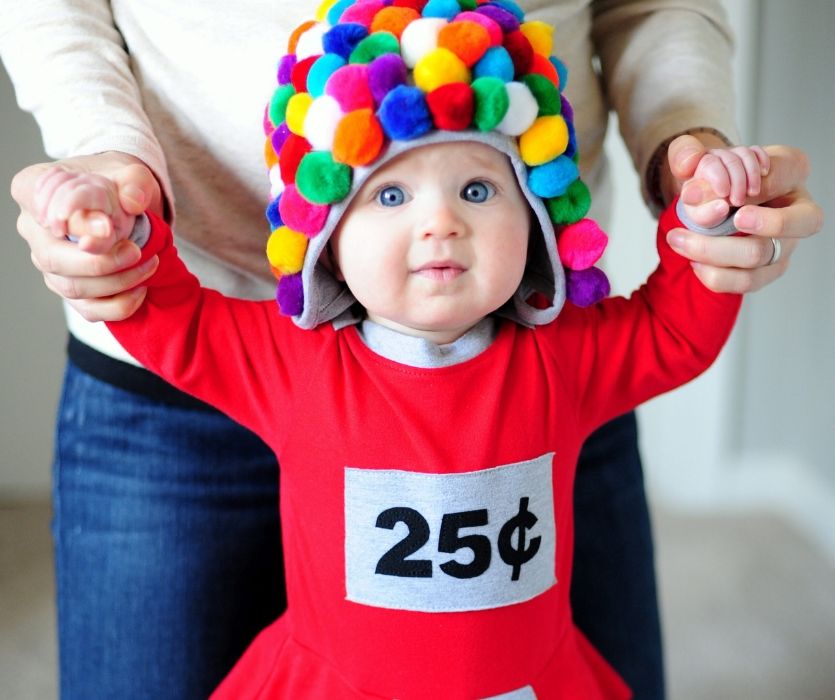 Kids, toddlers and babies can become a gumball machine in just a few minutes thanks to some pom poms and hot glue. Use whatever hat you don't mind transforming into a permanent rainbow, and get gluing! Older kids would probably love joining in on this craft (if you've got the patience!) A red onesie and 25 cent label made out of felt, or even paper are all you need to complete the look.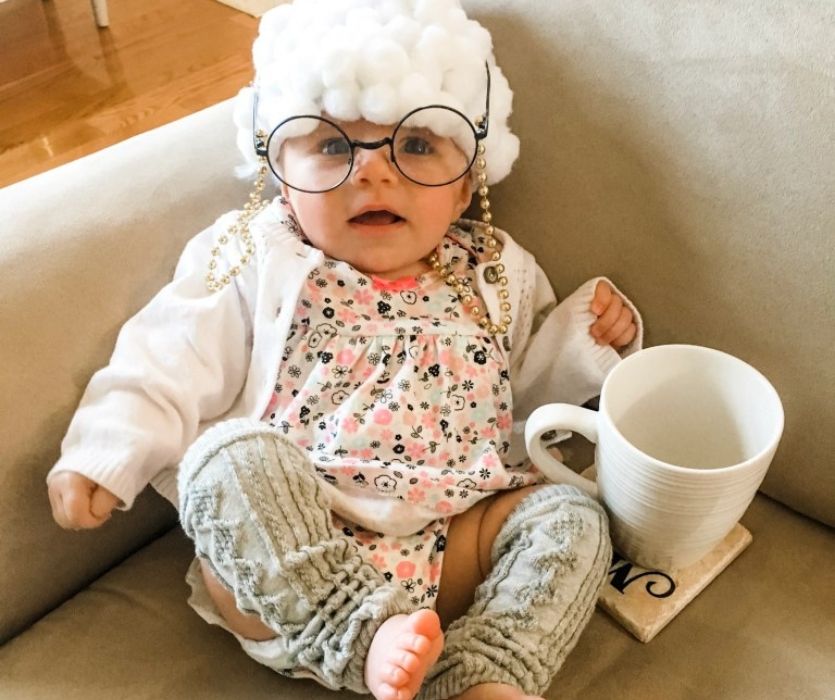 Dress your newborn up as the world's cutest grandmother and let the delighted squeals of passersby commence. Glue some cotton balls to a hat for your grandma hair, find some glasses (secure to the hat if you need to) and beads for the ultimate granny specs, dig through your closet for anything that screams "nana" and your baby will be crying out for the crossword puzzle in no time.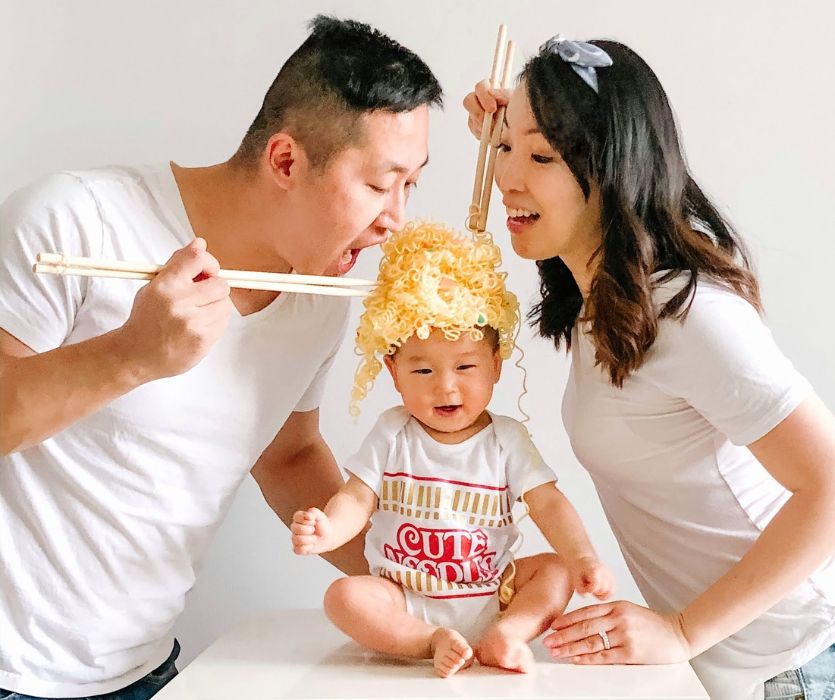 If you're looking to create a family costume that's equally simple and adorable, bust out the yellow yarn and the glue to make your infant's head into a life sized Cup Noodle. Add some green pom poms to replicate those delicious freeze dried peas!

You can take things up a notch by transforming a white onesie into the cup using a Cricut or even free-handling with fabric paint or makers. Use wooden dowels or drum sticks for chopsticks for the grownups (or just go for the real deal!) Here's the full instructions in case you need 'em.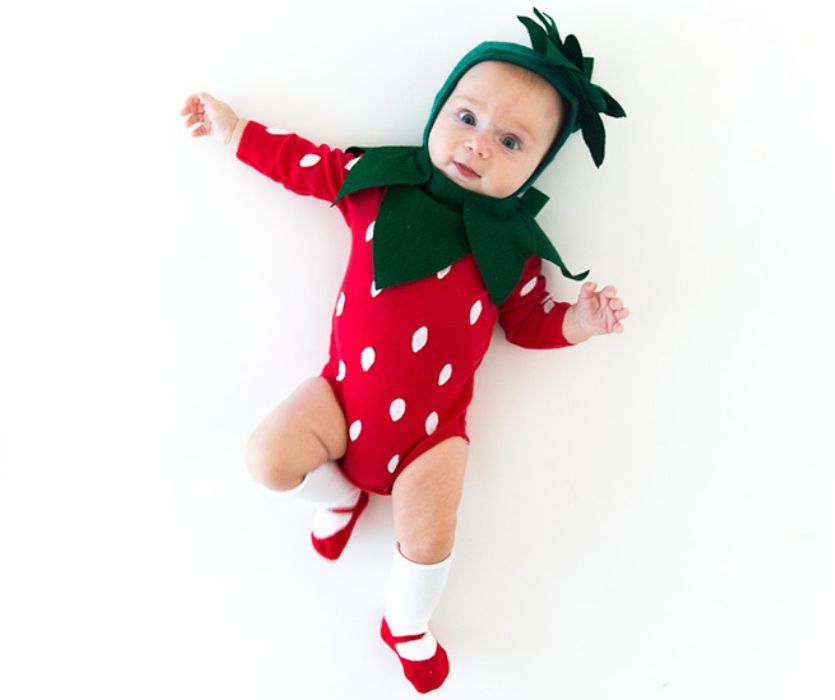 Turn your babe into a juicy lil' strawberry with white felt seeds and red onesie. Cut green leaves out of felt for your strawberry leaf hat and collar. The leaves can be glued to a pilot's hat for your headwear, and to a bib or ribbon for the collar. The tights are totally optional, but they're so dang cute, I'd definitely try to track them down on Amazon. Here are the instructions for the full DIY!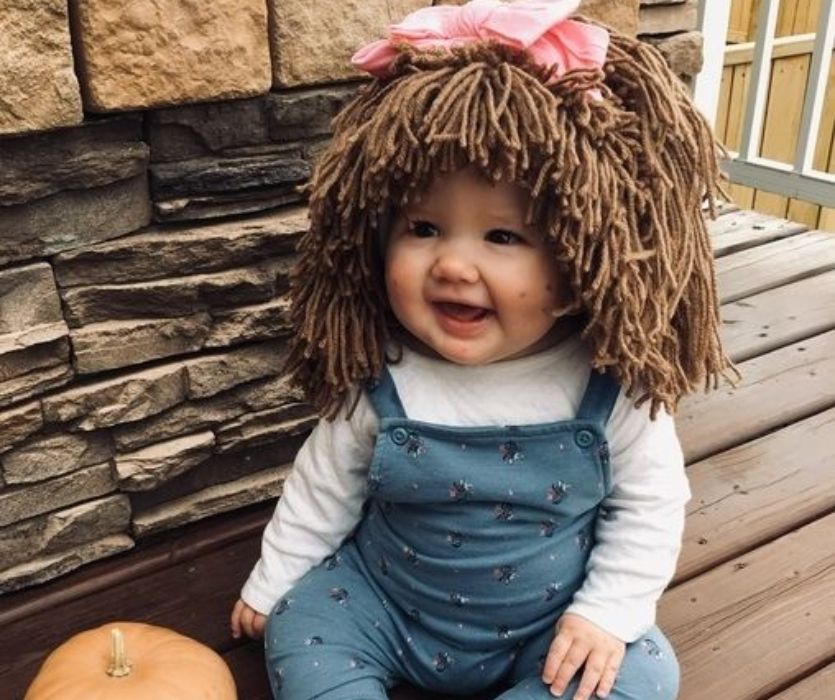 Who could forget the hysteria of Cabbage Patch Kids? Even if they were a little bit before your time, these iconic dolls make the perfect costume in any decade. A ton of yarn, a headband, some overalls and a onesie are pretty much all you need to make your Cabbage Patch doll come to life. There are tons of DIY tutorials online if you need a little guidance and you can buy premade 'wigs' on Amazon and Etsy.
Few parents can resist the urge to dress their newborns up for Halloween, and it's easy to see why.
There's truly nothing cuter than a baby in a costume, whether it's store-bought or DIY. Creating homemade Halloween costumes for your little ones can be a ton of fun and more often than not, it's easy and relatively cost-effective.

Are you planning to dress your baby up in a DIY costume this year (or have you in the past?) I'd love to hear your ideas and see your cuties in the comments!

Also check out The Best Baby Halloween Costumes
---
Get posts & giveaway updates delivered right to your inbox
---
---