This post contains affiliate links.
I know quite a few women who rave about postpartum compression girdles – so I thought I'd get the low down on them.

The concept of using a compression girdle designed to support postpartum recovery is not new, but modern versions are certainly seeing a resurgence as a safe option to help speed recovery from childbirth. These are more about recovery vs. vanity.
Here's what we cover:
Click to skip to each section
Best General Use - Belly Bandit Original, Belly Bandit Bamboo Belly Wrap, and Upspring Shrinkx
Best Heavy Duty - Bellefit Postpartum Girdle Corset, Belly Bandit Postpartum Luxe Belly Wrap and Everyday Pull-Down Postpartum + Nursing Support Tank Top
Best Light Support - Ingrid + Isabel Afterband
What Are Postpartum Compression Garments?
Also called girdles, belly bands, postpartum belly wraps, or abdominal binders, these postpartum support garments provide gentle compression and support for core muscles after the trauma of childbirth - be that vaginal or c-section. Although there are a variety of fabrics, they're usually lightweight, stretchy, and may or may not come with boning and/or support panels.

One important note – a lot of companies make claims about being able to heal common postpartum issues like diastasis recti and pelvic floor weakness. Although some of these garments can help in the process, consulting with a physical therapist is the most effective way to fully heal.
How Do They Work?
Girdles are designed to support your core, back, and pelvis. Compression provides stability to c-section incisions and muscles while their structure helps promote good posture, keeping you from further injuring yourself while you hobble around wondering who ate your lactation cookies. They can also help reduce swelling and fluid retention and encourage blood flow which all promotes healing of damaged muscles, tissues, and ligaments.

There are two styles: Longline and midsection.

Longline girdles usually fit from below your boobs to your hips. They're large, in charge, and ready to tackle whatever's ailing you with maximum support.

Midsection girdles fit around your waist and provide more general support. They're typically easier to get on and off and are a good option for those who find longline girdles too restrictive, uncomfortable, or otherwise complicated.
What To Look For When Buying A Postpartum Compression Garment
Comfort and ease of use are key, so thinking about what you will actually wear is important. Some companies are better than others at offering a range of sizes, so that's also something to consider. Can you put it on easily? Do you prefer a velcro closure? Hooks? A side zipper? How do you feel about breathable elastic vs bamboo viscose? With so many options you can really dial it in and find the best one for you.
How Long To Use Postpartum Recovery Garments
The optimal time to wear one is 0-6 months postpartum, but some women have reported success with them as late as 8-10 months. Depending on your manufacturer, you'll want to wear one for 10-12 hours a day, for up to 6-8 weeks postpartum.
C Section Recovery
Studies are conflicting about whether or not there is a measurable benefit in new moms who had a c-section and found relief using one, but there's tons of allegorical evidence out there with people who will tell you it made them more comfortable. Whether it's the gentle pressure on the incision or the additional support of their core, there's no reason (besides price) NOT to try it if you're looking for some help.
Help With Diastasis Recti
Diastasis recti is a super common pregnancy side effect where basically your ab muscles don't return to their normal position. Compression garments can help stabilize your core while these muscles return to their original position, but a physical therapist should be looped in if progress isn't being made with just a girdle. (You can read more about it here.)
Do You Need To Wear Postpartum Garments?
Not everyone will find this kind of support helpful – or even tolerable for that matter – but for those who have any kind of muscle weakness that responds positively to the support provided by a postpartum garment, it's something to consider. The range in products also means you can really select a piece that targets your problem area, whether it's your SI joints, pelvic floor, abdominal muscles, or lower back… or if you're really lucky, the whole lot of 'em.
How To Choose The Right Size?
The sizing really varies depending on the product, but the goal is to find something that is snug around your abdomen but not so tight it restricts your breathing or prevents you from having a normal range of motion. Some use "standard" sizing, like XS-3XL, while others use inches, so you'll want to know your current measurements before you start shopping. Reading reviews will also help you determine if the item runs true to size or if you'll need to size up or down.
Can You Get Other Benefits From Postpartum Girdles?
Again, many companies will make bold claims about what you might achieve by wearing a compression garment, but the reality is the science is lacking.

It's also important to note that postpartum girdles are not waist trainers, nor will they help you shed pounds, so if you're looking to come out of this slimmed down with an hourglass figure this isn't the way to do it.

That said, if you have the means and the desire to try one out, here are some other benefits you might see:
Improved posture
Reduced fluid retention and edema
Increased circulation
Smoothing out of lumps and bumps – although some are on the bulky side, so they won't help in that arena
Increased mobility, which indirectly can help with a different kind of mobility issue (yes, I'm talking about poo)
Can I get postpartum wraps through my insurance?
In short, yes! There are a few types being offered through different companies, like this fancy bike short number through Aeroflow.

If you get a prescription from your doctor, you can also shop at Belly Bandit where you'll have a ton more options, and can potentially be reimbursed through your insurance company – though you should definitely give them a quick call before buying since Belly Bandit pieces can run on the pricey side.
Best General Use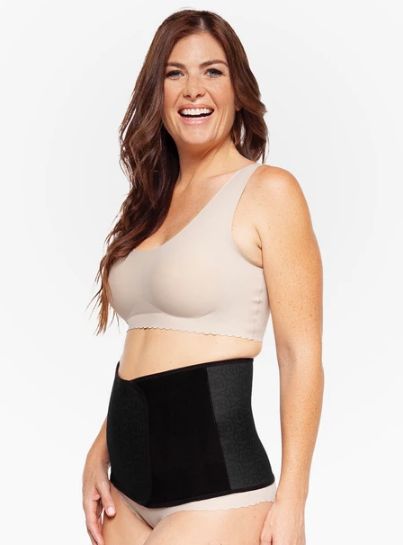 This one-piece, midsection wrap is simple, supportive, and easy to use. Made from a blend of polyester and latex-free spandex, this bad boy can be machine washed on cold and air dried. Shop it on the Belly Bandit site.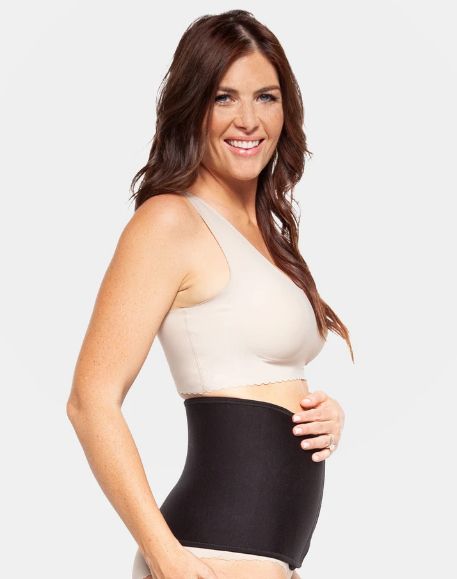 If you need something a little on the softer side, this offers all of the perks of the original Belly Bandit wrap, plus the softness of bamboo viscose (a kind of super soft, durable rayon - thanks, Google!). It is also machine washable on cold and should be air dried. Shop it on the Belly Bandit site.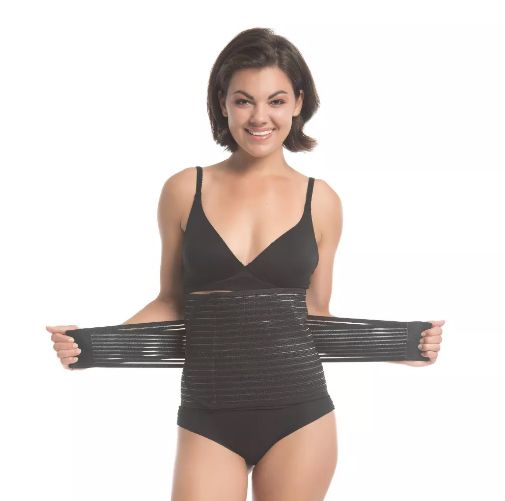 And while we're on the topic of different kinds of fabric, this one is infused with bamboo charcoal fibers to increase circulation and speed healing. It gets good reviews for ease of use, and comfort. This one is listed as hand washed only. Shop it on Target.
Best Heavy Duty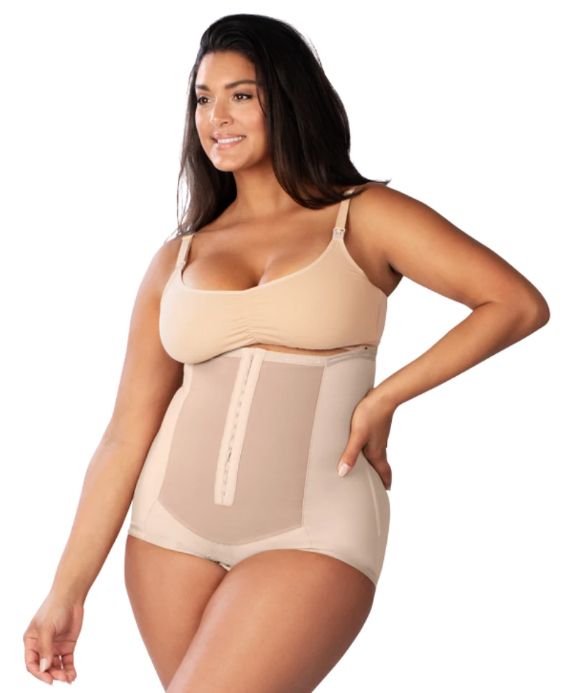 With abdominal compression panels and back support panels, this one piece corset provides medical grade compression to address several postpartum issues. It has hook and eye closures, which can last longer than velcro and are a lot quieter to adjust. But that also means you're gonna need to channel your inner Bridgerton every morning while you use it, which might be a deal breaker for some. The smooth lines mean you can easily wear it under sweats or a snazzy outfit if you so desire. Nordstrom carries the whole line.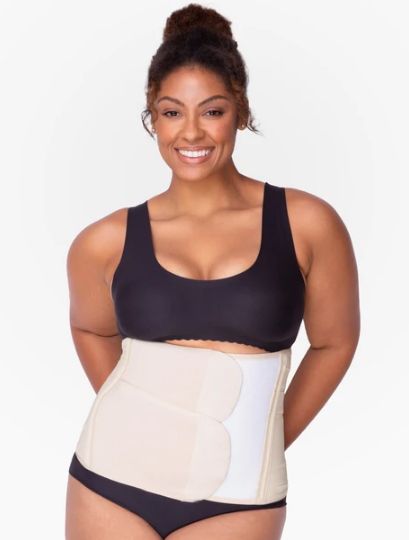 Available in two different heights, this corset/belly wrap hybrid offers support and contouring to your belly, waist, and hips. It has a curved back to provide comfort and support good posture and is made of a nylon/spandex blend. You can find it on the Belly Bandit site.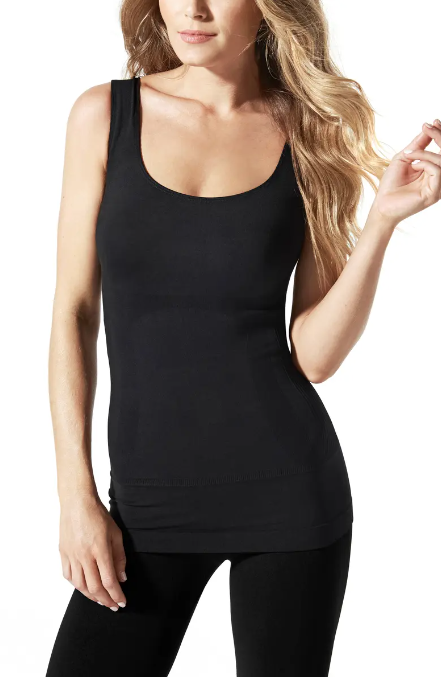 I think "heavy" here is relative, but they list it as heavy support so here we are. This one is great for providing nursing access, targeted abdominal and back support, and also a little extra midsection coverage. You can find it at Nordstrom.
Best Light Support Compression Garment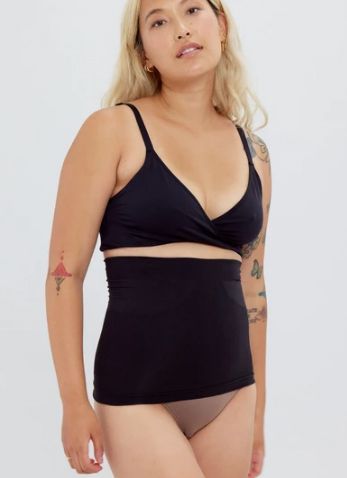 Super lightweight, one piece with no velcro or closures to worry about. This provides minimal compression for those who are wanting a little additional support. Shop it on the Ingrid + Isabel site.
To sum up postpartum compression garments
As you can see, there are a ton of great options out there. Some are cheaper than others, so really reading the reviews before deciding to try one that seems like a good deal is definitely worth it.
Have you used one?
Let us know what your experience was like in the comments below!

Our next reco: Compression Socks During Pregnancy: Feel The Awesome!
---
Get posts & giveaway updates delivered right to your inbox
---
---