I had mixed feelings about clothing when I was pregnant. On one hand, I didn't want to spend a ton of cash on clothes – considering I wasn't going to be pregnant forever – but on the other hand, I was going to be wearing the same clothes over and over again so it would be kinda nice if I liked them. There's no right or wrong way to dress a bump but there are a few ways to make it easier and build a killer maternity wardrobe.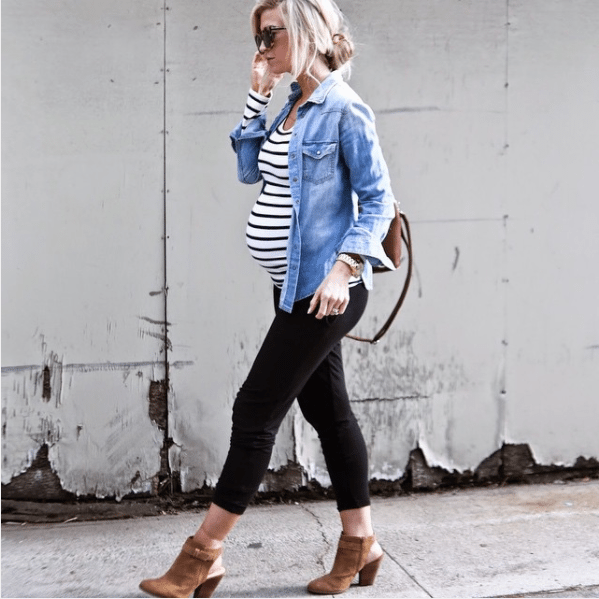 Here are some tips and tricks to pulling together a great maternity wardrobe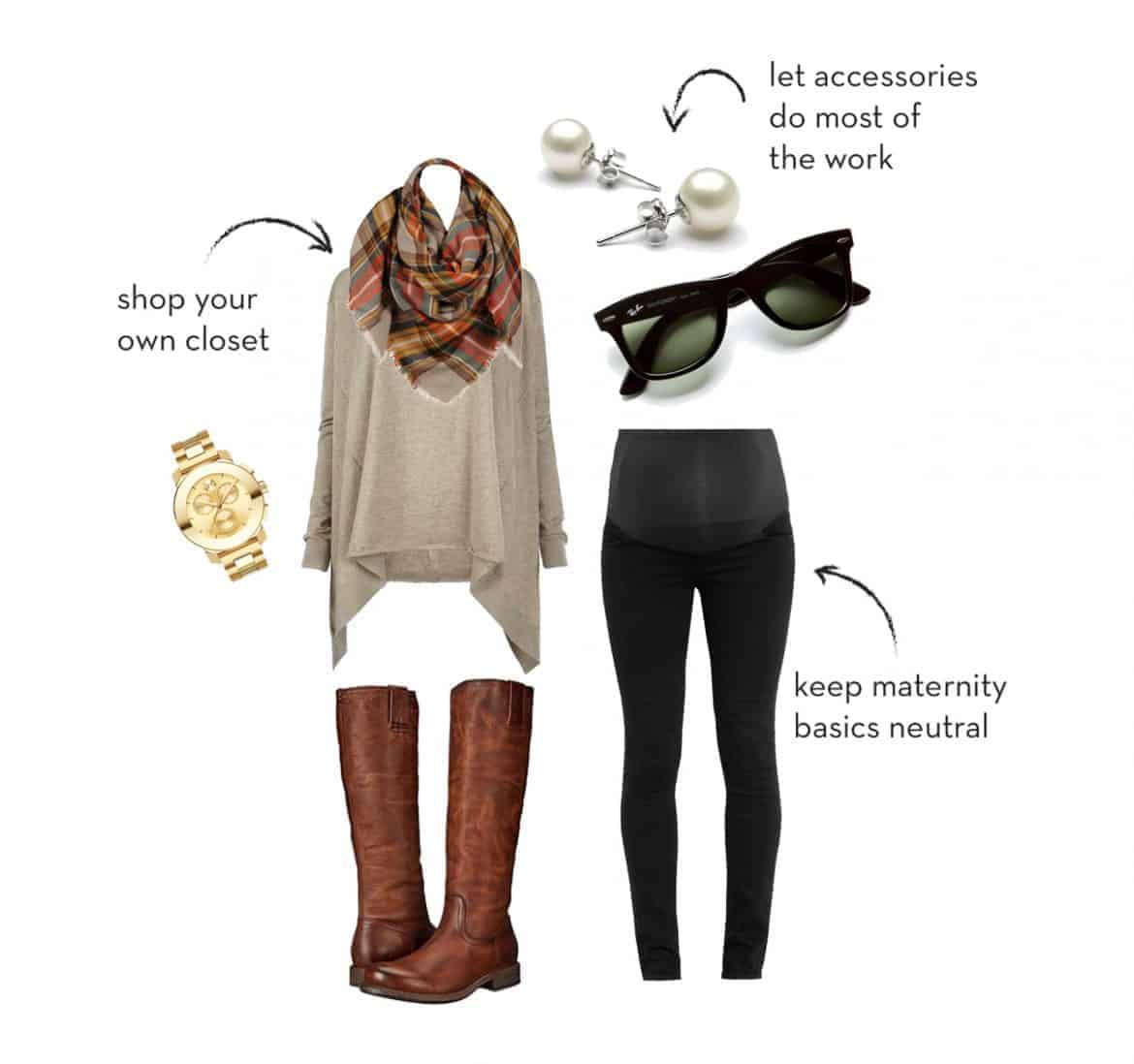 Shop your closet (and your partner's closet)
You probably already own some great stuff that can easily make it through your pregnancy. Cardigans, loose t-shirts, maxi-dresses and sweaters will often skate through three trimesters. Pull these items out and either pack the non-fitting stuff away or put it in a separate spot. Anything you've outgrown will just clutter up your closet and/or be depressing – you don't need that kind of negativity in your life.
Wardrobe Extenders
Button extenders for pants, button tabs, and bands that hold up your pants and fill the gap between your shirt in your waistband do a great job of extending the life of your regular wardrobe. They even make bra extenders if you find your 34B has become a 38B (you'll have to spring for a new bra if your cup is overflowing).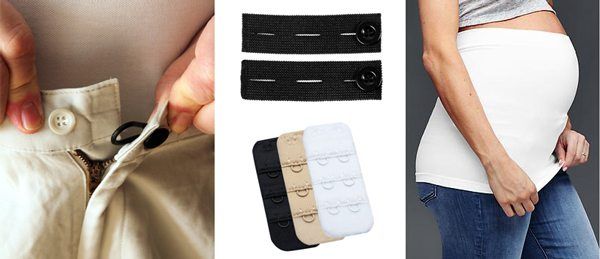 Loungewear
Yes, I have given this its own little section. I wore yoga pants throughout my entire pregnancy and after I had my baby. My husband referred to my black yoga pants, white t-shirt and stretchy hoodie as my 'uniform'. Comfort was paramount during and after my pregnancy and nine times out of ten, yoga pants fit the bill. Anyone mocking yoga pants runs the risk of a fan kick to the face from me (I can do this because I have a full range of motion from my yoga pants).
Pick a Palette
Many sites will tell you to go neutral and while this is sage advice, I think the key is to stay within a palette. If you like black, white and gray – great. If you love pastels – wonderful. If you're trying to stay within a budget, it's easier to mix and match if you pick a lane and stay in it. It's kind of like packing for a trip just with fewer piña coladas and more hemorrhoids.
Stock up on Maternity Wardrobe Basics
Tank tops, t-shirts, leggings, etc. are fairly inexpensive and go a long way to making you feel like you're changing your outfit day after day. Even if it's just wearing the yellow tank instead of the blue. It matters dammit! Old Navy, Target and ASOS have some great staples.
Splurge on Frequently Worn Items
If you have some cash to splurge, I would put it towards a great pair of jeans (or tailored pants) over that gorgeous dress that you'll only wear once to your cousin's wedding. Pregnancy doesn't seem long to the outside world, but putting on a crappy pair of ill-fitting jeans that are falling apart day after day for months can really get to ya after a while. If you have some cash money to spend, Pea in the Pod and Nordstrom's have some really nice duds.
Hand-Me-Downs
Take pregnant friends and relatives up on maternity clothing offers. Things like jackets, blazers, and special occasion dresses are pricey and worn with less frequency so you can find some gems.
Consignment and Thrift Stores
You can find amazing deals at thrift and consignment stores (there are some great online ones too). You can often find next to new items that were quickly outgrown or never worn – another woman's growth curve may as well be your treasure.
Rent
Bird Style Box has day-to-day wear as well as more 'fancy' stuff. It had unlimited exchanges so you can always have something fresh and new in your closet. It's brilliant and the first month is free to try out!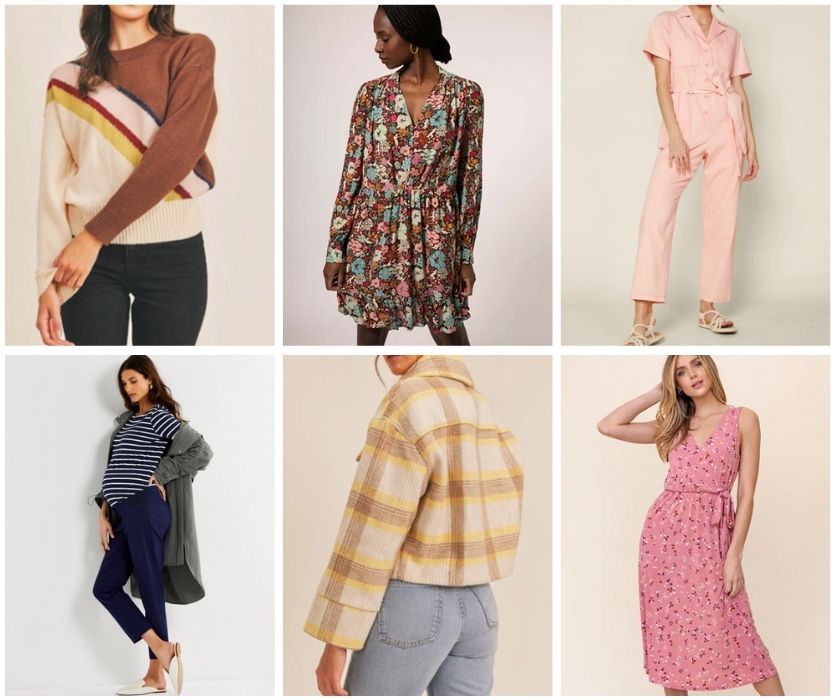 If you have a wedding or office party to go to, there are amazing sites that will rent you a gorgeous outfit at a fraction of the price to buy it – Rent the Runway even has a 'bump friendly' tag.
Accessorize
Jewelry, scarves, bags, etc. are all great ways to switch up a basic maternity wardrobe without dropping a ton of cash on clothes. Plus, you truly will wear that stuff again – unlike your maternity jeans that you may want to burn on the front lawn because you've been wearing them for 20 weeks. This would also be a good time to point out that you're fine to wear any shoes that you want. If you love heels and find it comfortable to wear them, great. If you are looking for something more comfortable, here are the most popular shoe recommendations from pregnant readers.
There really are no rules when it comes to dressing your bump. Be creative, comfortable and let your beautiful self shine.
What other tips do you have for building a maternity wardrobe?
I'd love to hear them!
Our next recos: Best Maternity Swimwear
---
Get posts & giveaway updates delivered right to your inbox
---
---