"Have you set up the nursery?"
That is all anyone asked me for the last few weeks of my pregnancy along with "Haven't you had that baby yet?"
If you got it all together, good on ya. If you haven't, don't sweat it too much, babies really don't need a lot when they first come along so it's up to you when you get all their stuff together. Some people like to get it out of the way so it's not another looming to-do job when you're shuffling around with a newborn, and others feel it's bad luck to count your chickens before they've hatched. I think it's fine either way. Oh, and if you don't have a full room to devote to the weeble, a nursery nook might be more your style.
As for your baby, they have beefed up to somewhere around the six-pound mark (add a pound of butter to that bag of sugar you've been carrying around) and is pretty much ready to roll any time he or she decides it's showtime.
36 Weeks Pregnant Cheat Sheet:
Your baby is about 18 inches long (or 46 cm) and weighs about 6 pounds (2.7 kg).
Your baby might have dropped but that doesn't necessarily mean anything.
Your baby should be in the head down position but many babies still haven't gotten the memo on that.
You have around 28 days before you give birth.
How many months is 36 weeks pregnant?
Thirty-six weeks is 9 months pregnant. (But you're still not done. Sorry.)
This week's to do:
Start a library. You'll probably get 8 million copies of Goodnight Moon and Guess How Much I Love You, so consider checking out Best Books for Babies (Including Some Hidden Gems) for some nice ideas. And if you need more inspiration, here are books to help you build a diverse bookshelf, books that celebrate dads and father figures, and books that celebrate our LGBTQ+ community.
Hating pregnancy pep talk. If you are not digging pregnancy and are worried that you made a big mistake, check out It's Possible to Hate Pregnancy, but Love Motherhood to hopefully ease your concerns a bit.
How are you feeling this week? Let me know here.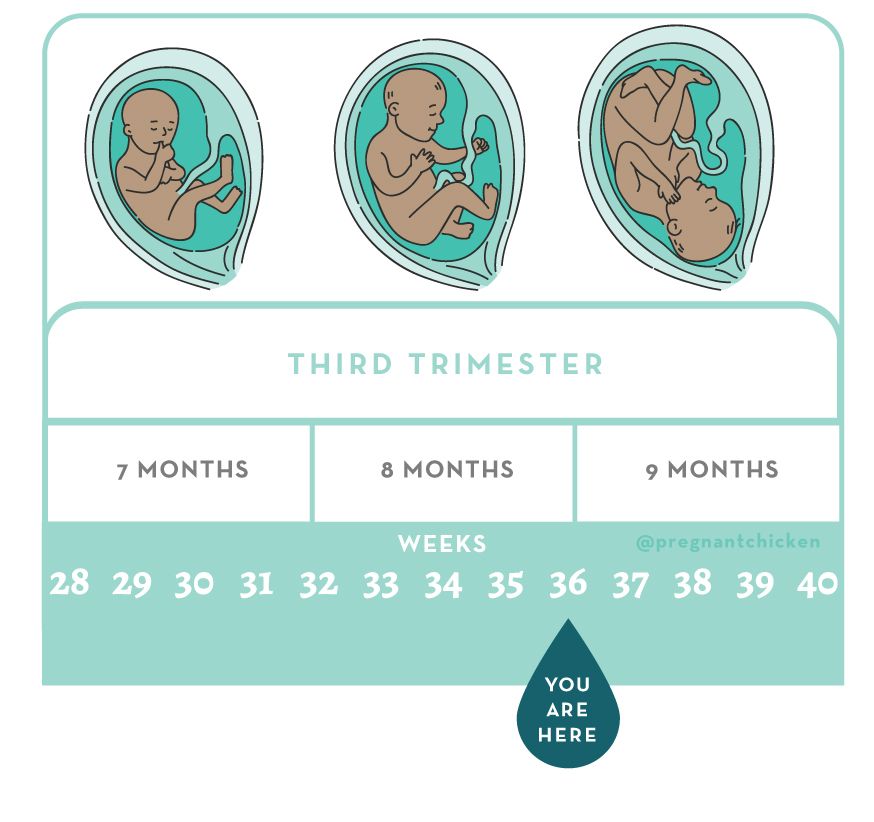 ---
Get posts & giveaway updates delivered right to your inbox
---
---